ERP Software Development Services
SCAND has a proven track record in implementing and integrating various ERP solutions for companies of all sizes worldwide.
Enterprise Software Development
Our ERP developers deal with complex implementation projects, including third-party solutions and legacy applications that may become an obstacle during the integration process. Our engineers are experienced in developing custom ERP systems and integrating them with any other business systems like CRM, Supplier, Order & Purchase systems, HR & Payroll management systems, Inventory management, etc.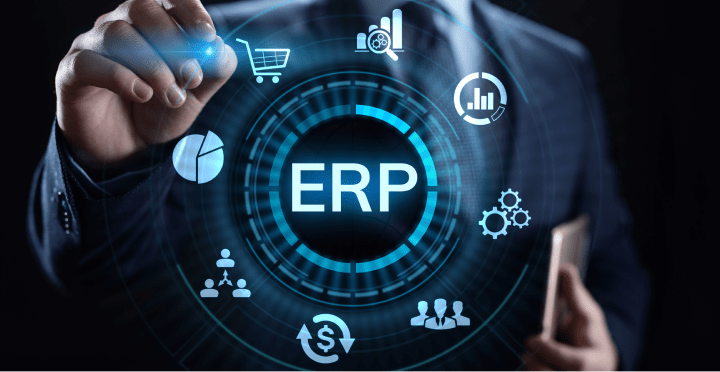 SCAND offers the following ERP software development services:
Custom ERP development
ERP application development
ERP integration
ERP customization
SCAND delivers custom ERP software solutions for businesses of all sizes and industry domains. We create mobile, desktop and cloud ERP solutions for small, mid-sized and large companies operating in logistics, education, healthcare, manufacturing, e-commerce, and retail fields.
Our engineers have a proven track record in building human resources management solutions that provide the ability to fully automate the activities related to the human resources administration and measure business process performance and key performance indicators (KPI).
We have enormous experience in creating custom Document Management Systems (DMS) that help to organize document workflow, manage tasks and track documentation status. SCAND development team also creates mobile document management software that could be utilized by small, medium and large enterprises.
SCAND ERP software engineers have sufficient expertise in developing BPM and KPI assessment systems that enable to achieve the objectives of strategic planning, manage business process and monitor staff performance.
Our team has experience working with such popular CRM systems and platforms as Zoho CRM, Zurmo, SAP CRM, Oracle CRM, SugarCRM, Force.com/Salesforce, and many others. We have been customizing and integrating them with other systems based on customer needs. Learn how we integrated a gaming platform with SugarCRM.
SCAND offers supply chain management software development solutions that allow tracking suppliers, product and service orders, invoice processing, contract management and many more. Review our recent procurement management and courier services systems developed for our clients.
We have been building ERP solutions for the governmental sector for more than 15 years. Our solution offerings for this sector include e-procurement, document management, financial management, taxation, budgeting and forecasting, BI solutions for reporting and analytics.
SCAND provides its customers with inventory management solutions that help businesses to manage all their finances, logistics, operations, and inventory in one place. We create web, mobile and cross-platform apps for tracking inventory through RFID and barcode/QR code scanning.
SCAND engineering team develops facility management applications that provide effective control over requests, complaints or reported issues, incidents, work orders, reservations, visitor registration, car fleet management.
How to start working with us?
Need ERP Development Services?