Node.js Development Company
Our Node.js developers are well versed in creating complex web-based applications, dynamic web applications, PWAs, chatbots, social networks and many more.
Node.JS Development Services
We help clients from all over the world to stay ahead of the competition – our team comprises seasoned Node.js developers, UI/UX designers, QA specialists, and developers across other technologies to help you create high-performing custom digital products for companies of all sizes – from small companies to large-scale enterprises.
Here are some of the Node.js development services we provide:
Web application development
Mobile application development
SPAs development
API development
Custom Node.js development
Enterprise software solutions
Pros and Cons of Using Node.JS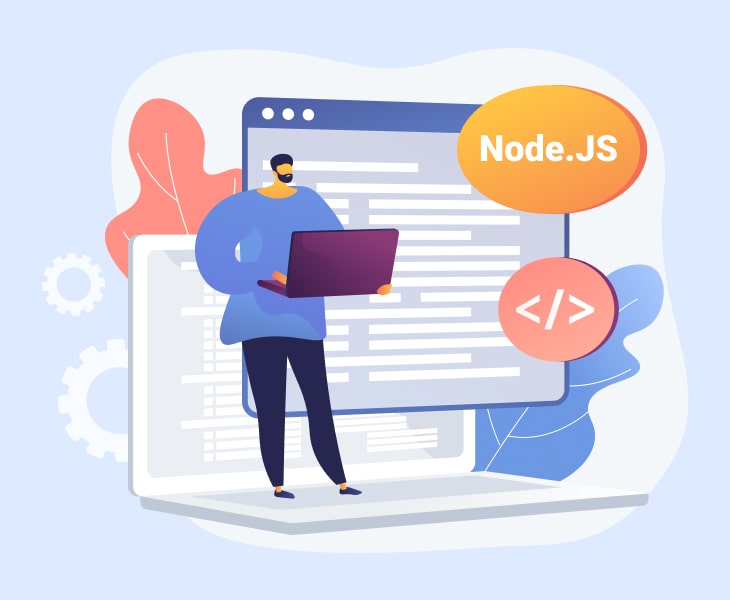 Node.js is a Javascript running environment that executes Javascript outside the browser turning it into a general-purpose language and allowing you to take full advantage of it. Node.js helps to increase the app's speed and security as well as allows building data-heavy websites or real-time apps.
 Pros:
Fast-processing and event-based model
Rich ecosystem
Robust technology stack
Scalable technology for microservices
Seamless JSON support
Strong support
 Cons:
Callback hell issue
Growing demand for experienced professionals
Immaturity of tooling
Performance bottlenecks with heavy computation tasks
Node.JS Development Solutions
Our Javascript developers actively utilize Node.JS in order to deliver the best possible software solutions with the richest functionality, highest performance, and user-friendly interface. We are actively boosting our international footprint across various industries such as banking, logistics, healthcare, eCommerce, and more and deliver products to Fortune 500 companies. Here is a list of some solutions SCAND has to offer:
How to start working with us?
Why Clients Hire Us as a Node.JS Development Company
We execute even the most complex, large-scale projects, guiding our clients towards their goals. We've built all our software development processes in line with industry best practices and years of experience, so you can rest assured that your business is in safe hands.
Today there are 250+ qualified, talented, data-driven software engineers working for SCAND. We offer Node.JS development services and create efficient software solutions tailored to our clients' business goals.
Our hourly rates are much lower than they are in Western Europe and the US. Also, outsourcing software development services offered by SCAND eliminate extra expenses on infrastructure, office, salary, and training.
SCAND Node.JS developers are fluent in English. Although we don't claim to sound like native speakers, our accent is clear and easily understandable.
1 Month Zero Billing Guarantee
If you are not satisfied with our work after the first month of partnership, you do not have to pay for it.
Node.JS is a cross-platform JavaScript runtime environment that allows building both the front-end and back-end. Check out the answers to some of the most common questions our customers ask about Node.js development: