Kotlin App Development Services
Kotlin language is known for being an ideal technology for the development of Android solutions, and for good reason. In addition to a number of significant benefits that were listed above, the Kotlin team and community offers thousands of ready-made solutions that allow extending Kotlin's standard functionality.
Pros of using Kotlin Language
Kotlin programming language is originated from St.Petersburg and named after Kotlin Island situated near Russian cultural capital. It is a statically typed open-source language created by JetBrains. Even though the language was introduced in 2011, the peak of its popularity is associated with Kotlin's announcement by Google as the officially supported 1st-class development language for Android. It is worth to mention that before this announcement, the prime language for Android development was Java. Nevertheless, some leading tech companies took advantage of Kotlin programming before its global recognition and official support.
The primary reason for Kotlin's creation was the fact that programmers who used C++ and Java were not fully satisfied with a very complex syntax of these languages. Before Kotlin was introduced, there was at least one attempt to find a solution, which resulted in the emergence of the Scala language. Although Scala solved certain problems associated with C++ and Java complexity, it was still quite complicated. So the next attempt was made by JetBrains — a cutting-edge software vendor with a wealth of experience in the creation of development tools for various programming languages. It took 7 years for the company to develop simple and user-friendly Kotlin language.
When comparing Kotlin vs Java, we see that the syntax of the first is not compatible with the second. Nevertheless, Kotlin can work with Java as well as it does natively. The greatest distinction between these two languages is that Kotlin uses aggressive inference when determining types of values and expressions in case they were not clearly stated.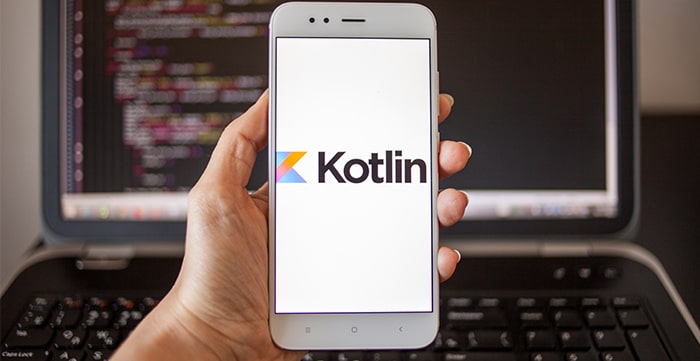 There are some strong reasons why Kotlin for Android developers is known for being one of the preferable languages, and here are just some of them:
Using Kotlin for the development of apps for Android can significantly improve team efficiency due to its succinct and intuitive syntax.
As soon as Java still remains one of the most widely used languages for mobile development, using Kotlin provides a significant benefit of complying with code written in it with the one written in Java, which means that you can use both languages at the same time when you need it.
The fact that Kotlin is supported by a vast majority of IDEs, such as Android Studio, and some other SDK tools, makes the language easy maintainable and increases developers' productivity.
How to start working with us?
Kotlin Development Services and Solutions
Being open to all the emerging technologies that provide effective approaches to software development tasks, SCAND engineers know Kotlin and are ready to use it for delivering high-quality solutions. Here is what we offer:
Our web developers are skilled at making reliable, secure and fast web applications that are aimed at reaching your business objectives in the most effective way.
Having solid expertise in building mobile software solutions, we offer the development of Kotlin-based Android applications that cover the functionality our clients require.
Our development team can seamlessly add new Kotlin-based features to your Android application without the necessity to rewrite the existing code.
If you need Kotlin developers to work on your product, SCAND is the right place to look for them. Our software development team is always ready to join involving and challenging projects in order to deliver a brilliant result.
Our epuBear Reader acts as a standalone reader for books in EPUB format with no ads and no limitations in functionality. It is based on epuBear SDK developed by Scand. Besides, the apps show the benchmark report on epuBear performance.
Need Kotlin Application Development?