Business Process Management Software Development
We are offering BPM software development services to our clients to help them create solutions that help managing business processes.
Our development team is capable of creating a wide range of applications aimed at the management and optimization of the company's business processes. These apps help to increase efficiency as well as to reduce human mistakes and miscommunication.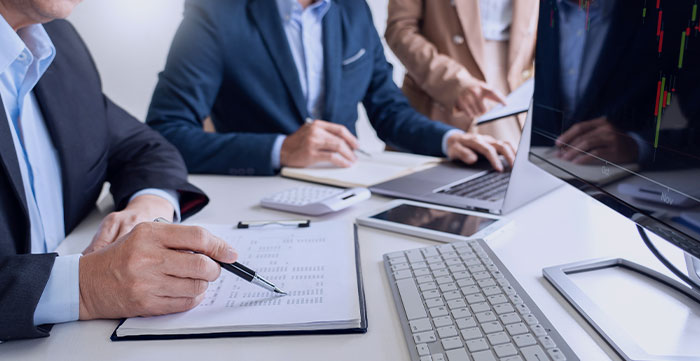 Here are some of the services SCAND offers:
Business process management apps development
BPM system integration
BPM system customization
Business Process Management Solutions
SCAND offers a wide range of software solutions aimed at optimizing the workflow and increasing productivity. Here are some of them:
Our development team is capable of creating a custom BPM system covering all the features that might be required for reaching your business goals.
We offer a wide range of applications aimed at automatization and optimization of HR tasks. These apps help HR managers to work faster and more effectively as well as to avoid mistakes and analyze the results.
A simple and reliable way to track the time spent on certain tasks as well as the time of checking in and out. It also covers managing vacancies, sick leaves, and other absence cases.
Our software development team is able to create facility management applications allowing effective control over requests, complaints or reported issues, incidents, work orders, reservations, visitor registration, car fleet management.
SCAND enthusiastic development team has created a new proprietary product called Flowrigami, an open-source BPM workflow editor and visualization tool that allows creating, editing and visualizing diverse workflows and configure them using graphic components.
Flowrigami is a JavaScript component that lets you create and visualize diverse workflows.
Learn More
How to start working with us?
""I have been impressed by the high level of technical skills as well as great communication skills."
The development was a success, meeting the expectations of the internal team and the third party client. SCAND communicates effectively to ensure both teams are on the same page. The team is creative and knowledgeable.
Managing Director, Software Solutions Provider
"They have the ability to tackle a wide array of technical items."
Scand successfully completed the multiyear project within the parameters and allotted time. The team worked well autonomously, offered design improvement ideas, and practiced independent thinking. Their experience, breadth of expertise, and reliability set them apart from competitors.
President at Computer Consulting Firm
"They are extremely friendly, helpful, and open to finding the best solutions."
Scand's solution is the very foundation of the company, and it's utilization and prominence regarding revenue are both telling. Their project management is effective and adaptable, and communication comes with ease. An in-person meeting with their team ensures timely and accurate delivery.
CEO, IT Company
"SCAND has outranked every other software development company we've worked with."
Extensive resources and reliability helps SCAND meet all expectations in this long-term partnership, and their engine allows companies to reduce marketing departments by 50%. A broad skill set and the ability to work remotely are also notable qualities. They're an invaluable partner.
Director of Product Development, Financial Industry
"They just want to do good work."
SCAND consistently delivered all requirements to standard and their efforts improved the website's efficiency and productivity. The team is personable and engaged with a professional, dedicated, and respectful work ethic. They are smart, reliable, and extremely skilled in development and coding.
Founder, Social Network Company
"They're one of the best companies that I've experienced."
The finished platform is excellent, was delivered on time, and to the expected quality standards. The team is dedicated, works efficiently through an agile methodology, and is skilled at what they do.
CTO, Automotive Firm
Need BPM Software Development?