Need custom SaaS development? SCAND has been delivering best-in-class cloud-based SaaS solutions for over 10+ years and can be proudly called a SaaS development company.
Our SaaS Application Development Services
Coming to SCAND for SaaS product development, you can focus on reaching the core goals of your company while we are working on a multi-tenant and high-quality software solution to facilitate your success. Our development team has experience in delivering software for various industries, so we perfectly understand the needs of different businesses and know how to meet them. Here are the main SaaS development services we offer:
SaaS Application Development
Our team can build a SaaS App of any complexity and covering all the features you require. We offer SaaS web development as well as creating mobile SaaS applications.
Along with developing an app from scratch, our software engineers can customize and optimize the existing solution. For example, to make your app multi-tenant or add robust tools for analytics.
SCAND offers the creation of strong multi-tenant architecture as well as UX/UI design to ensure the best possible user experience.
We can easily integrate your SaaS application with any system or database and even 3d party apps.
Our SaaS Development Process
Offering our clients a full-cycle SaaS platform development, we act according to the following plan:
2. UX/UI Design

Turning the software specifications into a design plan, preparing design mockups and creating project prototype.

3. Software Development

Both front-end and back-end development, generating the programming code on the previously chosen language.

4. Testing

Running QA testing on every development stage, detecting defects, reporting, bug tracking, fixing and retesting.

5. Deployment and Support

The actual product release phase, deployment on the market and after release support and maintenance.

1. Requirements Analysis

In-depth project requirements analysis, suggesting the best architectural solution and the roadmap for the entire project realization.
SaaS (software as a service) is a licensing model that includes a software provider (the company that hosts an app or a platform) and its client (the company that gets access to the software through the internet on a subscription basis). We can highlight two types of SaaS software: vertical and horizontal. Vertical SaaS meets the needs of a particular industry (like financial or e-commerce) while horizontal SaaS covers the functionality required for certain departments or goals (like software development or marketing). Turning to SaaS software development brings a wide range of benefits to companies of any size: from small startups to large enterprises. Here are the main reasons to get a SaaS application: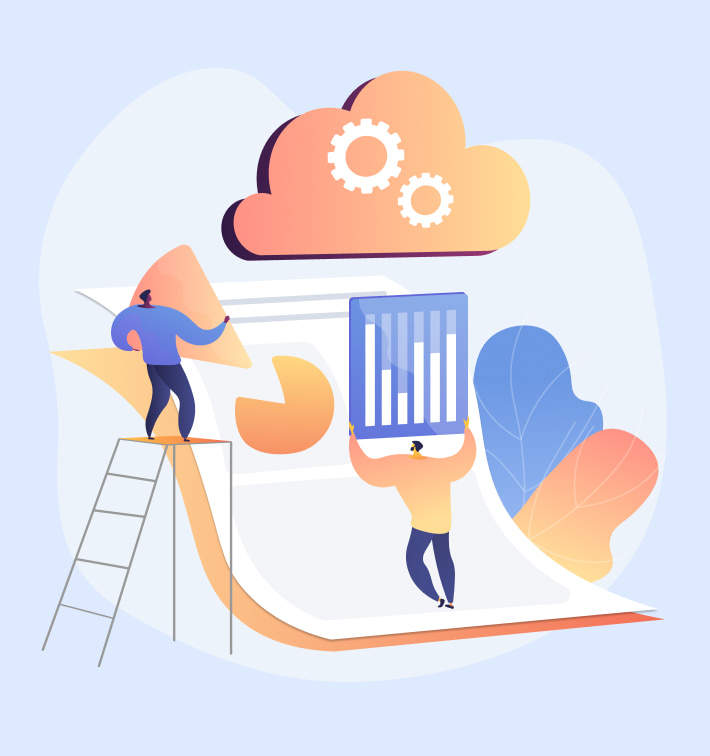 1




Saving time and money

SaaS app development eliminates the need for hiring in-house software engineers and arranging infrastructure (both for the team and future software) and allows fast deployment.

2




Budget control

SaaS apps use PAYG (pay as you go) model which means that you pay only for the resources you actually use. It allows your company to predict, plan, manage, and control expenses.

3




Scalability

Running a developing business, you have to consider the future need for scaling up. SaaS model puts your vendor in charge of solving the issues with additional storage, power, etc. The only thing you will need to do is changing your subscription plan.

4




Maintenance

The vendor also handles everything related to maintenance including data protection, regular upgrades, updating licenses, enriching functionality, etc.

5




Access from anywhere

Since a SaaS product is stored in the cloud, you, all your company's employees and customers can access the software functionality and required data at any time from any place.