Blockchain Development Services
We offer a wide range of blockchain development services and cryptocurrency solutions development (crypto wallets, exchanges, trading apps, etc). Being early birds of the blockchain revolution, we have gained deep expertise in cryptocurrency development and became a reliable and experienced blockchain development company.
Blockchain Software Development Services
Our blockchain development services are aimed at providing efficient and secure solutions for clients representing different domains.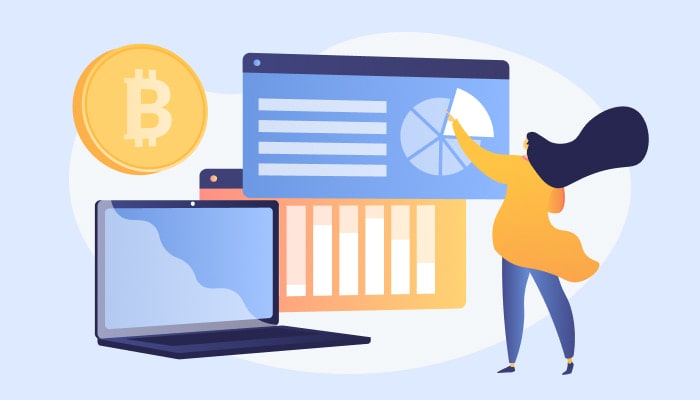 The list of our blockchain development services includes but not limited to:
Cryptocurrency wallet development
Smart contract development
DeFi, DEXs and auctions development
Crypto Contracts Development
Banking, FinTech and bank-related software with cryptocurrency support
Cryptocurrencies and Platforms
Blockchain App Development Services
Being a blockchain app development company, SCAND makes sure that each solution delivered ensures significant reduction in attack vulnerability. Our blockchain developers have deep expertise in strengthening critical network and hardware requirements, as well as fixing data tampering issues by developing robust blockchain solutions.
Custom Blockchain Solutions Development
SCAND provides blockchain development services to help our clients in getting top-notch and secure solutions tailored to their specific needs. We help business owners to translate their ideas into blockchain solutions, assist in polishing and reviewing existing blockchain applications. Whether you need to develop your blockchain solution from scratch or looking for ways to improve your existing implementations, you can always outsource this work to us.
Smart Contract Development
Blockchain smart contracts development at SCAND results in the delivery of solutions that automate transactions, increase trust and eject third-party authentication. Utilizing such top-notch technologies as Ethereum, NEM, Stellar, etc., we help our clients to operational costs and ensure legal compliance.
Crypto Contracts Developement
If you need to tokenize art, collections assets or game assets, or any other, we will be glad to provide you with our services, including token contracts itself and integration with most viable platforms like OpenSea.
In case you need equity tokens on top of ERC20, we are able to provide you with a full stack of the necessary services, from the custom token contracts and ending with integration to fiat-to-currency and currency-to-fiat conversion services like Coinbase, Simplex, Sendwire, Binance, Poloniex, and more.
Cryptocurrency App Development
SCAND offers the development of various cryptocurrency solutions, from creating crypto wallets to the development of crypto trading platforms and OEM-white-labeled crypto exchanges on the basis of MetaTrader. We provide customers onboarding process, support of cryptocurrency deposits/withdrawals, trading dashboard development, integration with order matching engine.
How to start working with us?
Here are some highlights from our client reviews:
"I found Scand to be very enthusiastic and knowledgeable."
The web application exceeded expectations. During the lengthy engagement, the team at Scand remained on top of development, fixing any issues no matter the time of day. Their communication style was effective for the partnership.
"The quality of work is unmatched."
Scand continues to be a valued partner of the client and delivers satisfactory work. They have great communication skills and manage everything well. Working well with the client's framework, everything goes above and beyond. They consistently show commitment to their work.
"I have been impressed by the high level of technical skills as well as great communication skills."
The development was a success, meeting the expectations of the internal team and the third party client. Scand communicates effectively to ensure both teams are on the same page. The team is creative and knowledgeable.
"They're one of the best companies that I've experienced."
The finished platform is excellent, was delivered on time, and to the expected quality standards. The team is dedicated, works efficiently through an agile methodology, and is skilled at what they do.
"They just want to do good work."
SCAND consistently delivered all requirements to standard and their efforts improved the website's efficiency and productivity. The team is personable and engaged with a professional, dedicated, and respectful work ethic. They are smart, reliable, and extremely skilled in development and coding.
Looking for a Blockchain Development Company?