Blockchain in Logistics - Use Case
SCAND team created a cargo shipping system based on blockchain, ensuring anonymity for players, publicity of transactions, and automation of processes.
SCAND team faced a challenging task to develop a solution for cargo shipping giant corporations that need to optimize the delivery and, at the same time, allow performing anonymous operations, so details on routes and supplies would not be available to competitors.
Requirements for the system included: anonymous players, public transactions, automatic conflict resolution, automated processes, optimization of anonymous flows.
To meet the customer's requirements, we decided to use Blockchain. Such an approach allowed anonymous requests and payments in cryptocurrency with real money involved only at the input and output stages.
The developed system work in a way to ensure both anonymity for players and publicity of transactions. Each user of the service has an individual cipher key to issue transaction requests, and there is no chance to decode such users, as well as make changes to requests.
Once every request issuer agreed with the request proposal, it turns into a transaction — a real request for delivery. Transaction becomes completed only after the deal is done.
While request data is protected, a transaction fact is public. Details on each transaction are analyzed by the system. The system's access to unfinished transactions allows companies cutting expenses on unneeded operations by defining 'fitting' ones. Illustration with the explanation below shows how it works.
Imagine there are two logistics companies located on different continents: Company 01 and Company 02. Both companies are planning to ship the same product. Company 01 needs to ship it to the drop zone A and then overseas, to the drop zone B. Company 02 needs to do the same, but in the opposite direction. The system analyzes data on shipment and identifies this match, offering companies avoid the phase of shipment overseas, illustrated as orange arrows. Such a 'miracle' results in significant time and cost savings for both companies.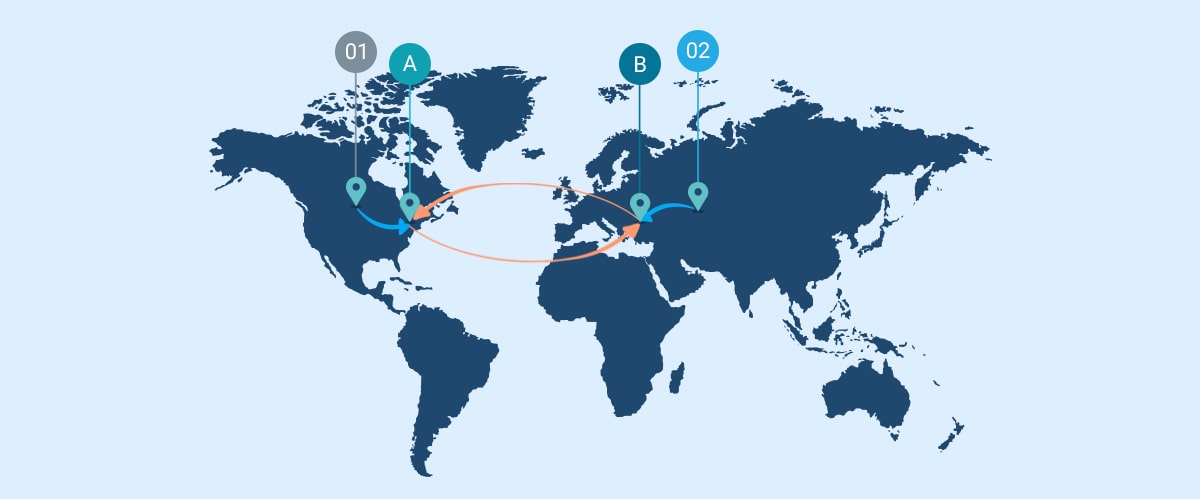 Each transaction in the systems ends up with tokens moving to a logistics operator. Tokens used in the system are issued by the Clearing Bank that provides a final token exchange to fiat currencies.
While payments in the system are available only with tokens, the Clearing Bank provides a final token exchange to fiat currencies, ensuring real money for companies.
SCAND team developed a solution for giant shipping corporations that provides security and anonymity of data of its users, as well as publicity of transactions. Each transaction is analyzed by the system to allow companies to cut costs on unneeded shipments.