Custom iPhone & iOS Application Development Services
Since the launch of App Store, SCAND is regularly engaged in the iOS mobile app development projects of different complexity.
Native iOS App Development
With a great deal of experience, our iOS app developers take advantage of such programming languages as Swift, Objective-C, C++ and more to deliver perfectly crafted mobile apps that reflect our passion for quality products.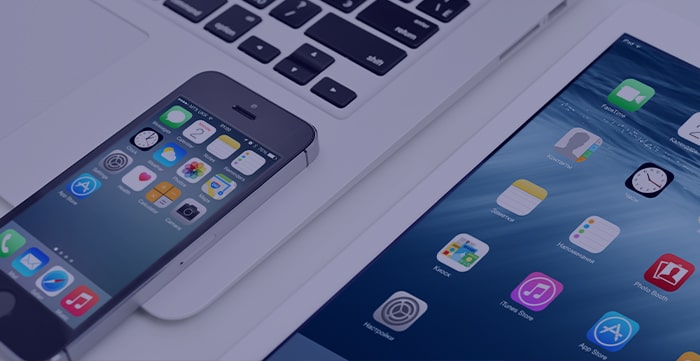 SCAND provides the following iOS development services:
iOS app development
iOS SDK development
iPad app development
Apple Watch app development
Apple TV app development
Key iOS Technologies and Frameworks
As a mobile application development company we offer a wide range of technologies to deliver exquisitely robust iOS app solutions for our clients.
iOS Application Development Solutions
Our mobile engineers have enormous knowledge and experience in delivering high-performance, user-friendly, and cost-effective iOS mobile apps that are aimed at solving everyday tasks of businesses and final users. The iOS-based software solutions we offer include but not limited to the following:
SCAND mobile development team is capable of delivering robust and easy-to-use iOS applications for banking and finance organizations, fintech startups, a wide range of other businesses connected involved in blockchain and cryptocurrency.
Our mobile developers are skilled at creating a wide range of e-commerce applications: from shopping catalogs to chatbots and NFC/Beacon functionality. Each mobile solution we deliver adopts the core functionality that is necessary for your clients and business needs.
We specialize in the development of EHR & EMR systems, medical portals, healthcare solutions for doctors and patients, data analysis tools as well as IoT and AR/VR solutions for the healthcare sector.
Our mobile development team creates involving and user-friendly mobile applications for entertainment and getting new experience. We are ready to develop high-performance and well-designed mobile games for kids and adults, VR/AR-based apps as well as applications for music or sports fans.
Having a great experience in building effective and cost-saving software solutions for enterprises, we offer the development of iOS mobile applications for complimenting the enterprise's desktop or web solutions as well as for empowering your staff with new capabilities.
If you already have programmers or strong managers but need to empower your development team with skilled professionals, SCAND iOS software engineers are ready to join your project.
How to start working with us?
SCAND mobile application development team consists of 20+ enthusiastic and creative developers, a significant part of whom are Seniors with professional skills in C++, Swift, Objective-C, and XCode development environment. Thanks to that, we are capable to develop our own iOS products aimed at the enhancement of the customers' businesses and helping their technological areas operate faster with the boosted scalability and functionality. These include:
Lightweight and easily customizable cross-platform EPUB SDK for EPUB readers development.
Learn More
Need iOS application development?