Custom Software Development For Energy and Utilities Sector
SCAND is a trusted software development partner for the energy and utilities industry building sophisticated and effective energy management software solutions.
Software Development Services for Energy and Utilities Industry
Energy infrastructure is becoming more complex due to the constantly evolving technologies, so efficiency and agility have become requirements for success in the energy and utility industry. While there are multiple off-the-shelf solutions for streamlining operations in the energy sector, not all of them can satisfy your company needs. Whereas custom software is created exclusively based on your company's requirements, taking every single aspect of the system into account.  Furthermore, since you own the system, you can make any adjustments as you develop and expand.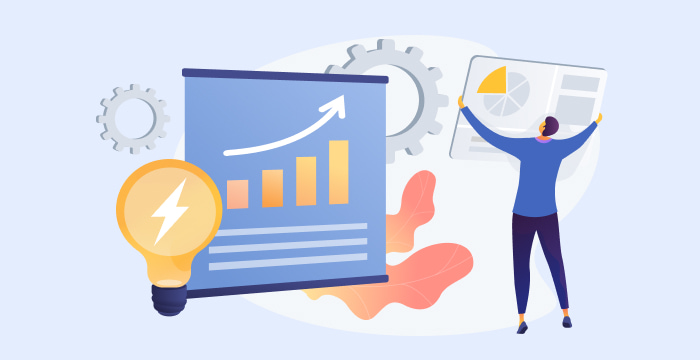 We at SCAND build custom solutions and help bring energy and utility companies into the digital age, empowering them with the flexibility and agility they need to stay ahead of the competition:
Automate routine management tasks, increase efficiency and prevent revenue loss.
Enable remote systems automation and operations monitoring and increase visibility to prevent problems before they occur.
Create high-security, low-risk technological solutions to protect the business.
Build a single platform to minimize redundancy and connect separate systems over a common networking infrastructure.
Keep core business systems up to date with cutting-edge software development technologies.
Technology Stack For Energy and Utilities Solutions
SCAND helps companies adopt the new technologies, such as IoT, blockchain, predictive analytics and artificial intelligence to boost their asset and service management capabilities and reach new levels of operational efficiency.
Intelligent electric and utility management software, fueled by data analytics and predictive maintenance, can help you improve your systems. Gain a real-time view of your facilities' performance to reduce the risk of equipment failure and increase uptime. With the use of IoT and AI-powered analytics, you can make smarter investments by precisely analyzing and forecasting various demand and performance scenarios.
How to start working with us?
At SCAND, we provide custom software development services and help companies in the energy and utilities niche quickly adapt the latest technology innovations and comply with ever-evolving market trends.
As a company with an extensive experience in the area of energy software development we provide our clients with the solutions for every aspect of everyday operations, including grid control and monitoring, energy data recording, processing, analyzing, and billing.
Energy & Utility Management
We have extensive experience in developing systems for managing auctions in the power and gas sectors, as well as performing nomination processes.
We've acquired a rich experience in creating platforms for managing electricity/gas/power consumption, supply, analysis, forecasting, billing/invoicing for the energy market.
We build platforms for energy trading and transmission inquiry/management to help our clients improve decision-making and gain complete visibility across the enterprise.
We develop comprehensive solutions to track the performance of power transmission equipment and ensure that utilities are used efficiently.
Software Development Lifecycle for Energy Industry
At this stage, we evaluate the project requirements, clearly defining its scope and purpose. This includes project SRS (Software Requirement Specification) document evaluation or preparation, time and resources estimation.
2. Design and Prototyping
A prototype is created, tested, reviewed, and approved by the customer based on the requirements acquired in the previous step. Following that, the design will be ready for coding, testing, installation, and maintenance.
The actual development is performed according to SRS. The outcome from this stage is Source Code Document (SCD) and the developed product.
When the development phase is complete, the source code is deployed into the testing environment for the QA team to find bugs and misfunctions. If the bugs are found, the code returns to the development team for fixes. This process is repeated until the software is stable and functions properly.
The deployment process begins after the testing stage is finished. The final product is released and tested for deployment issues. The maintenance stage occurs after the product is in full operation and involves software upgrades, repairs, and fixes if needed.
We deliver more than just customized software solutions: we aim towards long-term cooperation and a trust-based partnership with our clients to assure continuous product development based on current needs, as well as high quality and security.
Strong business relationships are built on trust. We closely communicate with your team to design and build the softwa, and we are committed to providing a fair and transparent working process. We provide you with all of the data you need to make informed business decisions.
Our specialists have extensive experience working with a variety of technologies and a solid understanding of the energy and utilities niche. Whatever your company's specific requirements are, we're here to help.
Customer-Centric Approach
We put customer experience and satisfaction at the core of every decision and activity. That is why we carefully select every specialist to align with our client-centric culture.
We help you quickly scale your software engineering capacity while ensuring on-time product delivery. We shoulder the burden for your in-house teams, taking responsibility for components or entire energy industry software products so you can focus on innovating.