Flutter App Development Services
For the past 20+ years we've been delivering app development services for businesses across different spheres while utilising the latest cutting-edge technologies, frameworks and tools. Our engineering team also offers Flutter app development services to create cross-platform applications for native devices.
We also provide other mobile app development services like native app development for iOS and Android, hybrid and cross-platform development with Xamarin, PhoneGap, React Native, etc.
Explore some other related services we provide to accelerate your product development:
What is Flutter App Development?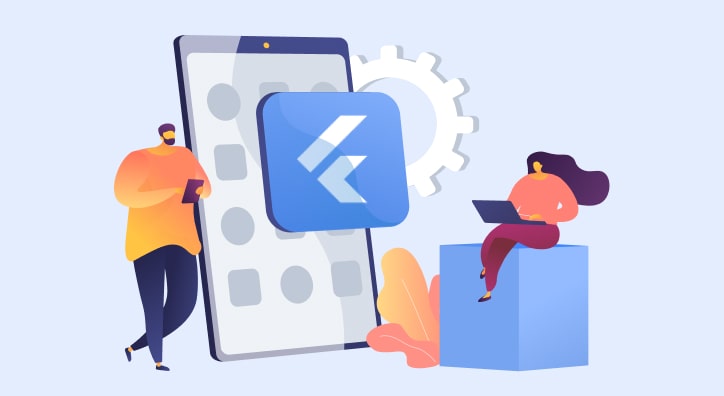 Flutter is an open-source software development kit used to create cross-platform apps for various mobile devices. Flutter allows building applications that feature platform-specific UI as well as keeping the user interface the same across all the platforms. Dart is the official Flutter programming language that ensures high application performance and responsiveness.
Flutter is a full-fledged SDK including a rendering engine, ready-made widgets or fast UI coding, automated testing toolset and integration APIs, etc. Flutter is great for building progressive web applications (PWAs), SPAs, and converting existing mobile apps to the web. Such leading companies as eBay, Uber, Alibaba, Yandex, Airbnb, Uber use Flutter for their app development. We have also developed various apps while using Flutter for healthcare, energy and utilities, e-commerce, logistics, media and entertainment industries.
Flutter App Development Process
As a Flutter development company, we provide the full cycle of Flutter app development services including app design, development, testing, deployment to App stores and support.
2. UX/UI Design

Preparing design mockups and prototypes.

3. Development

Our Flutter developers create a single code base for the Android and iOS apps simultaneously.

4. Testing

Conducting QA testing on every stage of the software development process, finding bugs, tracking and reporting, bug fixing and retesting.

5. Deployment and Support

The actual product release phase, deployment to the App stores and after release support and maintenance.

1. Needs Analysis

In-depth project requirements analysis, suggesting the best architectural solution and the roadmap for the entire project realisation.
Benefits of Flutter App Development?
Here are the core features and benefits of using Flutter app development for your project:
Flutter allows developing cross-platform apps that run on various mobile platforms like Android, iOS, Linux, macOS,  Windows, without compromising on UI, performance and quality.
Flutter-based code can be shared across different platforms so there is no need to hire developers for each platform, which allows to significantly shorten time-to-market, save money without compromising on quality.
Flutter is an open-source kit created by Google which facilitates any further updates or new features extension. Flutter apps are written in the Dart language and make use of this language's advanced features.
The Flutter engine was built to sustain high loads of complex platforms. So Flutter cross-platform development allows creating applications with stable performance and handling tasks the same way as native apps do.
Technologies and Tools Used in Flutter App Development
Our Flutter development team leverages top-notch technologies and tools to create cost effective solutions that satisfy all market trends and customer needs to help businesses get maximum revenues from their solutions.
Why Choose SCAND as a Flutter App Development Company?
As a Flutter application development company we provide highly skilled Flutter developers experienced in creating natively compiled cross-platform applications for Android, iOS, Linux, macOS, Windows.
We provide not only developers but also UI/UX designers, Business Analysts and QA engineers for full cycle project development. We can easily scale the team up and down while the project grows or shrinks while not compromising on the quality.
With Flutter app development, there is no need to hire separate native app developers. One Flutter developer is enough to create code for several platforms, which significantly reduces costs.
Flexible Engagement Models
We provide flexible engagement models for our customers including fixed project cost, time and materials, outstaffing model as well as Flutter dedicated team approach.
1 Month Zero Billing Guarantee
If the customer is not satisfied with the result after 1 month of our work, we guarantee no billing for this month.
How to start working with us?
Here are some highlights from our client reviews:
"I found Scand to be very enthusiastic and knowledgeable."
The web application exceeded expectations. During the lengthy engagement, the team at Scand remained on top of development, fixing any issues no matter the time of day. Their communication style was effective for the partnership.
"The quality of work is unmatched."
Scand continues to be a valued partner of the client and delivers satisfactory work. They have great communication skills and manage everything well. Working well with the client's framework, everything goes above and beyond. They consistently show commitment to their work.
"I have been impressed by the high level of technical skills as well as great communication skills."
The development was a success, meeting the expectations of the internal team and the third party client. Scand communicates effectively to ensure both teams are on the same page. The team is creative and knowledgeable.
"They're one of the best companies that I've experienced."
The finished platform is excellent, was delivered on time, and to the expected quality standards. The team is dedicated, works efficiently through an agile methodology, and is skilled at what they do.
"They just want to do good work."
SCAND consistently delivered all requirements to standard and their efforts improved the website's efficiency and productivity. The team is personable and engaged with a professional, dedicated, and respectful work ethic. They are smart, reliable, and extremely skilled in development and coding.