Providing custom software development services, SCAND also acts as an IT outstaffing company. Outstaffing means extending your in-house development team with remote employees who officially work at the provider company but fully dedicated to your project.
Benefits of IT Outstaffing Services
The IT outstaffing model is a great business model for large and continuous projects as well as for companies that already have a properly managed software development team but need to scale it up fast.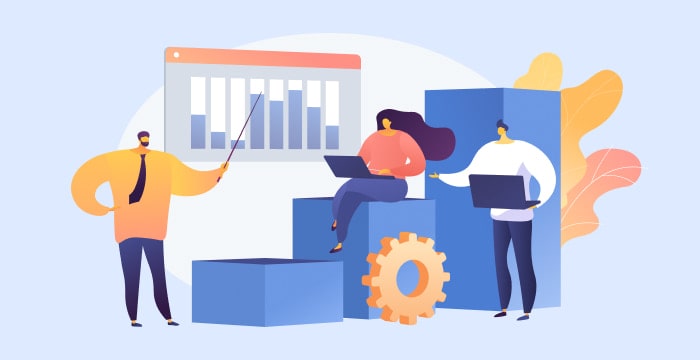 Here are the core pros of using IT outstaffing services:
Full control over the development process
Significant cost savings: no need to provide equipment, infrastructure, social benefits
The simple and fast hiring process
The access to the pool of specialists with the experience and skills your project requires
Hire Software Developers at SCAND
If you are not satisfied with the result after a month of our work, we guarantee no billing for this month.
How to Hire Software Developers at SCAND
You can hire the required developer or we can allocate a whole dedicated remote team of developers available to start working right away.
Once we get your inquiry we select the most appropriate developers for you, then send the CVs and schedule an interview.
You can interview the selected candidates for your project or send us a test task to complete.
Once you select the required specialist we proceed with the agreement issues and working process setup.
The development team starts working within a few days after the contract is signed.
Here are some highlights from our client reviews:
"I found Scand to be very enthusiastic and knowledgeable."
The web application exceeded expectations. During the lengthy engagement, the team at Scand remained on top of development, fixing any issues no matter the time of day. Their communication style was effective for the partnership.
"The quality of work is unmatched."
Scand continues to be a valued partner of the client and delivers satisfactory work. They have great communication skills and manage everything well. Working well with the client's framework, everything goes above and beyond. They consistently show commitment to their work.
"I have been impressed by the high level of technical skills as well as great communication skills."
The development was a success, meeting the expectations of the internal team and the third party client. Scand communicates effectively to ensure both teams are on the same page. The team is creative and knowledgeable.
"They're one of the best companies that I've experienced."
The finished platform is excellent, was delivered on time, and to the expected quality standards. The team is dedicated, works efficiently through an agile methodology, and is skilled at what they do.
"They just want to do good work."
SCAND consistently delivered all requirements to standard and their efforts improved the website's efficiency and productivity. The team is personable and engaged with a professional, dedicated, and respectful work ethic. They are smart, reliable, and extremely skilled in development and coding.
Why Clients Hire Our Software Engineers
Being located in the center of Europe, SCAND is considered to be one of the top reliable and experienced software development outsourcing companies for the following reasons:
Today there are 250+ qualified, talented, data-driven software engineers working for SCAND. We offer outsourcing software development services and create efficient software solutions tailored to our clients' business goals.
Our hourly rates are much lower than they are in Western Europe and the US. Also, outsourcing software development services offered by SCAND eliminate extra expenses on infrastructure, office, salary, and training.
SCAND outsourcing developers are fluent in English. Although we don't claim to sound like native speakers, our accent is clear and easily understandable.
We focus on long-term business partnership to ensure your solution can adapt to the changing market demands. We provide complete project transparency from the very first day as well as our team works according to your time zone.