Software Outsourcing Partnerships
Are you looking for a reliable software development outsourcing partner with extensive technical expertise and an established reputation? We, at SCAND, deliver innovative and effective solutions while cutting your costs and saving you time so that you could focus on more important tasks.
The expertise and knowledge of the software development company you want to work with will determine the success and quality of your future project. Our software development team offers a working partnership focused on excellent service and a deep understanding of the problems you and your customers face.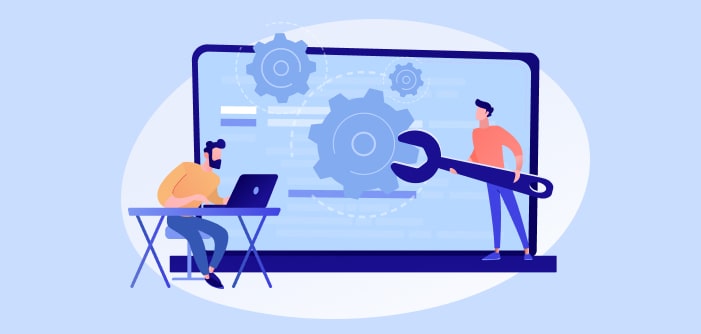 By becoming our partner, you will be able to fully concentrate on your core business competencies, take on new exciting challenges and grow your market share as well as get some other benefits like:
Extending the list of your professional services;
Saving time and money by not having to recruit developers, project managers, and other experts – with our team by your side, you'll have access to a full range of development and consulting services;
Increasing your value to your customers.
How to Cooperate with Us?
Our extensive experience helps us choose an engagement model that fits your business needs, from concept to execution.
Why Partnering with SCAND
We are a team of seasoned IT professionals who can help you take your business to the next level and take up bigger challenges without the cost or hassle of lengthy hiring and assessment processes. SCAND is committed to providing our partners with the products and services they need to retain their competitive advantage, increase customer satisfaction, and accelerate business growth.
Lost time means lost money. By outsourcing software development to a team of experts, you save money on having to establish and train a large and costly team if you don't need it for the long term.
Selecting a technology partner is really about hiring a company that will do a better job on your product than you could do yourself. We become your technology partner for every development project and offer full-fledged services.
White label development is not just a contract for us but it's a trusted partnership. We provide complete white labeling and NDA protection, ensuring that none of your projects are ever disclosed.
We ensure high-quality post-delivery support, including maintenance and implied warranties. You get a stable product that is fully functional, always performs as expected, and scales along with your needs.
Here are some highlights from our client reviews:
"I found Scand to be very enthusiastic and knowledgeable."
The web application exceeded expectations. During the lengthy engagement, the team at Scand remained on top of development, fixing any issues no matter the time of day. Their communication style was effective for the partnership.
"The quality of work is unmatched."
Scand continues to be a valued partner of the client and delivers satisfactory work. They have great communication skills and manage everything well. Working well with the client's framework, everything goes above and beyond. They consistently show commitment to their work.
"I have been impressed by the high level of technical skills as well as great communication skills."
The development was a success, meeting the expectations of the internal team and the third party client. Scand communicates effectively to ensure both teams are on the same page. The team is creative and knowledgeable.
"They're one of the best companies that I've experienced."
The finished platform is excellent, was delivered on time, and to the expected quality standards. The team is dedicated, works efficiently through an agile methodology, and is skilled at what they do.
"They just want to do good work."
SCAND consistently delivered all requirements to standard and their efforts improved the website's efficiency and productivity. The team is personable and engaged with a professional, dedicated, and respectful work ethic. They are smart, reliable, and extremely skilled in development and coding.
Many organizations in the computing and IT industries sometimes receive requests for software development and/or related services that they are unable to provide because they are outside of their core business offerings. When this occurs, it's pointless to recruit a large number of new employees and dedicate resources to unfamiliar spheres to meet the client's request. Instead, take advantage of SCAND's outsourcing services and rest assured that the job will be completed by experts rapidly and effectively. Learn how to start working with us:
Share your ideas and expectations with us, specify the project requirements or send an RFP, RPI, RFQ. We are always ready to sign your non-disclosure agreement (NDA) or can provide you with ours.
Our engineering team has a deep overview of the customer requirements to come up with the best UI/UX, architecture and technology stack alternatives.
We discuss with a client project requirements and clarify the details, outline the project roadmap and conduct interviews with software engineers if needed.
Commercial project estimation in terms of time and cost, suggestions on architecture, technology platforms, tools and methodologies.