Laravel Development Company
SCAND web development team has 6+ years of delivering effective software solutions using one of the most popular PHP-frameworks — Laravel.
Laravel Development Services
Scand offers a broad range of custom Laravel development services to our clients. Laravel is an open-source PHP-based framework intended for the development of web applications. At Scand, we work closely with our clients to create robust, scalable, aesthetically appealing, and feature-rich web applications to help them build a stronger online presence.
The list of Laravel development services we provide includes but not limited to:
Custom Laravel development
Laravel development outsourcing
Laravel web development
Migration to Laravel
Integration with third-party APIs
Laravel cloud development
What are the benefits of Laravel?
Laravel is a versatile framework for developing secure, scalable and maintainable web applications.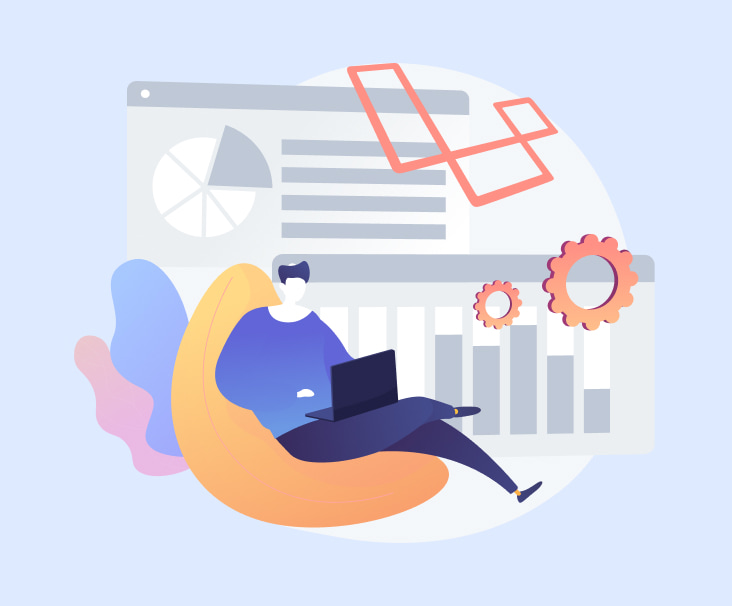 It speeds up the development process and hence helps to launch your app much sooner compared to other frameworks.
Laravel comes up with pre-installed object-oriented libraries that are full of great features that are easy-to-implement.
The framework provides high-class security and protects the app from any malware activities or security threats.
It comes up with various tools that help to boost the web app performance.
The Blade Templating engine allows  developers to simply use the pre-defined templates to write certain codes easily and quickly.
MVC architecture helps to improve the performance of your app.
It provides easy unit testing.
The framework comes up with tools, libraries, and templates that facilitate the development process.
It allows developers to build certain functionalities much faster and even in a better way.
It allows for quick and easy development of multilingual apps.
Custom Laravel Development at SCAND
Laravel is a well-known and widely used tool for PHP development. It allows creating websites of different sizes, e-commerce solutions, ERP and CRM systems, integrating third-party APIs to a software solution in order to expand its capabilities.
Rent Application Development
Our development team is skilled to deliver web and mobile Laravel-based applications for renting cars, trucks, homes, equipment, and others.
Trade Platform Development
Utilizing Laravel as a framework we offer the development of trade platforms for the e-commerce industry.
With the help of the Laravel framework, SCAND development team delivers API for clients' services. For example, an API for a logistics platform allowing carriers and cargo owners to make freight contracts fast and easily.
Laravel Enterprise Solutions
Along with the relatively small projects, our team is capable of creating Laravel-based enterprise-size solutions with the best possible functionality.
How to start working with us?
Why Clients Hire Our Laravel Developers?
We are one of the top Laravel development companies in Eastern Europe. We have years of experience building secure, robust solutions for all kinds of web development projects. Our expert Laravel developers will help you structure a detailed approach for building Laravel powered applications and websites for your business.
We hire seasoned professionals who are well-versed in new technologies and  think outside the box for our Laravel development projects. Our dedicated support team responds quickly to resolve issues and adopt suggestions or improvements proposed by our clients.
Our hourly rates are much lower than they are in Western Europe and the US. Also, outsourcing software development services offered by SCAND eliminate extra expenses on infrastructure, office, salary, and training.
SCAND Laravel developers are fluent in English. Although we don't claim to sound like native speakers, our accent is clear and easily understandable. We provide real-time communication and expert assistance in both simple and complex Laravel development projects.
Trusted Technology Partner
Choosing us means getting a team experienced in a vast variety of industry verticals that can build enterprise applications, e-commerce stores, and dynamic websites. We utilize customer-centric approach for fast and efficient Laravel project development.
Laravel is a server-side PHP framework that allows building full-stack apps that require the backend, such as user accounts, exports, order management etc. Below are a few questions most frequently asked about this framework: