UX/UI Development Services
Need UI/UX services to enhance the user behaviour of your app? SCAND with its 20+ years' experience in creating applications with notable design and structure provides UI/UX design & development services for our customers as a part of the full cycle development process.
Responsive UI and UX Services
SCAND offers best-in-class solutions to ensure the high quality user experience of a future application. Here are the main UX/UI development services we provide:
Relying on the latest design trends and the market analysis results, we create a unique UI design for the future product (color schemes, layouts, typography, etc.)
Creating the application's roadmap and organizing the information so that it can be easily and seamlessly found by the users.
SCAND has a rich portfolio of web applications with strong UX/UI design that helps to retain users and provides the best possible user experience within a browser.
Utilizing mobile user interface development tools, our team delivers outstanding UX/UI design services for both Android and iOS mobile applications.
Creating UX/UI design for a cross-platform application, we ensure the unity of visual style across all the platforms.
We create responsive desktop applications that seamlessly perform on any operating system and in any environment.
Our UI/UX Design & Development Process
While using cutting-edge UI/UX development tools, we act in accordance with the following plan: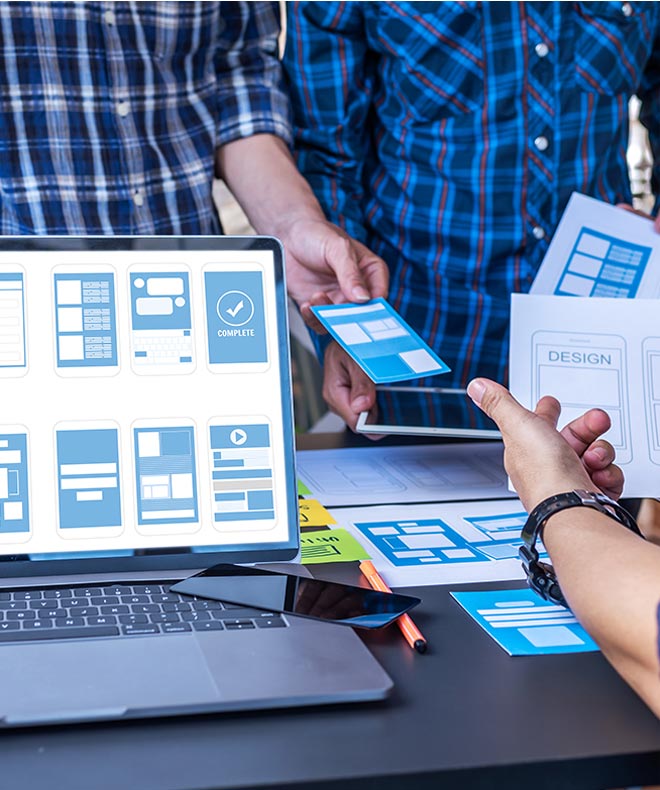 1




Understanding the needs

Our BA team digs into your business goals and needs to come up with the list of requirements for the future product.

2




Market research and analysis

We conduct research in order to analyze the target audience behavior, make user profiling to understand how to meet the users' needs.

3




Information architecture

Creating a structure of the application and organizing the content so that it can be fast and easily found by those who are looking for it.

4




Wireframe and prototype

A wireframe is an outline showing the appearance of the future app (structure, content placing, pages functionality). A prototype demonstrates the product flow and the way it will work.

5




Visual design

Creating the overall visual style of the application covering color schemes, elements, fonts, etc.

6




Development

Transferring all the design materials to the development team for further implementation.
User Interface Technologies and Tools
Why Do You Need UX/UI Design?
Today it is not enough to create an innovative app with rich functionality. To become successful, the app should provide top-notch user experience (UX) as well as have a simple and pleasant user interface (UI). UX design is responsible for making the user's journey from point A (app's home screen) to point B (whatever the user opened an app for) as simple and enjoyable as possible. UI covers everything that the user sees while interacting with the app.
Perfect user experience is the key to retaining those who have once opened your app. In order to provide such an experience, you have to fully understand your audience: what problems they have, how you can help them, what features they expect from your application, etc. Along with ensuring good functionality, there is a need for minimizing time and effort users spend on searching for and utilizing a particular feature. UX/UI design is right about solving those issues: it helps to build a bridge between the user and the application's functionality.
""I have been impressed by the high level of technical skills as well as great communication skills."
The development was a success, meeting the expectations of the internal team and the third party client. SCAND communicates effectively to ensure both teams are on the same page. The team is creative and knowledgeable.
Managing Director, Software Solutions Provider
"They have the ability to tackle a wide array of technical items."
Scand successfully completed the multiyear project within the parameters and allotted time. The team worked well autonomously, offered design improvement ideas, and practiced independent thinking. Their experience, breadth of expertise, and reliability set them apart from competitors.
President at Computer Consulting Firm
"They are extremely friendly, helpful, and open to finding the best solutions."
Scand's solution is the very foundation of the company, and it's utilization and prominence regarding revenue are both telling. Their project management is effective and adaptable, and communication comes with ease. An in-person meeting with their team ensures timely and accurate delivery.
CEO, IT Company
"SCAND has outranked every other software development company we've worked with."
Extensive resources and reliability helps SCAND meet all expectations in this long-term partnership, and their engine allows companies to reduce marketing departments by 50%. A broad skill set and the ability to work remotely are also notable qualities. They're an invaluable partner.
Director of Product Development, Financial Industry
"They just want to do good work."
SCAND consistently delivered all requirements to standard and their efforts improved the website's efficiency and productivity. The team is personable and engaged with a professional, dedicated, and respectful work ethic. They are smart, reliable, and extremely skilled in development and coding.
Founder, Social Network Company
"They're one of the best companies that I've experienced."
The finished platform is excellent, was delivered on time, and to the expected quality standards. The team is dedicated, works efficiently through an agile methodology, and is skilled at what they do.
CTO, Automotive Firm