Minimum Viable Product Development
Looking for an MVP development company? Get a working MVP developed with SCAND in just 1-2 months!
An MVP is an ideal way to launch a new product or service. It is fast, agile and cost-efficient. Our MVP development team will help your idea become a real product in just a few months.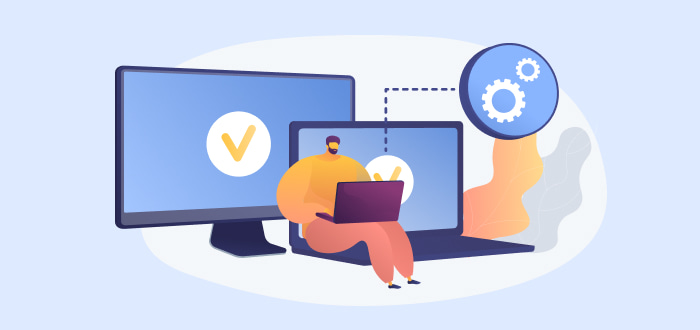 Our MVP development services will ease the challenging journey to your goals. We will thoroughly analyze your business requirements and choose the most effective approach to MVP development and the appropriate tech stack. We can help you creating the following MVP:
Web apps
Mobile apps
Desktop apps
SaaS solutions
E-commerce apps
From initial ideas to UX/UI design and prototyping, development, and release, we can deliver a working solution, which you can then use to receive valuable feedback from your first customers for future development.
2. Prototyping

Initially, we create a semi-functional prototype that you can test. This lets us get feedback on your product and make improvements before we start actual coding.

3. Building an MVP

We build your product using the latest and proven technologies and frameworks, and make sure that the code is easy to test, scale and maintain.

4. Delivery

We do the testing of your MVP on real devices as well as test its performance, security and usability to make sure your product is ready for launch and will perform as expected.

5. Maintenance and Development

After the first iteration launch of your MVP, you can onboard your customers and watch them use your solution and the features they like or dislike. If further development is required, we'll analyze the data and update your application accordingly.

1. Discovery and Analysis

The best approach is starting with the minimum set of essential functions that will help you test your assumptions about the core problem that your solution can solve for users. At this stage we do in-depth business analysis and thoroughly select the features for the future MVP.
Creating an MVP is all about a fast launch - and that requires seasoned developers. We provide both front-end, back-end & full stack experts across a range of programming languages and technologies like JavaScript, Python, Java and many more. The technologies that our agile teams are specialized in are as follows:
We have solid experience in creating MVPs for companies of all sizes, from small to large corporations. We develop lightweight solutions that deliver immediate feedback and streamline the idea validation. As a reputable MVP development company, we adapt to the needs of every client ensuring that all the requirements are met.
Customer-Oriented Approach
We've been in the IT industry for more than two decades, and we use our knowledge and experience to provide the best MVP development services for your business.
With a diverse team of highly skilled engineers, we have become the trusted partner for our clients to handle the entire MVP development process.
We assist our clients from start to finish. We offer extensive expertise and well-developed customer research techniques that result in multiple benefits for our customers.
We ensure high-quality post-release support, including maintenance and further development.  You get a stable product that is fully functional, always performs as expected, and scales along with your needs.
Here are some highlights from our client reviews:
"I found Scand to be very enthusiastic and knowledgeable."
The web application exceeded expectations. During the lengthy engagement, the team at Scand remained on top of development, fixing any issues no matter the time of day. Their communication style was effective for the partnership.
"The quality of work is unmatched."
Scand continues to be a valued partner of the client and delivers satisfactory work. They have great communication skills and manage everything well. Working well with the client's framework, everything goes above and beyond. They consistently show commitment to their work.
"I have been impressed by the high level of technical skills as well as great communication skills."
The development was a success, meeting the expectations of the internal team and the third party client. Scand communicates effectively to ensure both teams are on the same page. The team is creative and knowledgeable.
"They're one of the best companies that I've experienced."
The finished platform is excellent, was delivered on time, and to the expected quality standards. The team is dedicated, works efficiently through an agile methodology, and is skilled at what they do.
"They just want to do good work."
SCAND consistently delivered all requirements to standard and their efforts improved the website's efficiency and productivity. The team is personable and engaged with a professional, dedicated, and respectful work ethic. They are smart, reliable, and extremely skilled in development and coding.
At SCAND we implement an individual approach to each customer as the project scope and requirements may vary. Some clients turn to us with a brief project description, while others – with comprehensive information on the project (documentation, design, mockups, wireframes). No matter what requirements you have, we are always ready to help you. Learn how to start working with us:
Share your MVP idea and expectations with us, specify the project requirements or send a list of key features. We are always ready to sign your non-disclosure agreement (NDA) or can provide you with ours.
Our engineering team has a deep overview of the customer requirements to come up with the best suggestions on architecture, technology platforms, tools and methodologies.
We analyze your project from different aspects, examining your business needs and project requirements. We present a detailed plan to showcase how your ideas can be converted into a working MVP as well as we provide a project estimation in terms of time and cost.
We will help you launch your product in as little as 1-2 months. We collaborate with you on the key features and quickly build the necessary features. If the initial model is approved, and consumer feedback confirms that the solution is useful, we can work on the next functions.
Learn how to start working with us: