Media & Entertainment Software Development
As a media & entertainment app development company, SCAND embraces the power of technology to deliver innovative custom software solutions aimed at boosting the performance of media operations, opening up new channels, personalizing data with advanced analytics, revolutionizing user experience, and increasing audience engagement.
Media & Entertainment App Development Solutions
Entertainment and media industry software developed by SCAND enables our clients to attract their audiences with top-notch, adaptable, on-demand solutions, all providing unique digital experiences. Truly convinced in the power of advanced technological solutions, SCAND data-driven and enthusiastic developers offer a range of development services for M&E. Whether it is distribution, broadcasting, production, or development of a brand new platform — we are always here to bring together our experience and commitment and deliver solutions that perfectly match our client's business goals.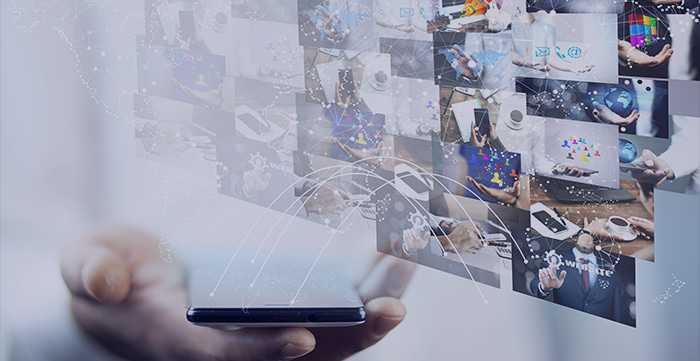 Some of the services we offer to the M&E industry include:
Content management solutions
Video streaming solutions
Video on Demand (VOD) solutions
Media & Entertainment Software Services
SCAND team has vast experience in the development of numerous projects for the media and entertainment sector, including but not limited to:
SCAND developers provide custom IPTV broadcasting software development services including live TV streaming apps, mobile apps, AR/VR apps, on-demand videos, IPTV game development, and many more.
Mobile radio app development offered by SCAND professionals allows our clients to track the content consumption habits of their audience with the highest levels of accuracy, increase engagement while sending targeted messages to listeners and provide a more universal experience.
Our spots mobile app development services are mainly focused on sports betting development. Having a team of enthusiastic and experienced sports betting software developers who follow the latest trends and utilizing advanced technologies, we ensure efficiency and relevance of solutions delivered to our fellow clients.
Whether it is the best hunting times app or fishing license app, our team can provide you with a solution tailored to your needs. Using the latest technologies, we successfully develop both hunting and fishing software, including fishing report apps, hunting apps with property lines, or any other hunting and fishing license software you are looking for.
With a team of social media developers on board, we are capable of developing a social networking website or mobile app that will go in line with our client's expectations and requirements. Social media website development at SCAND always results in the delivery of platforms with rich functionality, high performance, and a considerable degree of user satisfaction.
Being a game development company, SCAND expertise covers everything from the creation of educational games for kids to fantasy sports software development. What makes us stand out from many other companies offering iOS and Android game development services, is a team of fantasy sports developers with a passion for both development and games.
Entertainment software development at SCAND includes such innovative approaches as the creation and implementation of a blockchain appliance. Our blockchain solutions for the M&E sector facilitate the distribution of content and ensure fair compensation for artists.
Having close to 20 years of experience in entertainment and media software development, SCAND teams create all sorts of apps for the industry, including such trendy solutions as mindfulness apps aimed at providing better control over different activities, such as keeping track of the training progress, meals, weight, etc., and adhering to meditation and sports timetables.
Whether it is IPTV development, radio streaming app development, fishfinder phone app, social media product development, or any other related to media industry development services, SCAND offers both outsourcing and outstaffing services aimed at facilitating the process of product creation.
How to start working with us?
""I have been impressed by the high level of technical skills as well as great communication skills."
The development was a success, meeting the expectations of the internal team and the third party client. SCAND communicates effectively to ensure both teams are on the same page. The team is creative and knowledgeable.
Managing Director, Software Solutions Provider
"They have the ability to tackle a wide array of technical items."
Scand successfully completed the multiyear project within the parameters and allotted time. The team worked well autonomously, offered design improvement ideas, and practiced independent thinking. Their experience, breadth of expertise, and reliability set them apart from competitors.
President at Computer Consulting Firm
"They are extremely friendly, helpful, and open to finding the best solutions."
Scand's solution is the very foundation of the company, and it's utilization and prominence regarding revenue are both telling. Their project management is effective and adaptable, and communication comes with ease. An in-person meeting with their team ensures timely and accurate delivery.
CEO, IT Company
"SCAND has outranked every other software development company we've worked with."
Extensive resources and reliability helps SCAND meet all expectations in this long-term partnership, and their engine allows companies to reduce marketing departments by 50%. A broad skill set and the ability to work remotely are also notable qualities. They're an invaluable partner.
Director of Product Development, Financial Industry
"They just want to do good work."
SCAND consistently delivered all requirements to standard and their efforts improved the website's efficiency and productivity. The team is personable and engaged with a professional, dedicated, and respectful work ethic. They are smart, reliable, and extremely skilled in development and coding.
Founder, Social Network Company
"They're one of the best companies that I've experienced."
The finished platform is excellent, was delivered on time, and to the expected quality standards. The team is dedicated, works efficiently through an agile methodology, and is skilled at what they do.
CTO, Automotive Firm
Need to Develop a Custom Solution?