Dedicated Software Development Team
SCAND allows to hire dedicated development teams that are 100% committed to your project and working on your tasks only, meeting all the requirements.
Benefits of Hiring a Dedicated Development Team
The dedicated development team is an effective and convenient option for companies looking for staff augmentation to expand their internal team, or ramp up a whole product development team in case there are no software engineers in-house. You can either partly delegate management to us or manage your dedicated development team yourself. Our transparent approach to management allows to provide you with a detailed picture of the development process.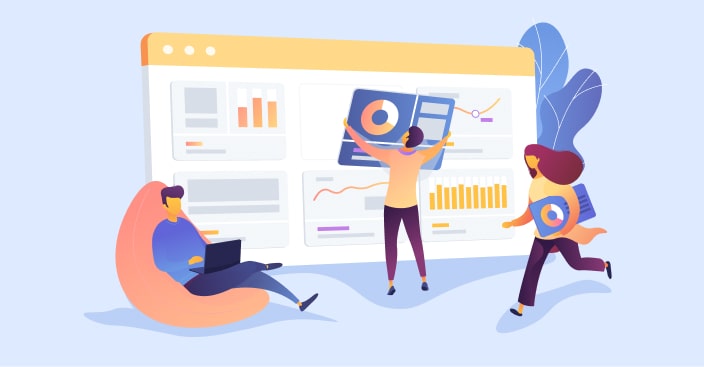 While hiring a dedicated development team, there are several benefits:
More cost-effective than searching for and paying to in-house developers;
No hiring efforts as we guarantee a fast ramp-up of the team;
Lower TCO due to absent extra expenses for additional infrastructure (employee benefits, IT and infrastructure costs, training costs, office costs);
Ability to quickly scale the team.
Development Teams for Hiring
SCAND has more than 250+ developers experienced in numerous technologies, frameworks and tools. Most programmers working in dedicated teams are of senior and mid level with a good command of English. We provide both back-end and front-end development teams, as well as Business Analysts, UI/UX designers, QA and DevOps specialists and Project Managers.
With over 20 years of experience in software development, we have proven to be a reliable outsourcing partner for tech companies. We deliver full-cycle software development services in a variety of technology stacks and business domains.
By outsourcing software development to us, you will reduce production costs and time-to-market while ensuring high quality and technological innovation. We use popular methodologies like Agile and Scrum to stay focused on business-critical features. With  our software outsourcing services, your project is in safe hands.
We provide our dedicated teams to our clients on outstaffing basis as well. Our development teams have professional acumen to deliver maximum speed and flexibility interoperability and help global IT companies scale quickly and manage transformational challenges while driving efficiency and improving service levels.
We don't only offer a service – we offer a partnership. We take the stress out of human resource management and provide the best option for you to achieve your goals, all while remaining flexible along the way.
If you are not satisfied with the result after a month of our work, we guarantee no billing for this month.
Why Clients Hire Our Dedicated Development Teams
Being located in the center of Europe, SCAND is considered to be one of the most reliable and experienced outsourcing software development companies for the following reasons:
We have a strong pool of experienced software engineers and project managers, so your dedicated team will be formed in accordance with the skills and expertise required for your project. Our dedicated development teams are here to ensure your success and provide you with the support on every stage of the software development process.
We provide all means of communication to our customers (phone, messengers, video calls, etc). We prefer to communicate on daily basis, share progress, and eliminate all the emerging issues as fast as possible. Also, we are open for two-way guest visits that allow us getting acquainted in real life to set better contact.
We are ready to work with any software development initiative, on any workflow type, and with the technology you need or prefer for your project. No matter in which time zone your company is based, we adjust our working schedule to have at least a couple of overlapping hours for everyday communication.
Whatever service we provide, we always strive to make our customers happy, help them improve operational efficiency, and give them the bandwidth to focus on their market growth and customer satisfaction. Grow your team and expand your software development capabilities with a reliable partner by your side.
At SCAND we implement an individual approach to each customer as the project scope and requirements may vary. Some clients turn to us with a brief project description, while others – with comprehensive information on the project (documentation, design, mockups, wireframes). No matter what requirements you have, we are always ready to help you. Learn how to start working with us:
Share your ideas and expectations with us, specify the project requirements or send an RFP, RPI, RFQ. We are always ready to sign your non-disclosure agreement or can provide you with ours.
Our engineering team has a deep overview of the customer requirements to come up with the best UI/UX, architecture and technology stack alternatives.
We discuss project requirements with the client and clarify the details, outline the project roadmap and conduct interviews with software engineers if needed.
Commercial project estimation in terms of time and cost, suggestions on architecture, technology platforms, tools, and methodologies.
Outsourcing your work to a dedicated team is a business strategy that implies transferring your project or a set of projects to an external company. Learn more about how to find and hire a dedicated development team: