How to Manage a Dedicated Software Development Team Effectively
Today, the market requires businesses to go hand in hand with technologies. Sometimes the demand for software product development is much higher than the internal software development team can handle. And very often businesses run out of resources or never have them due to the company specifics.  In any of these cases, hiring dedicated offshore developers is an effective solution.
Why Hire a Dedicated Software Development Team?
In short, it is both convenient and cost-effective. But some more reasons follow: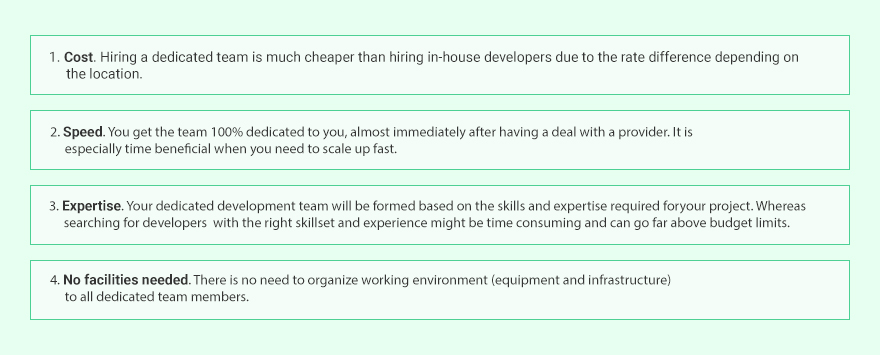 What About Disadvantages?
Let's see what issues might arise when hiring a dedicated team of developers (later we will see how to cope with them effectively):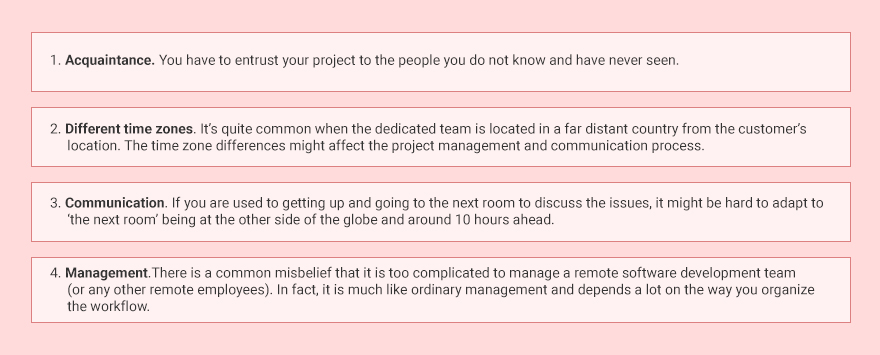 How to Manage a Remote Development Team?
Here is a list of recommendations for dedicated software development team organization. The more you implement, the better workflow you get. Bare in mind that huge part  of this job can be done by the offshore managers included into your dedicated team.
Communicate daily and effectively
Run everyday meetings to track the progress and to keep everyone informed about all the updates. Use audio and video calls to get a better contact, invite everyone to share their screens to make others understand explanations faster.
It would be perfect if you find time to meet your dedicated team in real life (at least key developers and managers). This helps to motivate the team and share your company's values.
Schedule well
It is important to have at least a couple of overlapping hours to put all the cross-office communication at this time. Hold meetings at the same time everyday, so everyone could get prepared. Keep meetings short and 'on business'.
Try to divide the whole project into smaller parts, as going step by step is more productive, while smaller parts of work are simpler to control.
Provide all the data
Inform the team on all your requirements and crucial information. If vital details show up after some work is done, it slows down the development and release as well as  demotivating your dedicated team.
Make sure that all the decisions and the results of every meeting are documented and available to every team member.
Choose user-friendly soft
Texting, calling, screen sharing, time tracking, and tasks managing is going to be your daily routine. Your task is to keep it as pleasant and simple as possible.
Here are some useful tools for managing software development teams:
Text communication: Slack, Flowdock, Yammer
Audio and video calls: Skype, Google Hangouts, Join.me
Screen sharing: Join.me, Mikogo, Screen Leap
Time tracking: Harvest, Freckle, Time Doctor, FunctionFox
Task lists: Trello, I Done This, Wunderlist
Project management: Apollo, Basecamp, ProofHub, Taskworld
File management: Dropbox, Github, Google Drive
Collaborative writing and sketching: Canva for Work, Dee Kit, Evernote
The bottom line
To sum up, we can say that just like everything new, managing a remote team of software developers may seem challenging at the beginning. But as soon as you set appropriate work process, dedicated team turns out to be a fast and cost-effective way of getting a high-quality product.
SCAND dedicated software development teams have vast experience in working with both nearshore and offshore clients, and was named one of the top offshore software development companies for providing quality, effective and up-to-date solutions. Contact us with any questions! We are here to make your technological dreams come true.
Other Posts in This Category