Looking for a skilled .NET developer or a professional .NET development team? SCAND has 60+ .NET programmers on board most of them senior level. Their skills and expertise allow building powerful and reliable solutions for the Microsoft Windows platform as well as creating high-quality custom software solutions.
.NET Development Services We Provide
Our .NET developers are capable of delivering all kinds of apps — desktop, web, mobile, cross-platform — and can bring value at all the stages of product creation — from design and testing to deployment and maintenance.
Full-Cycle Development Process
Our team of full-stack .NET developers offers a full-cycle development process, we ensure the delivery of ready-to-use, competitive, maintainable software solutions aimed at enhancing businesses of our clients and increasing their ROI.
2. UX/UI Design

Turning the software specifications into a design plan, preparing design mockups and creating project prototype.

3. Software Development

Both front-end and back-end development, generating the programming code on the previously chosen language.

4. Testing

Running QA testing on every development stage, detecting defects, reporting, bug tracking, fixing and retesting.

5. Deployment and Support

The actual product release phase, deployment on the market and after release support and maintenance.

1. Requirements Analysis

In-depth project requirements analysis, suggesting the best architectural solution and the roadmap for the entire project realization.
How to start working with us?
How to Hire .NET Developers at SCAND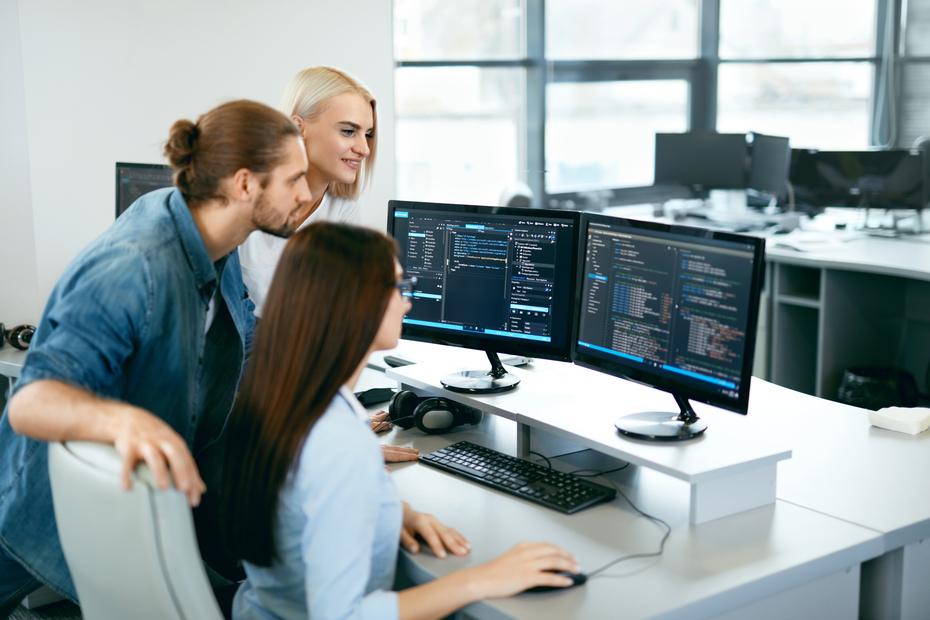 At SCAND, we have a pool of .NET software developers to choose from, including ASP.NET developers, C#.NET, .NET Core developers, ADO.NET developers, etc. We work  on time & material or outstaffing basis as well as we can allocate a dedicated .NET development team available to start working right away.
1




Team Selection

Once we get your inquiry we select the most appropriate .Net developers for you, then send the CVs and schedule an interview.

2




Interview

You interview the selected candidates for your project.

3




Agreement

Once you select the required specialist we proceed with the agreement issues.

4




Working process setup

Together we discuss the project management and communication tools to make the working process more transparent.

5




Project kick off

The .Net development team starts working within a few days after the contract is signed.
Why Clients Hire Our .NET Developers
Being located in the center of software outsourcing in Eastern Europe, SCAND is considered to be one of the most reliable and experienced outsourcing companies in Belarus for the following reasons:
Today there are 250+ qualified, talented, data-driven software engineers working for SCAND, offering the development of efficient software solutions tailored to our clients' business goals.
Our hourly rates are much lower than they are in Western Europe and the US. Also, outsourcing software development services offered by SCAND eliminate extra expenses on infrastructure, office, salary, and training.
SCAND outsourcing developers are fluent in English. Although we don't claim to sound like native speakers, our accent is clear and easily understandable.
1 month Zero Billing Guarantee
If you are not satisfied with the result after a month of our work, we guarantee no billing for this month.
Need .NET Developers for Hire?