Software Outsourcing Vendor Selection Process and Criteria
Published: April 6, 2021
Updated: April 8, 2022
In today's highly digitized and interconnected world, any business can find the best remote software development teams at the most attractive prices to build their own business apps. However, the searching process of these teams can turn into a real challenge. The IT outsourcing market is highly competitive. And every software outsourcing vendor proudly represents its achievements and great developer skills on their sites. All that can be quite perplexing, especially for a novice who looks for a decent software development company for the first time.
How to avoid confusion and choose the right outsourcing partner? In this article, we look into the software vendor selection process in outsourcing and share practical tips on how to opt for the best one.
Key Ideas to Keep in Mind When Choosing an IT Service Provider
Before selecting any outsourcing company, businesses should take their time and turn their attention to their projects. They have to realize clearly the type of their project, what are the requirements of their product and decide on an engagement model.
Project Evaluation
To understand their projects better, businesses can take the following steps:
define the type of a project – if it's an MVP or simple project with minimum features to implement or a complex solution with flexible requirements;
evaluate the scope of a project – customers need to decide on details that they already know about their future product, define the questions they need to discuss with their future vendor, consider staff and equipment it needs for successful app development, and others;
estimate the project budget – budgets for small projects with detailed requirements are easy to calculate, while the budgets for large ones with changing requirements can be reevaluated several times along the project;
define time to market – customers should realize if an early app release is a determining factor for the success of their business or they could afford more time for their app development;
establish deadlines – customers have to define the deadlines that can't be postponed or moved and are extremely important for the project success;
choose a software process model – there is a wide range of software process models in IT, including waterfall, Incremental, Agile, RAD, and many others.
Each of them defines the working style of a project team and the activities undertaken during the development process. The selection criteria for software process models strongly depends on the project's scope, requirements flexibility, type of system to be developed.
Choosing the Right Engagement Model
Once a company has evaluated its project, the next step it should take is to decide which engagement model suits its project best. This will help them to define customer-vendor working regulations, including terms of cooperation, project deadlines, pricing policy, and other regulations.

Here are the most widespread engagement models in IT outsourcing.
A fixed price model is a classic approach in software development when a customer obtains software development services for a fixed price. This type of service implies that a customer decides on the product requirements in advance and they can't be changed later on. The fixed price model works great for small projects when the budget is limited and features and requirements are clear.
Time & materials contract (T&M)
The T&M model is based on the idea of gradual spending of project resources on product development. It means that customers get actively involved in their app development project. They decide which features to spend their time and money on and which changes to implement so that their apps meet most of the end-users requirements.
This engagement model suits well for long-term and complex development projects when product requirements aren't clear. The costs are based on an hourly rate and discussed with software outsourcing vendors in advance.
A dedicated team engagement model is about hiring a software development team that performs a full circle of product development. These teams usually include front and back-end developers, QA engineers, designers, project managers, and any other specialists a customer needs for successful app development.
Customers get a fully-equipped software development team that can fulfill projects of any complexity and duration. Moreover, they can scale up or down their teams depending on the project needs.
The outstaffing engagement model involves hiring particular specialists from a software outsourcing vendor to integrate them into a customer's in-house developer team. It means that a hired employee works remotely full-time adjusting to the policies and schedules of an in-house team.
Outstaffing is ideal for staff augmentation when customers need to enhance their team's working capacity, hire seasonal workers, or substitute temporarily absent employees.
Here is a quick engagement models comparison you can quickly refer to when making your choice: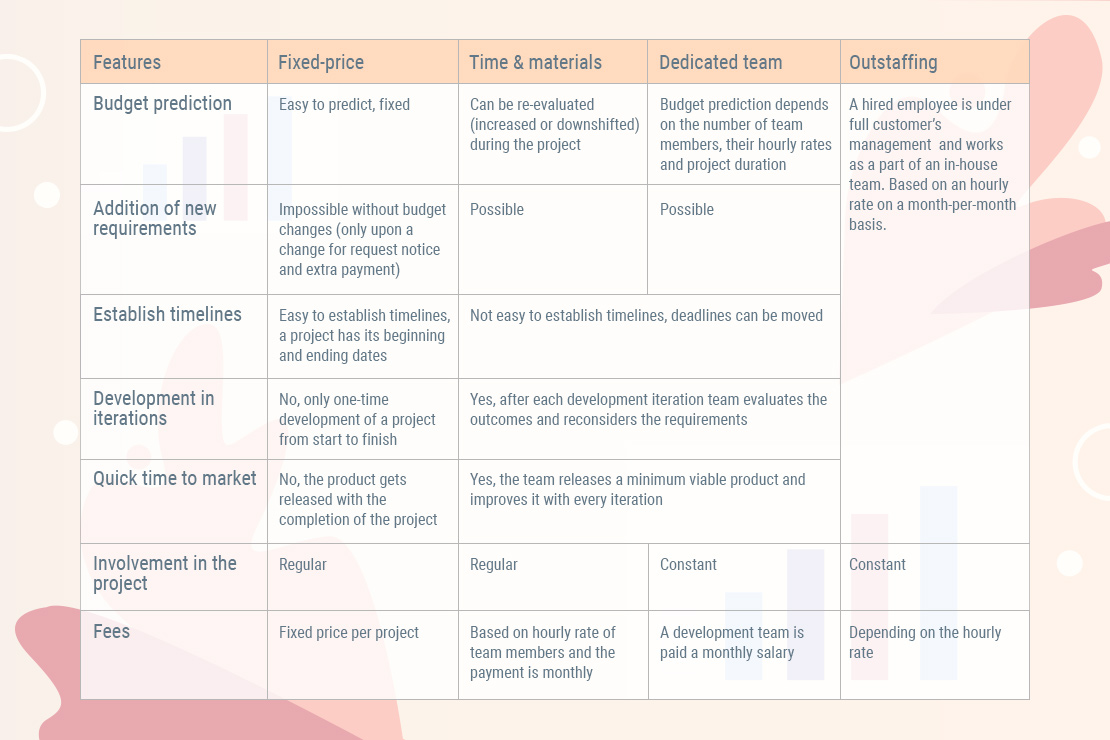 Main Vendor Selection Criteria to Base Your Evaluation On
As a business has evaluated its project and decided on which engagement model to use, it's time to find an outsourcing vendor. Vendor selection criteria are often based on IT provider relevant experience, portfolio, reviews, and some other factors.
Here is a list of essential criteria for software vendor evaluation.
Experience
There is a wide range of software outsourcing vendors with different levels of software development experience and expertise. To find the right one, businesses need to search for those who have hands-on experience in similar projects. For example, if a company specializes in IoT, it's very likely that its teams also develop various logistics tracking software or enterprise apps that involve IoT solutions.
Businesses can search for software outsourcing vendors with relevant experience on specialized tech sites like Clutch and Glassdoor, Upwork, and others, or social media like Facebook and LinkedIn.
Expertise
It may be quite challenging for some companies to find tech experts locally. For example, they may need developers with a special technology stack, like Blockchain development, working with Artificial Intelligence and Big Data, or building microservices-based apps in Java. That's why many businesses search for them abroad.
Those businesses that look for a certain skill set outside their countries should aim at the IT companies that have the necessary expertise. For this, they need to:
create a shortlist of the vendors specialized in the areas of their interest;
prepare a set of questions for the specialists and hold face-to-face interviews with them.
Another point to consider is tech infrastructure. Software vendors should provide their customers with great hardware and software infrastructure as well as networks. This will ensure that the delivered apps are thoroughly built, well tested, and the data is securely stored and exchanged.
Portfolio and References
Shortlists help businesses to narrow down the number of software outsourcing companies. Once business managers create a list of their potential candidates, they have to make it even shorter. For this, they can conduct deep research on the chosen companies. One of the effective ways to do so is to investigate software outsourcing vendors' portfolios and references.
Business managers can go to the companies' websites and evaluate:
how well they are organized and developed;
what projects they have in their portfolios;
what kind of prior working experience they have.
Besides that, business managers can visit social media sites and specialized sites like Clutch, and search for companies' reviews.
Location and Communication
For the companies looking for remote software vendors, it's still important that they have the possibility to visit their software development partners. This will help businesses to better establish relationships with their IT outsourcing service provider and better communicate their project ideas. Therefore, businesses can search for vendors within 2-5 hour flying distance, like Eastern European providers for the EU.

However, if visiting a software outsourcing vendor's location isn't an option, businesses need to make sure that their communication channels are well-established. It means that software development companies provide them with:
means of instant communication, like Skype and Slack messengers and corporate emails;
software for project development and work progress tracking apps, like Basecamp and Jira;
apps for video conferencing like Zoom and Skype and a schedule for planned meetings.
Besides the means of communication, businesses need to make sure that the software development team has a strong level of English language expertise and can readily answer all the customers' queries.
Pricing
Pricing is the factor that many businesses check first when selecting their software outsourcing vendor. Though pricing is important, businesses shouldn't base their choices only on it. The cheapest rates can lead to higher expenditures in the long run.
Cheap prices are often provided by low-experienced companies. This results in longer product delivery, poor testing and security, higher rates of bugs, and unprofessionally developed apps. On the other hand, too high rates don't necessarily signify quality. Therefore, the best option is to choose the software development companies in the medium-price segment.
Besides the overall software development companies' rates, businesses should consider the type of work needed to develop their apps. For example, there is no need to hire full-time graphic designers if they don't participate in all the stages of a project. In this case, it's better to consider hourly rates. And if a company wants to run long-projects then the best option would be hiring a dedicated development team.
Concluding Thoughts
The development of successful and robust business apps heavily relies on an informed choice of software development partners. To select software outsourcing vendors carefully, businesses can undertake several steps:
thoroughly evaluate their development projects;
wisely choose an engagement model;
conduct in-depth research of their candidate software outsourcing vendors.
All these activities can help businesses effectively minimize their expenses, improve risk management, and avoid any hidden mistakes in project management.