How to Build an Omnichannel Digital Banking Solution
Published: November 16, 2021
Banking like many other industries has been undergoing a continuous digitization process for some time already. Digitization in the banking sector triggered massive transformations, encouraging banks to search for custom finance software development services to build digital banking solutions. With all this, banks have started adopting digital marketing strategies from e-Commerce to improve their level of services and keep their customers' satisfaction at a high level. One of these strategies was to adopt a multi-channel approach to provide customer service across various channels.
The multi-channel model has become a good foundation for further digital ecosystem development – the omnichannel approach. Omnichannel banking solutions allow financial institutions to interconnect their selling and communication channels, providing a comprehensive banking experience to their customers. In the post-pandemics times, when businesses increasingly rely on digital solutions, banks have to rapidly consider the possibility of shifting their customer service models from multi to omnichannel.
In this article, we'll look into the details of omnichannel banking and its advantages, and explain why banks need to consider its adoption right away.
What Is Omnichannel Banking?
Omnichannel banking is a set of services with a seamless experience offered by banks to their customers via diverse online and offline channels. Bank customers can perform various banking operations by using mobile banking apps, websites, call centers, bank branches, and other banking channels. They are united into one digital ecosystem and synchronized among each other. This way, customers receive an uninterrupted banking experience anywhere and anytime.

For example, a bank customer can issue a credit on a website, though finish document processing via a call center without the necessity to repeat all the data all over again.
The adoption of the omnichannel approach in service provision is becoming a widespread strategy for many businesses, including banking institutions. It represents an enhanced multi-channel service provision model and includes the following features:
a client-centric view – when banks move from a bank-centric to a client-centric view. It means that they care about the experience their customers obtain when interacting with the brand, e.g. a well-build customer journey map, understanding and optimization of customer touchpoints, and other;
interaction via multiple channels over transaction – when banks attempt to connect with their clients rather than provide automated services, e.g. using a personalized approach, instant issue solving, etc.;
understanding the client want and need through analytics – when banks strive to exceed expectations of their clients by anticipating their wants and needs with the help of detailed customer data analysis;
reliance on systems of engagement – when banking institutions use FinTech instruments designed for their clients, e.g. mobile apps built for customers or business partners for effective interaction with the banks;
reliance on big data – big data is a source of valuable insights on how to improve customer services as well as streamline inner workflow for financial institutions.
Key Benefits of Omnichannel Approach in Banking
When adopting an omnichannel model, banks obtain an integrated infrastructure of all promotion channels. It allows switching between the channels without any disruption in customer journeys, leading to more convenient and personalized services.
Let's have a closer look at the advantages that an omnichannel model can offer to banks and their customers.
Omnichannel banking allows customers to use different channels to solve their ongoing banking problems. Therefore, they can switch from digital tools to face-to-face interaction with bank managers and back, resolving their issues faster. Moreover, the interconnected system makes customer issues more visible to different banking departments which helps to exchange the data or find a specialist who can solve the problem more quickly.
Omnichannel digital tools often include chatbots and digital assistants which help resolve simple customer inquiries without the necessity to refer to banking personnel. It reduces the operational costs allocated for customer service as well as allows bank workers to better focus on more complex issues.

Advanced analytics is a part of the omnichannel model. The model requires banks to deeply analyze the data they gather from their customers, learning more about their habits and preferences. As a result, banks can create and provide the best offers to their customers and better learn about each of their customers' needs.
With omnichannel digital tools, banks can establish effective communication with their clients and potential customers by tracking all the touchpoints and using various communication channels.
Omnichannel banking involves strong security tools such as multi-factor authentication, SMS verification, mobile banking app verification, and many others. This way, banks can keep their customers' personal data safe while providing effective services.
Why Use Omnichannel in Retail Banking?
Digital transformation has heavily influenced the banking sphere. Many banks have already established their online presence, moving from a branch-centered offline approach to a digital multi-channel strategy.
According to The Future of Private Banking in Europe report by McKinsey, in 2020 71% of European private banking clients preferred multi-channel interactions, with 25% of respondents ready to embrace a fully digitally-enabled private banking journey with the option of remote human assistance when it's necessary.
Although banks have become more accessible to their clients there are still many challenges to tackle. For example, lack of connection between various digital channels leads to informational silos between bank departments, and interrupted customer journeys make banking processes more frustrating and complicated. Therefore, banks are continually searching for new technologies and approaches to make their services smoother and easier to use.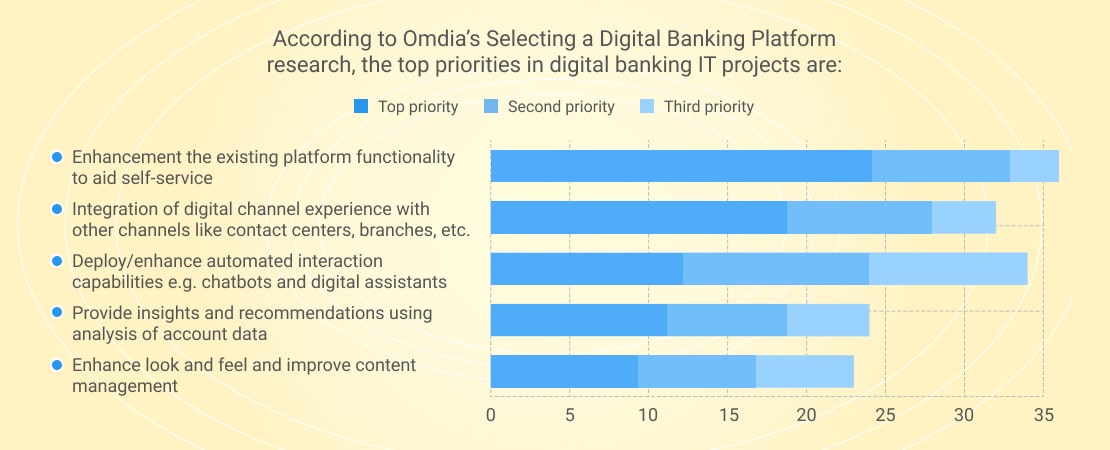 While long-standing banks are re-evaluating and upgrading their customer approaches and service provision options, such big names as Apple, Amazon, Facebook, and Google are becoming more interested in the banking sector. The new competitors will bring the latest technological advancements in the sphere and more closely align banking services with customer expectations. Therefore, the existing banks have to act now and faster embrace the omnichannel banking approach to remain competitive in the market.
Building the Best Omnichannel Banking Strategy
For banks to turn their digital infrastructure into a comprehensive distribution system, they must focus on the development of the following capabilities.
Interconnected infrastructure
For establishing a successful infrastructure of interconnected and aligned with each other selling channels, banks need to make sure that they have developed a strong multi-channel system to rely on. Once banks have this system, the next step is to ensure a unified client record that tracks all interactions with the bank via all channels.

Advanced analytics of the raw data gathered from their customers helps banks to enhance their customer targeting. By analyzing customer behavior and general behavior patterns banks can optimize and improve their lead generation by advertising the right services at the right time. Besides that, by using customer analytics, banks can better investigate the transactional patterns and social media interactions and leverage this knowledge for improved risk management, making better pricing decisions, and others.
Marketing personalization
Banks widely adopt personalization marketing techniques to enhance their interaction with customers and provide better services. They estimate the time clients spend on certain blog topics, calculate the number of clicks on the bank web pages and use other methods to perform a detailed analysis. With great coordination across the promotion channels and detailed data analysis, banks can build more effective strategies for offering more personalized services. e.g. using direct channels like emails to evoke customers' interest in service and conclude the deal in personal communication by phone.
Equipped and motivated salesforce
Apart from using digital tools to better meet customers' needs, banks also should consider the human side in their omnichannel models. They must ensure that customer awareness and interest triggered by analytics are backed up by a relationship manager. For this, banks have to train their personnel how to work with omnichannel systems and motivate them to provide top-notch services.
Conclusion
Global industry digitization urges banks to incorporate digital tools and systems in their work and adopt new approaches in customer service. Customers demand more seamless and convenient services on the spot. That's why many banks are already using multi-channel models in their interaction with customers.
However, a multi-channel approach isn't a remedy for excellent customer service and there are still many challenges banking institutions have to tackle to increase their customers' satisfaction. One of the effective ways is to transit from a multichannel to an omnichannel model.
Omnichannel banking allows financial institutions to integrate their multiple selling channels into a coherent system that provides smoother customer service and allows banks to build more precise customer strategies. As a result, banks increase their customers' satisfaction with the services, find new ways to generate revenues and lower operational costs.