Meet an Efficient Realm Browser for Android
SCAND Mobile Development Team has been building mobile apps for almost 10 years already. Apart from the popular platforms: Android, iOS and WM we had a chance to work with some rare systems like Bada and Tizen. Having significant experience and more than 50 unique cases from our personal expertise in various developmental fields we are still craving for the best means to optimize, facilitate and make the development efficient for us and cost effective for our customers.
Realm as one of the most prominent NoSQL databases
The excellence in what we do often comes with the latest and trendy tools, libraries, IDE, patterns, algorithms, programming languages and approaches we use to develop mobile applications. We always try hard to meet our customers' financial expectations. That's why we carefully analyze and evaluate the nature of the data being stored: ways to manipulate it, its value and only then we decided either to use relational DB, NoSQL DB or the combination of them. According to our expertise in mobile software development, some cases justify NoSQL DB cost effectiveness and affordability in comparison to regular SQL databases. Once we made up our mind to work with NoSQL databases, the process of tough selection was brought into life and we noticed Realm DB which really stands out among others for a number of reasons:
its easy integration;
relatively high speed;
its cross-platform character;
reliable data protection;
its noncommercial character, this database is free for use.
The idea of Android Realm browser development
With the time it became clear that despite this database is highly appreciated throughout the mobile development community there is still something to improve. So we developed a Realm browser for Android to debug and test the application logic or the UI. Our library is pretty helpful. It allows developers who build apps using Realm database view the saved data and debug modules which are working directly with this NoSQL database. The library is also stuffed with the function of automatic data generation.
Our Realm Browser library helps developers get the direct access to the stored data while the application is launched without making a copy of the data file.
Our browser could be operated on Realm database in two ways:
With the notification created;
By calling method at the right time.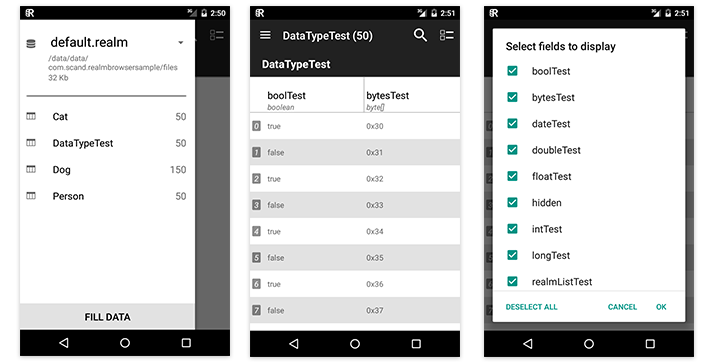 Our Realm browser for Android is free and could be reached at:
https://scand.com/products/realmbrowser/
It's another useful tool Scand Mobile Development Team is happy to share with the world of developers.
We will be really happy to receive feedback and ideas from you. Feel free to share by writing to us.
Another Posts in This Category