While the company grows, it becomes more difficult to maintain and control the business processes. Here is where ERP systems come for help. ERP (Enterprise Resource Planning) system is a software, which allows storage and processing most of the company's vital data within one database. Literally, this software integrates all the business processes into one system, which streamlines and simplifies relations between different units (like production, accounting, HR and other units). 
Advantages and Disadvantages of ERP System
In spite of the fact that ERP systems can simplify the management of internal business processes, they can be complicated in everyday use or can be hardly integrated into the existing systems of a particular company. Let's take a look at pros and cons of implementing ERP system.
Benefits of ERP
First, let's see what profit business gets with ERP system implementation:
One Database
ERP system usually comprises one database which unites all the information from different business units. All the business units have access to all information in real time which allows them to work faster and more effective. One single database also reduces the risk of the human factor, since there is no need to re-enter the same information to several programs or to transfer it using paper documents, e-mail or flash drives.
Improved Security
There is no need to store secure sensitive information in Excel tables, Google Docs or on paper. Security settings of an ERP system also allow to provide or restrict access for certain departments or employees, so everyone sees only the information they need for work and all the sensitive data stays protected.  
Scalability
Most ERP systems allow fast scalability in terms of new functionality. You can simply add an already existing module or integrate a system supported by this ERP, so there is no need to develop new functionality, rebuild the system or rewrite existing code.
Better Analytics and Planning
ERP system can be easily integrated with different analytical applications which significantly simplifies analytics and improves forecasting and planning.
Challenges of ERP
ERP systems seem to be an effective and even essential tool for middle and large businesses. However there are still some issues that should be taken into account.
High Costs
Integrating an ERP system  is quite expensive. In long term perspective ERP integration  improves processes and saves money, but at the initial stage it demands significant investment.The cost includes not only software, but also analyzing and improving existing business processes, payment for storage (servers or clouds), training your staff etc.
Codependency
The system should be carefully integrated and monitored since if one day it goes down, all the working processes will stop. That is why it is crucial to set everything up carefully and to ensure timely maintenance.
Risk of Failures
ERP implementation failure is a common problem. The reasons may differ from company to company, but mostly they are the following:
going far beyond the initial budget;

choosing the wrong ERP system;

inability of employees to stick to the new workflow. 
These problems can be avoided by thorough planning and asking for vendor's help.

Steps to ERP Implementation
ERP integration strategy demands a lot of attention and effort, but we know how to make this task easier.
Here is a list of things to include into your ERP implementation plan: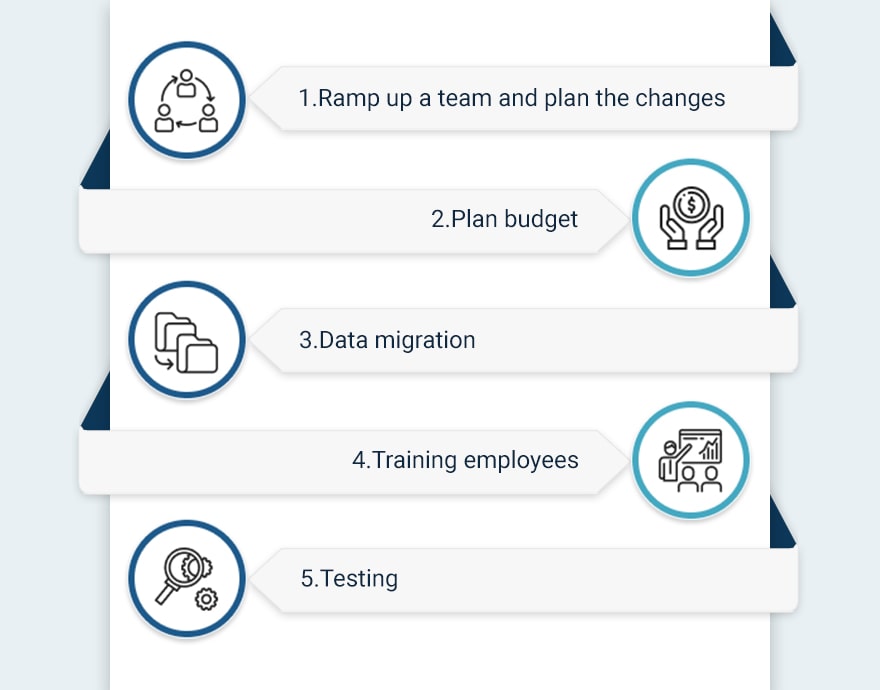 Ramp up a team and plan the changes
Choose an employee from each department to provide you with a detailed picture of the systems and processes within their unit. The task is to analyze the processes and find the ways to simplify them. Together with this team create a plan of how these changes will take place.
Plan budget
The most common reason of failing to integrate the ERP system is going out of budget. It happens because not all the possible expenses were taken into account at the planning stage. Here is what to consider:
upgrades of technical equipment;
vendors' fees (consultancy, training your employees, customization of ERP);
data backups and storage;
overtime payments for your staff;
loss of productivity during on-boarding period.
Data migration
It is important to decide which data to take and which data to leave. The thing to do here is distinguishing useful and up-to-date data from the old database, which you need to migrate.
The next step is to transfer it to the ERM system. It requires extreme accuracy, as all the business units now share the same database (and mistakes).
Training employees
ERP system will not be beneficial and can even do harm, if the staff does not use it correctly. So, do not hurry to go alive and make sure everyone understands how to work in the new system.
Asking your vendor or experienced software company for training employees might seem pointless extra expenses, but actually that will speed up the learning process and minimize possible mistakes in future.
Testing
Before running an ERP system, we strongly recommend to test it, mirroring everyday working scenarios. It is better to test the system even twice or more to notice and eliminate all the issues that might arise.
After completing all the preparations and going alive, do not forget about constant evaluation to see progress and compare current efficiency with the initial plan. If additional difficulties emerge during work, evaluation will also help to reveal them and to find a solution real quick.
The Bottom Line
Although implementation of ERP system in a company can be challenging, it remains an excellent tool for medium and large businesses, which helps to automotize processes and make them more effective.
An experienced SCAND's team is ready to help you with implementing ERP system: choosing the one that suits your needs, integrating and maintaining it, and also training your employees. If you have questions, do not hesitate to contact us!