How Long Does It Take to Create a Social Network?
Published: September 17, 2019
Today social networks enjoy popularity and bring money to their owners. No wonder that a lot of entrepreneurs want to repeat such a success and hit the market with their own social network.
Unfortunately, most of them fail, because they simply try to copy the existing platforms. But who needs one more Facebook, LinkedIn, or Instagram?
So, the first thing to consider here is a unique idea that would make your social network visible among thousands of others and provide users with the opportunities they do not have yet.
If you already have an idea, let's move on to the development process and time required for it.
Custom Developed Solution
The time required for the creation of a social network from scratch directly depends on the features that need to be developed. The more features needed the longer the development process, the higher the price.
Below is a list of main features a standard social network might require: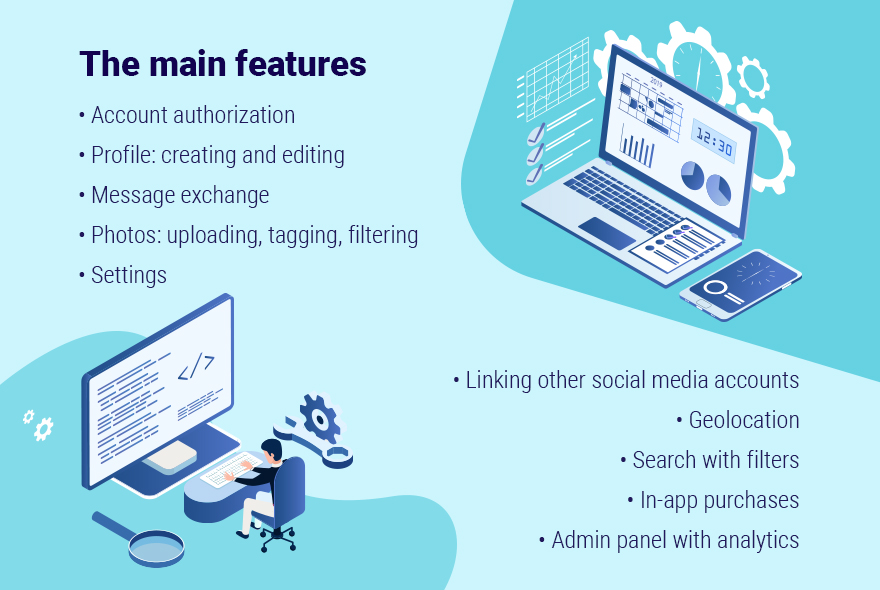 The main disadvantages of this approach :
It is very expensive
Development team management is required
Long development time frames
Open-source Platforms
The development of a social network from scratch might take months and even years. However, there is also an alternative way to create a social network — to use special site-constructors.
It will take only a couple of months (and would be rather cheaper than the development of a custom platform). There are a couple of good online platforms that allow creating social networking sites:
Elgg — open-source social network software which is free to download.
Dolphin Pro — open-source software for creating custom social networks and web communities.
OSSN is an open-source social network software with a Facebook-like interface and features.
Humhub — free and open source social network software kit.
Oxwall is a free social network software cum content management system.
BuddyPress is a product of the well-known CMS WordPress.
The main disadvantages of such platforms are:
Relatively free, as they provide limited functionality in the free addition. If more features required then the price might grow and change over time.
Restricted number of features and, as a result, the inability to provide a unique user experience.
Security issues, as users cannot be sure that their personal data is 100% safe.
Performance concerns, as such platforms can not often experience high pick loads
Customization becomes difficult with pre-built solutions
Conclusion
Before making a decision on the approach to the development of your social network, we recommend analyzing the market and determining the features your network requires. SCAND team is ready to help you with this as well as with the development, deployment, and support of a social network platform. Contact us to start a new project together!
Other Posts in This Category