Customer Service Chatbots: Good or Evil?
Published: May 24, 2019
Updated: October 2, 2022
The growing trend of using AI chatbots for customer service is as promising as it is controversial. On the one hand, chatbots offer a wide range of advantages like relieving business owners from recruiting and training customer service representatives and helping them to cut expenses. On the other hand, most customers still prefer humans over chatbots, pointing out that chatbot technology does not provide quality customer service.
So what is the future of artificial intelligence chatbots? To answer this question, let's understand the basics of chatbot technology, find out how it works and how it can be used in business, as well as disclose the main pros and cons of using it.
How Do AI Chatbots Work?
When it comes to conversations with a chatbot, who is talking to you on the other end? The answer is a computer program powered by AI. These programs are totally dependent on the data systems controlled and managed by humans.
Below is a simplified scheme of how an AI chatbot works.

Chatbots in Business
Chatbots in business is often considered as an effective way of saving money and keeping customers satisfied with the service. No surprise such giants as Facebook and Google acquired AI chatbot startups in order to improve their services and keep them up-to-date. Was it worth it? Most likely, the answer is 'YES', since the adoption of chatbots by different industrial sectors is rapidly growing. Here are some industries using chatbots at most: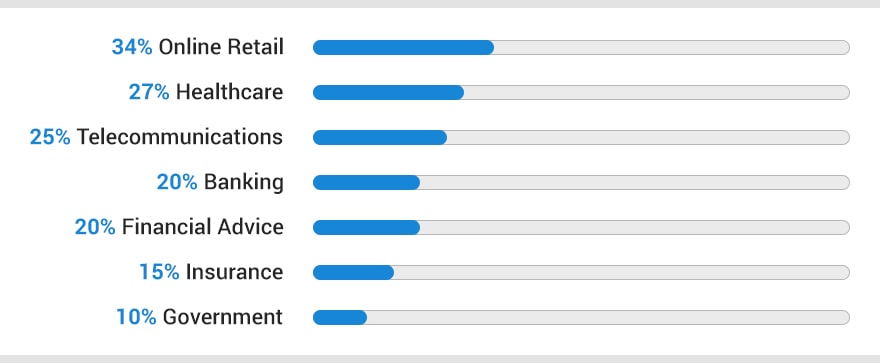 Meanwhile, Oracle recent reports claim that by 2020, around 85% of all customer interactions will be handled without a human agent. So now is the right time to start the development of a chatbot application for your business.
Why Are Chatbots Essential for Business?
What Uber, Netflix, Amazon, and Airbnb have in common? All of them have replaced human interaction with AI chatbots. There are far more benefits illustrated below.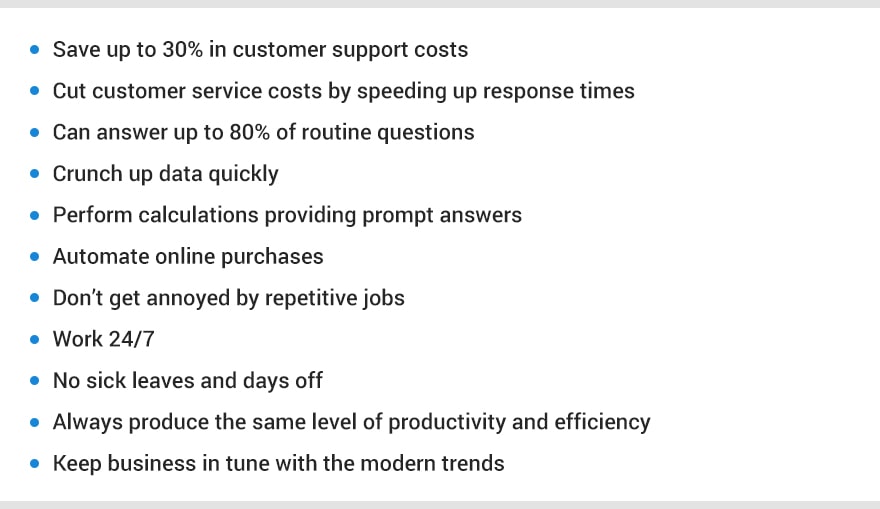 Are Chatbots Really Killing Customer Service?
Despite all the benefits chatbots provide, 43% of people say they still prefer to deal with real-life assistants. Two pitfalls of using chatbots in business are related to this statistical data. Here they are:
Chatbots fail to read tone, language, and emotions in human speech.
Chatbots can't handle complex queries by themselves, all in all, redirecting conversations to human agents for further assistance.
But do these drawbacks outweigh the benefits?
What Customers Really Think About Chatbots?
Statistics show that 53% of consumers would prefer to use online chat instead of contacting a company's customer support team. This figure is even higher among millennials, and the major reason for that is the convenience offered by chatbots. The truth is: people love instant responses!
The illustration below shows what customers like most about chatbots:

A study on chatbots conducted by Oracle indicates that more than 67% of consumers around the globe used a chatbot for customer support in the past year. The most popular chatbot use cases include: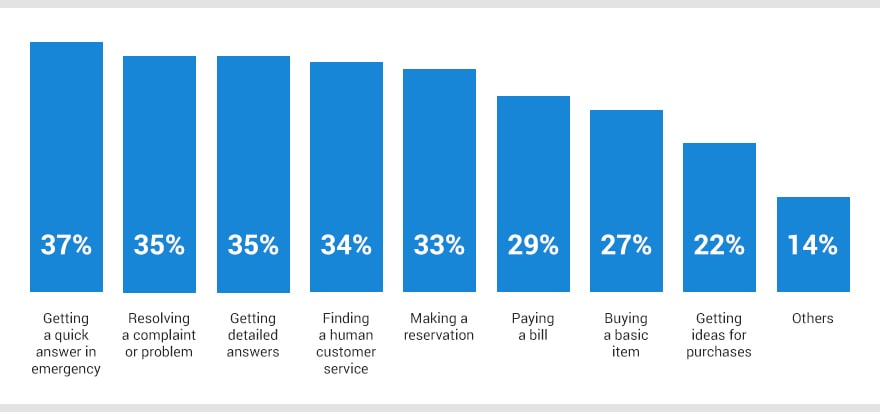 Conclusion
Even though the adoption of chatbot technology by mainstream businesses goes ahead of customers willingness to replace fellow customer service representatives with chatbots, there is no doubt that artificial intelligence will definitely play an important role in improving customer relationships. Statistics show an upward rise in the use of chatbots, and the trend will continue to grow.
If you want to take your business to the next level, it is the right time for chatbot platform development. Also, if you are still doubting which one of trendy techs will work best for your business, contact us with any questions. Let's find a solution together.