Augmented, Mixed and Virtual Reality for Business
Living in the technological era means witnessing how emerging technologies are incorporating into our daily life. However, not every innovation can take root. As for augmented and virtual reality, its adoption happened so naturally and quickly that today, almost every industry enjoys the benefits of using it. So no wonder why business owners implement augmented and virtual reality solutions in order to conquer the global market.
Below are a few great examples of how each of the innovative realities — augmented, virtual or mixed — can bring your business success. But first, let's dive into the notions!
Getting Deeper Into the Notions
Since 'technological realities' appeared not long ago, a misinterpretation between the three notions is still common, so let's clarify what is what: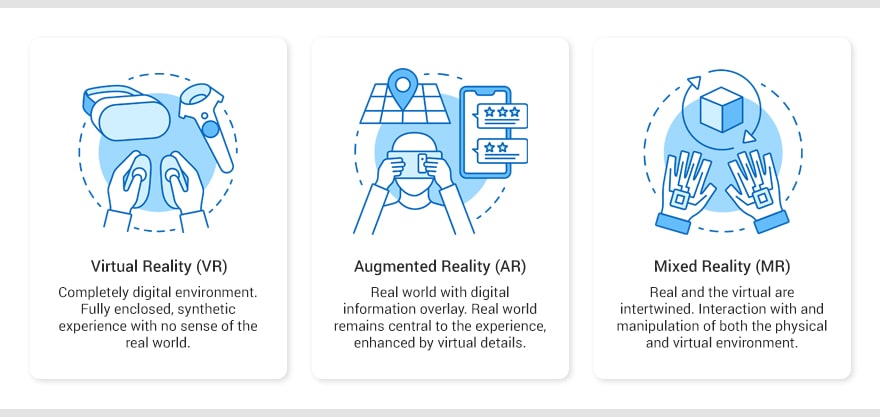 In case the above picture still has not provided you with the answer, a brief comparison of AR, VR, and MR is below.
Virtual reality totally replaces the real environment with a virtual yet interactive world. Despite unique experience it creates, VR business solutions require full user attention and can't be utilized without specialized headsets such as Smart Glasses.
Augmented Reality interferes into the existing reality, allowing to transform it into virtual objects. Unlike virtual and mixed reality, augmented reality apps are available to customers with no extra devices.
Mixed Reality is a level up as it combines VR and AR features, allowing to place virtual objects in the real environment and manipulate with them. As virtual reality solutions, mixed reality apps require using dedicated devices as well.
All three technologies enhance customer's perception by delivering artificially created digital content. But is it worth investing in AR/VR application development? Let's try to answer this question.
Why Use Virtual, Mixed and Augmented Reality Apps for Business
Market size for augmented, virtual and mixed reality is estimated to reach the tremendous $108 billion by 2021. No surprise, as there are tons of advantages outgrowing from the use of AR/VR business solutions.
The main benefit is a strong psychological impact on customers. When a person uses AR/VR/MR app, the sense of reality changes to the 'I own it' model — which is considered to be the most effective psychological trick for selling.
Another benefit of AR/VR applications is an obvious visualization which allows to learn more about specific products.
Need more reasons for AR/VR application development? Make sure you read our blog post on 10 industries embracing AR/VR, disclosing how augmented reality is used in business and how virtual reality apps endeavor businesses to take their services to a new level. As for now, let's make a brief overview of the best existing virtual and augmented reality business applications.
Best Existing VR/MR/AR Business Ideas
Mixed, virtual and augmented reality business opportunities become most evident when shown on particular cases. The illustration below reveals the best virtual, mixed and augmented reality-real world applications that have already enriched related areas.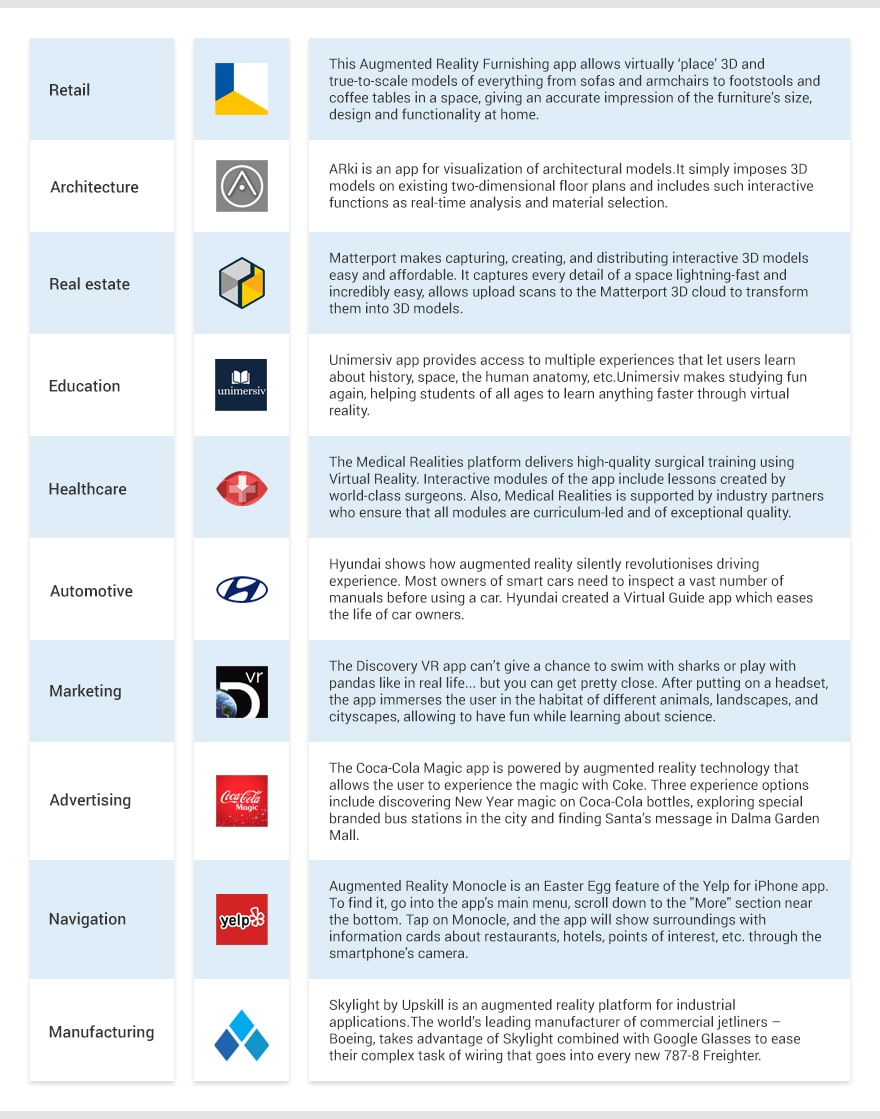 Conclusion
Giants like Apple, Microsoft and Google were the first who showed how virtual, mixed and augmented realities can significantly improve customer relations. As a result, small and big companies who want to keep up with the modern times are no longer asking how to implement innovative techs into their business experience, but they ask when.
Do you feel like your business is ready for a modern upgrade? Take a look at our AR/VR cases and contact us with any questions. Let's take your business to the next level together.