All You Want to Know About Accelerated Mobile Pages
Published: May 28, 2019
Updated: October 2, 2022
Considering the fact that more than 50% of all global online traffic comes from smartphones and tablets, the importance of a good-looking website on a mobile device is inevitable. Still, it is difficult to cover all types of mobile screen resolutions and internet formats with a single solution. Luckily, such companies as Google always put user experience first, offering such open source solutions as AMPs (Accelerated Mobile Pages).
What Is an AMP?
Google AMP is an open source technology aimed at providing fast-loading mobile website experience with an average page-loading time estimated at less than one second. The project was created for websites focused on delivering content for 'reading'.
How Does an AMP Work?
To offer fast and smooth browsing experience, AMP pages take advantage of HTML, JavaScript and CSS lightweight versions. In other words, AMP technologies are used with some constraints to ensure near-instant page load times and website compliance to AMP specifications.
A comparative example of how do AMPs work is below.

In addition to optimizing the code, AMP standards allow achieving much faster page loading speed through:
Utilization of caching;
Prioritizing the content loading above the fold;
Parallel loading of elements and scripts;
Partial preload of pages that are likely to be clicked on.
Although it might seem AMP is a 'panacea' for a great mobile website experience, it has both advantages and disadvantages.
AMP Benefits and Pitfalls
Frankly speaking, there are as many AMP benefits as AMP drawbacks. So here are the main pros and cons of using this website publishing technology.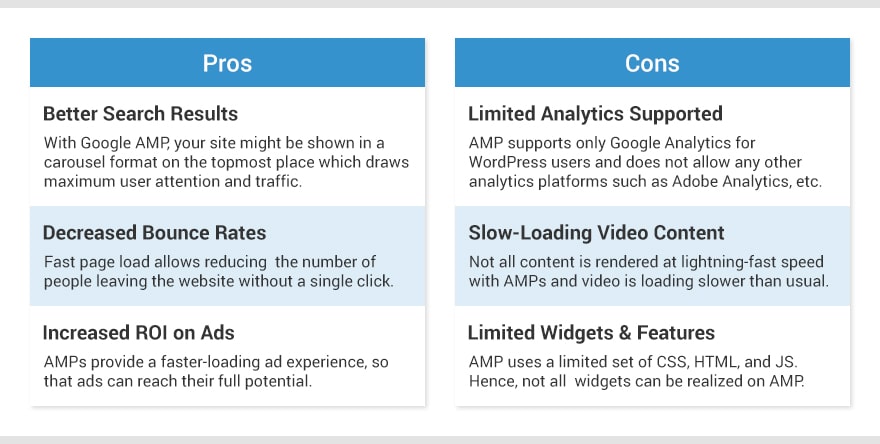 When AMP-ify Your Website?
As you can see, AMP is not a universal solution. In fact, it is best suited for businesses with static content. So it is no surprise that the best AMP examples are almost entirely made up of news publishing sites, including British financial and business TV station CNBC, American newspaper The Washington Post, technology journalism portal The Verge, British newspaper The Guardian and more.
If you still doubt whether you need to implement Google AMP, here is a simple guide: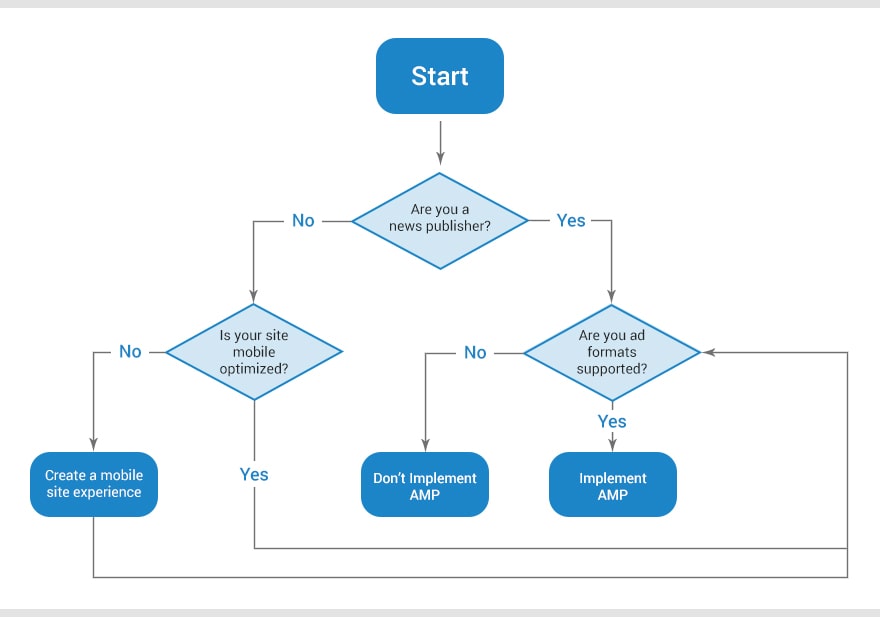 Conclusion
Although AMP is a modern IT trend, business owners have to keep in mind obvious disadvantages specific to any AMP website. So when it comes to questions like whether your website needs AMP or not, the right answer is: it depends.
SCAND has over 19 years of experience in developing all kinds of web applications, and our teams are always ready to help you choose a perfectly-suited web-solution. So if you think of developing AMP, PWA, RWD, SPA or other — we are here to help you and are always open to any of your questions.
Other Posts in This Category