Why Hire a Software Development Team in Poland
Published: October 5, 2021
Updated: December 7, 2022
IT outsourcing has always been a viable way to cut down on development costs while tapping into the best IT talents. Today, while the rest of the business world is only starting to explore the advantages of remote work, IT outsourcing is booming. IT services market size was estimated at $520.74 billion in 2019 and is expected to grow rapidly with an annual growth rate (CAGR) of 7.7% from 2020 to 2027. Given this, 65% of businesses are planning to increase their outsourcing efforts in the future.
A wide range of US and European companies consider countries of Eastern Europe as appealing destinations for IT outsourcing as they offer access to qualified and seasoned IT specialists as well as favorable conditions for building a successful partnership.

Among all the Eastern European countries Poland has the largest concentration of tech specialists with top-tech skills, a European mindset, and a decent level of English.
TopCoder ranks Poland among the top 10 countries with the strongest developers. The International Collegiate Programming Contest puts the Polish University of Warsaw on the fourth and sixth lines among the top universities with the most skilled developers in the world.
In this article, we'll explain what advantages you can get from outsourcing your IT projects to Poland.
IT Services Market Overview
Poland is one of the largest hubs of software developers in Central and Eastern Europe. In 2019, it amounted to 401,000 developers, encompassing the biggest number of software developers in Eastern Europe. In 2021, it was ranked 7th among the most powerful IT industries across Europe with a revenue of 8.9 bln euros ($10.4 bln).
The IT industry in Poland is rapidly growing, it's been increasing by 9.5% since 2016 and constitutes about 8% of Polish GDP.
In 2019, Poland had 1,400 foreign and Polish BPO, SSC/GBS, IT, and R&D service centers with 307,000 employees in total.
Such well-known digital companies as IBM, Intel, Microsoft, Oracle Capgemini, Comarch, Cisco, Google, Atos, and others outsource their IT projects to Poland, taking advantage of the Polish tech talent pool.
Polish software vendors provide outsourcing software development services to companies from various business domains, including FinTech, e-commerce, mobile and web development, and many others.
The most common programming languages Polish software developers use in their work are Java, Python, JavaScript, TypeScript, PHP, C#, C, and others.
Software Developers in Poland: Developer Skills
Poland has a range of world-recognized universities which provide strong technical education with a focus on STEM (science, technology, engineering, and mathematics). The most-known universities are:
Warsaw University of Technology with a global score of 47 and #275 in Best Universities of Engineering;
Wroclaw University of Science and Technology with the global score of 46.2 and #362 in Best Universities for Engineering;
AGH University of Science & Technology with the global score of 45.1 and #364 in Best Universities for Engineering;
Poznan University of Technology with a global score of 31.5 and #440 in Best Universities for Engineering.
In the recent Polish IT Community Report it is mentioned that 75% of respondents who work in the IT-sphere graduated from a university, while 59% of employees have Master's degrees, 8.8% of employees have Bachelor degrees, 31% studied engineering, and 1.3% of respondents have Ph.D. The same report shows which business areas are the most popular among Polish software developers to work in. They include: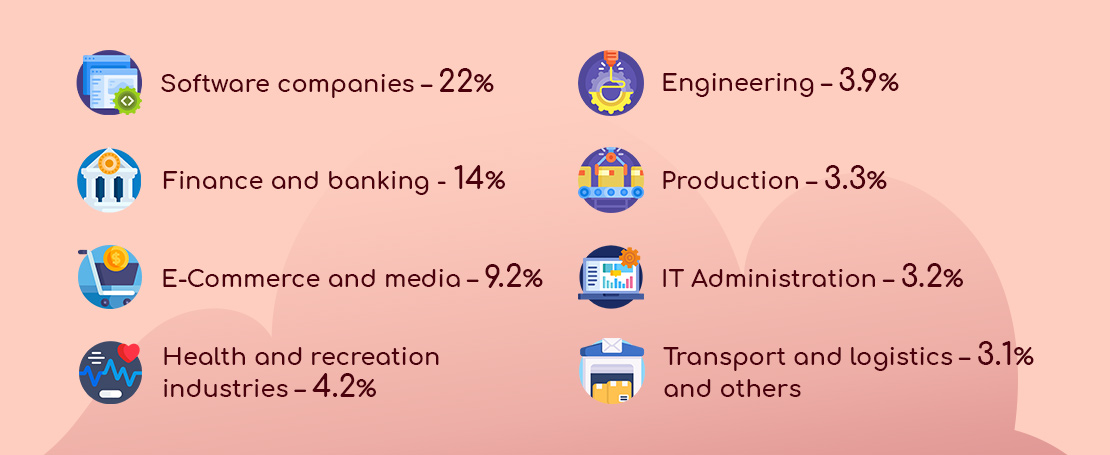 Moreover, the report indicates that 100% of IT specialists in Poland use English in their work, while 16% also speak German, 7.2% speak Russian, 4.5% speak Spanish, 2.9% speak French, and 1.4% speak Italian.
This way, those businesses that outsource software development to Poland companies, ensure that they hire well-educated specialists with considerable technical expertise and outstanding communication skills.
Polish software developers are reliable and knowledgeable professionals with great communication skills and a European mentality. In annual Deloitte rankings of 50 fastest-growing technology companies in Central Europe, Polish companies were ranked first, fifth, seventh, eighth, and ninth fastest growing technology companies. According to Tholons Global Innovation Country Index 2021, Poland is ranked 14th among the top 50 digital nations.
Reasons to Hire a Software Development Team in Poland
There are several reasons why to choose Poland as an IT outsourcing destination. Here are some of the most prominent ones:
Convenient Location
Poland is located right in the center of Europe, between Western and Eastern Europe. It's close to the major European financial centers such as London, Amsterdam, Geneva, Paris, Frankfurt, and others. There are more than 10 Polish airports with regular flights to Western Europe and the USA. Moreover, Poland has a two-hour time difference with the farthest European countries and a six-hour time difference with many US states.
Member of EU
As a European Union member, Poland complies with the EU regulatory structure, including GDPR (the General Data Protection Regulation). Therefore, EU members will find it especially beneficial to outsource their FinTech solutions to Polish developers.
Stable Economy Growth
The economy of Poland has been steadily growing since 1990. By 2018, its GDP increased by more than 7 times, becoming one of the biggest GDPs in Europe and showing the fastest growth among OECD (the Organization for Economic Co-operation and Development in Europe) countries. In 2020, Poland's GDP reached $594.16 billion according to the World Bank and its GDP value currently accounts for 0.53% of the world economy.
Professional Services
Polish software developers eagerly contribute their knowledge and experience to the development of innovative products and quickly solve any emerging IT-related issues. Many Polish IT outsourcing companies offer their clients highly specialized software development teams with a focus on certain industries, including IoT development, GameDev, Banking and Finance, Telecom, Media and Entertainment, and others.

With all that in mind, Polish software developers demonstrate a high level of English and communication skills. Therefore, their client companies won't encounter any challenges in interaction with them.
Large IT Talent Pool
Poland encounters more than 640 software development companies and more than 60K professional developers and IT experts which makes it attractive for large-scale development projects. Polish software development vendors provide their teams with various engagement models aligning to a particular application development project and ensuring that you get the right skill set and tech stack that works best for building your app.
Bottom Line
Hiring a software development team in Poland is a viable way for many businesses to obtain teams with top software development skills for attractive prices. Since the 1990s Poland has been carefully investing in and developing its IT industry and, eventually, it has become one of the leading IT outsourcing hubs in Eastern Europe.
Now, many leading IT companies and corporations are outsourcing to Poland to tap into software development talents and build their high-quality products while saving up on the software development expenses.