Healthcare professionals agree that smart wearables such as ECG (electrocardiogram), EEG (electroencephalography), EMG (electromyography), BP (blood pressure), PPG (photoplethysmography), and others are looking to be very promising in terms of the development of new diagnostic and therapeutic techniques. Technology is rapidly evolving and according to Markets and Markets report, it will reach $12.1 billion by 2021. Let's discover its main benefits to healthcare and disclose the top 5 promising wearable devices. Moreover, we have created an infographic about the future of wearable technology in healthcare.
Health Benefits of Wearable Tech
It took a little time for wearable devices to shift from fashion whim to a must-have. Some of the reasons for such a change are explained by the technology's huge promise to the healthcare industry and here are the top health benefits wearables bring to their owners.
Personalization
Treatment programs are based on detailed and constantly updated health data of a patient.
Early Diagnosis
Specific medical parameters in a wearable device promote early detection of disease symptoms.
Information Registry
All the data from wearables can be used for a more exhaustive analysis of a patient's health information.
Medication Alerts
Wearables remind patients of taking medications and can inform doctors if a patient failed to do it.
Remote Monitoring
Wearables provide remote, real-time access to data for healthcare professionals.
Healthcare Cost Reduction
Saved time and mobility provided by remote access means less visits to a doctor and reduced healthcare cost.
Top 5 Promising Wearables
#1 KardiaMobile
A wearable allows taking a medical-grade EKG and receiving the result within 30 seconds. The device is available in various forms, including the one you can put in your pocket, the one you can use as a bracelet for Apple Watch, and the one embedded in a phone case. Regardless of the form you choose, KardiaMobile will allow you to detect normal heart rhythm or AFib, as well as to track your blood pressure and weight. The device stores recordings in the cloud and allows sharing them with your doctor.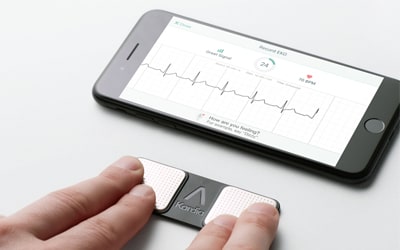 #2 TempTraq
TempTraq is a single-use patch that allows monitoring body temperature for up to 48 hours. After the wearable gets activated in the TempTraq app, it sends alerts to the corresponding mobile device through Bluetooth, informing of any body temperature changes.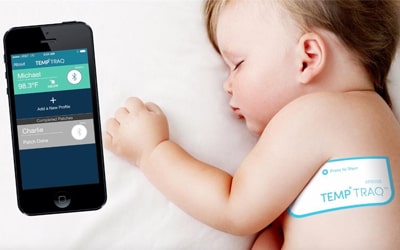 #3 Owlet
Owlet set consists of a SmartSock and an Owlet Cam. This wearable tracks baby's heart rate, oxygen levels, and sleep as well as streams HD 1080p video and sound. The wearable sock sends notifications to Owlet app and let parents know their baby is okay. Besides health reports, set owners can also receive in-app information on weekly milestones and tips based on their baby's age.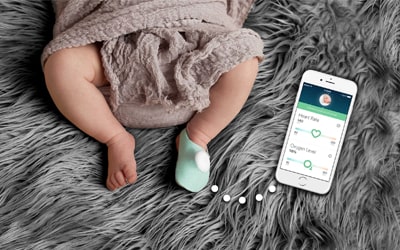 #4 L'Oreal UV Sense
A battery-free wearable electronic UV sensor was introduced by L'Oreal last year. The long-wear device measures individual ultraviolet exposure levels, providing its owner with real-time results and storing up to three months of data. The UV Sense is a 2 mm thick and nine millimeters in diameter and was designed to be applied to the nail.
While UV exposure is one of the major factors for the development of skin cancer and many other health issues, a small wearable can literally save lives. According to consumer studies by L'Oreal, 34% of the UV Sense users started applying sunscreen more often and 37% spending a lot less time on the sun.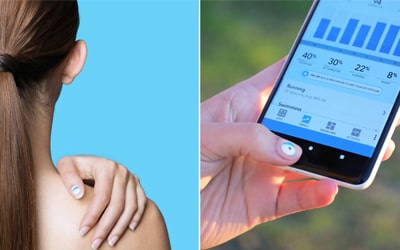 #5 iTBra
A smart bra developed by Cyrcadia Health uses embedded sensors that measure woman's circadian temperature and then analyzes it for signs of breast cancer. Tests on iTBra showed that the technology is even more accurate than the mammogram method. Furthermore, it allows women to avoid the stress of a physical exam and delivers results on a smartphone or PC in between 2 and 24 hours.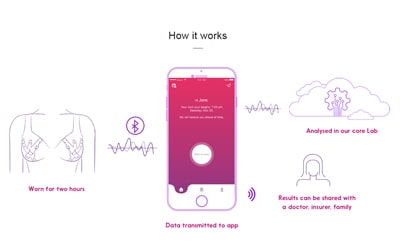 Taking note of all the benefits wearables bring to healthcare, SCAND contributes to healthcare software development with excitement and enthusiasm. We are always open to any of your questions, so feel free to contact us. Let's step to the future together!