PhoneGap/Cordova vs Xamarin vs React Native vs Ionic vs Flutter
Published: September 10, 2019
If you ever thought of creating a mobile app you were most likely facing a question which technology or language to choose for its development. Apart from native mobile app development, you've probably heard of hybrid and cross-platform app development. We have previously discussed the difference between hybrid and native app development in one of our blog posts. Now let's have a more precise look at the cross-platform app development and what PhoneGap/Cordova, Xamarin, React Native, Ionic, and Flutter have to offer.
The Difference between Cross-Platform and Native App Development
Both native and cross-platform apps have enough advantages to be chosen for mobile app development. However everything depends on the requirements, business goals and objectives you might have: time to market, security, performance, rich UI, complexity, etc. Native app development is a great choice for projects with a high level of performance and rich user experience. The cross-platform app is better for projects with a limited budget and tight deadlines. Let's mention a few more advantages cross-platform app development provides.
The Advantages of Cross-Platform App Development
Cross-platform development implies the creation of a single code that can be reused across multiple platforms. This is actually the first benefit of such an approach to mobile development — the reusable code.
One more advantage to mention here is the simplicity of changes and updates: make a change only once and it will be synced across all the devices regardless of the platform that powers them.
The second significant benefit is the cost. Since there is no need to hire two teams of software developers (for iOS and Android apps), the business can save approximately half of the budget on the app development.
The next advantage follows from the first one and relates to the second: time-to-market. Only one code has to be written which significantly cuts down the time for the development.
There is still an important feature to mention. The cross-platform development eliminates the need for digging into specific languages, as it is enough for the developers to be proficient only in several widely-used technologies, for example, HTML, CSS, and JavaScript.
Let's take a closer look at the top most popular frameworks for cross-platform development: Cordova/PhoneGap, Xamarin, React Native, Flutter, Ionic.
Top 5 Cross-Platform App Frameworks
Cordova/PhoneGap
Apache Cordova and Adobe PhoneGap are usually mentioned together since PhoneGap is Cordova with additional Adobe features. They are open-source free frameworks (some features of PhoneGap require payment). In order to use Cordova/PhoneGap, an engineer needs to know a technology stack that is typical for web development: HTML, CSS, and JavaScript. These frameworks are good for creating MVPs or simple projects as well as projects with small budgets.
Xamarin
Xamarin is a cross-platform development framework owned by Microsoft. Unlike the previous two, the Xamatin app runs on a device's hardware instead of a web view. This ensures better performance and UX/UI as well as provides an opportunity to build sophisticated logic. The Xamarin app is the closest to a native application.
React Native
React Native is one of the most popular frameworks for cross-platform app development. It allows building mobile apps using only JavaScript. It uses the same design as React, letting you compose a rich mobile UI from declarative components. It's free, offers ready-to-apply elements and allows to preview results right away, thus shortening the developing time. The result is a high-quality native-like user interface.
Ionic
Ionic is an open-source cross-platform app framework that uses HTML5 for translation. Very similar to AngularJS in design and structure. It is a good choice when creating native-like hybrid apps as well as progressive web apps. While apps developed in Ionic, look similar to native apps, they also perform very close to the native apps.
Flutter
Flutter is a relatively young (founded in 2017) open-source and cross-platform framework for creating native interfaces. It is based on Dart, an object-oriented programming language that is easy to acquire the skills for. It offers faster development time and allows creating a great native-like user interface. It is ideal for minimum viable product development.
What Are the Differences
Let's now put together the most significant features of Cordova/PhoneGap, Xamarin, Ionic, React Native, and Flutter.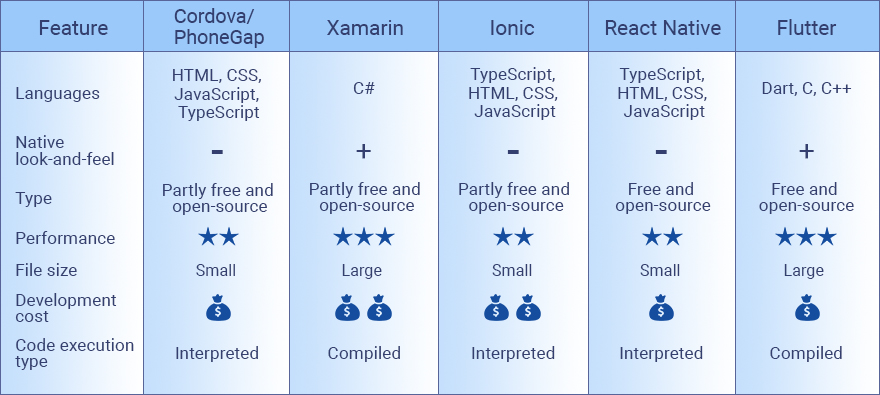 Conclusion
Summing up, React Native, Ionic, Flutter, Xamarin, and Cordova/PhoneGap have a lot in common since they all are used as cross-platform development tools. But each of them suits better for certain projects. Cordova/PhoneGap is a nice choice for creating MVP (minimum viable product) or for projects on a low budget (if there is no need for a lot of custom features).   The same works for Ionic and React Native. All these frameworks also suit for apps that aim to hit the market with an idea rather than rich functionality.
Xamarin is a preferable option for sophisticated enterprise solutions requiring high performance and not being on a tough budget. Flutter is the best choice for applications that require impressive UI and enjoyable user experience.
No matter which framework solves your business tasks better, SCAND is here to develop a robust software solution you need. Contact us to get your dream project started!