The number of people who prefer buying things online is rapidly growing, especially in the last 2 years with lockdown times during Covid pandemic. The global ecommerce market is $5.55 trillion in 2022. People got used to the comfort sitting home and buying goods over the internet. There is no need to go to the brick-and-mortar store, almost everything can be delivered to their home at the earliest convenience.
According to Statista, there are already more than 2 Billion digital buyers worldwide, and this number keeps increasing.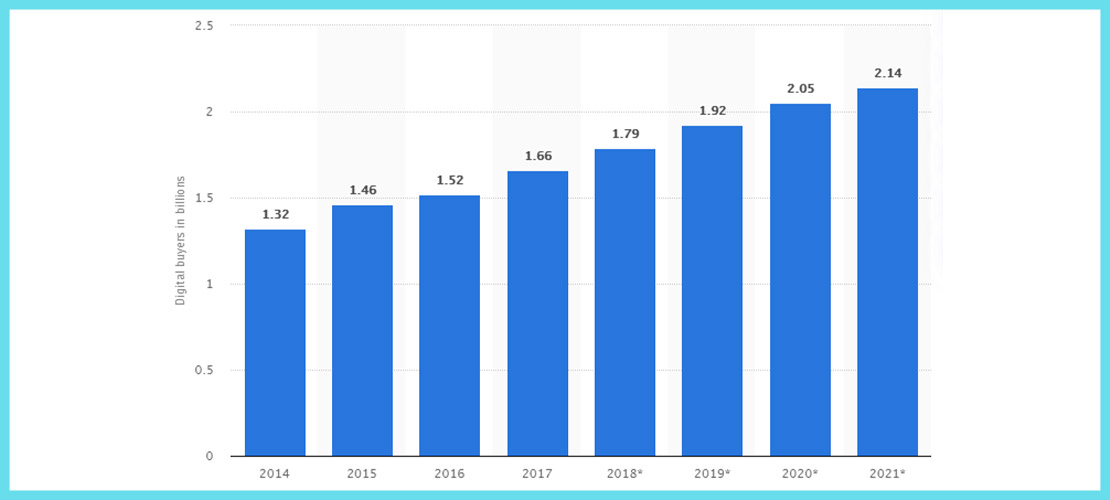 Source: statista.com
The increasing trends in e-commerce offer considerable advantages to businesses who sell their product online and make those who have previously been selling only offline move their services online. When it comes to creating an e-commerce solution, be it a portal or a simple website, one should think of its core – content management system. Let's have a look at the notion of what it is, how to choose the most appropriate one and what e-commerce content management systems are currently in the top priority.
What is a Content Management System?
CMS or content management system is used to add, update and manage digital content without writing any code. It can be any goods' information with brief and detailed descriptions, images, videos, rating, etc.
Features Needed in an Ecommerce CMS
A typical CMS solution includes the following features:
Admin dashboard
Content publishing tools
Media library
Storage and backup
Built-in SEO tools
Detailed Analytics
Integration with 3rd party tools
How to Choose a CMS System?
There is a wide range of CMS solutions available on the market but how to choose the one that will suit your business needs, what to pay attention to when selecting a CMS system.
First, the CMS system should be easy to use as it will be mostly leveraged by people with no technical background. It should be intuitive and user-friendly enough for them so that they do not spend time on looking at how to upload content or editing it.
The second thing to pay attention to is how easy the CMS system is to customize. There is no system that will perfectly fit your needs so the system you choose should leave space for creativity and adjustability to your business vision and preferences. It can either provide an easy customization or integration with 3rd party tools that can provide you with a custom theme or seo tool, or else.
The next important criteria when choosing a CMS is price. Not always a costy CMS can be good for you as it may include unnecessary functionality for your team as well as a cheap solution can provide needed functionality but the customization might be of high price. Some CMS providers might ask for additional payment for hosting and storage, various plugins, customized themes, etc.
Another point that is worth mentioning is CMS security and performance. As your system will be available on the internet it can be cyber-attacked and customer data may be stolen, that may cost you reputation and even business loss.
Google has released new updates where one of the main criteria for ranking is performance. However some CMS systems and its plugins can be poorly performing, influencing the load time with its inner styles, scripts, etc.
So before opting for some solution we would recommend doing a thorough research bearing the above mentioned points in mind.
To help you make the right choice, we have listed the top ten eCommerce CMS solutions for 2022. We've covered the strengths and weaknesses of every platform to help them choose wisely.
What Are the Best E-Commerce CMS Platforms?
1. Shopify
Shopify is one of the most popular eCommerce platforms in the world. At the moment, it is used by over one million eCommerce stores from 175 countries. The reason for the popularity of Shopify is quite obvious – it is a high-quality eCommerce platform that is suitable for firms of all sizes, from small businesses, to large enterprises.

Shopify offers users a wide range of features for marketing, payments, sales, customer engagement, and other activities. Thus, using this CMS, each vendor can manage their store, even without resorting to additional software.
One of the hallmarks of this CMS is flexibility. Shopify offers many pricing plans, therefore, each user can choose the option they can afford. For example, small online stores can use the cheapest plan and get a minimal set of features and modules. Enterprises with large resources can afford Shopify Plus, a more advanced version of the CMS, which suits transnational corporations.
Another advantage of Shopify is its convenience. Besides the fact that this CMS is quite easy to use, eCommerce stores can utilize the Shopify mobile app to manage the shop from anywhere.
One of the biggest drawbacks of this eCommerce software is that store owners are charged each time they use third-party payment gateways. Thus, if the merchant intends to use third-party payment systems, they should be prepared to pay extra transaction fees.
2. Magento
Magento is another giant in the eCommerce software market. More than 250,000 eCommerce stores are already using Magento to manage their online business. Besides that, this CMS often gets on the lists of the most popular eCommerce platforms in the world.