Today, a pressing necessity to digitize working processes and customer services urges businesses to search for ways to build their own solutions. Many companies opt for IT outsourcing as it helps companies to save up on development costs and quickly find necessary IT development resources. 

Although IT outsourcing provides an extensive number of benefits, it can be rather challenging to choose the right outsourcing destination nowadays. There is an impressive variety of IT hubs around the world that provide diverse software development services at different price levels. In this comprehensive guide, we'll look at the top outsourcing destinations and explain how to find a responsible and highly-qualified team of developers for building IT projects of any complexity.
Why
Outsource Software Development
?
Before we start with a detailed analysis of the best countries for outsourcing software development, let's have a look at the main reasons why businesses prefer to outsource their IT projects.
IT outsourcing vendors from different parts of the world offer various software development rates. The rates are determined by the economy, living costs, labor code, and many other reasons in a particular region. Therefore, businesses often turn to IT providers with much lower rates than in their location. For example, German businesses prefer to outsource their software development to nearshore countries like Poland or Belarus because the rates there are significantly lower than in Germany.
Moreover, when hiring an outsourcing software development team, companies pay only for the services which they really need and avoid extra expenses related to hiring in-house teams, e.g. employee benefits, medical insurance, vacation compensation, taxes, or buying IT equipment. 
Business Growth and Scalability
With a fully-equipped outsourcing software development team at their disposal, companies can free up their internal resources and employees, focusing them more on their core business processes. Above all, companies can quickly scale up and down their IT outsourcing teams depending on the speed of their business growth and seasonal peaks. 
Quick Access to IT Talent Pool
IT outsourcing vendors can quickly ramp up a team of software development specialists that will satisfy both technical and business requirements of the customer project. For example, SCAND with its vast experience working on customer projects can provide specialists of high technical level and great domain knowledge in various fields like banking and finance, healthcare, e-commerce, education, and logistics, etc. Therefore, businesses don't have to spend time and effort searching for the right IT specialists, instead, they can quickly hire the needed developers from such IT outsourcing companies as SCAND. 
Outsourcing software development teams have to keep up with the latest trends in emerging technologies to provide their services efficiently and at a high level. Thus, many software developers who work in outsourcing companies have vast experience in creating diverse digital solutions and implementing the latest digital innovations such as IoT, Blockchain, AI, and others.
Therefore, those businesses that hire outsourcing IT teams can rest assured that their applications will be created in accordance with the latest software development trends and methodologies.
Compliance with International Standards
A reliable IT outsourcing company should guarantee the high quality and security of the developed software and create digital solutions in accordance with international standards such as ISO 9001 and ISO 27001 to name a few. That's why many IT outsourcing providers undergo the ISO certification process to comply with high industry standards. Our software development company SCAND is no exception.
Outsourcing Software Development Moves Nearshore
There is a wide range of regions around the world that provide IT outsourcing services.
However, the latest trend is to choose a nearshore location due to time zone differences, and the inability to manage teams that have a huge time collapse with the in-house team. Thus, the US companies prefer to outsource to Latin American countries like Brazil, Mexico, and Argentina. Japan, China, and Australia outsource to India, and Western Europe turns to Eastern European IT outsourcing providers. 
Let's have a look at which Eastern European countries are attractive nearshore locations for most Western European companies:
Eastern European countries comprise a dynamically developing IT hub with the IT services and software R&D market growing x4-5 times faster than the global average. 

Ukraine is a rapidly growing IT hub in Eastern Europe whose IT export services exceeded $5 bln in 2020, growing by about 26% each year. The Ukrainian ICT market is considered to be the third-largest exporter of services in the country and includes 5,600++ companies with more than 200,000 IT specialists. 
The country has a huge pool of software developers who comprise a vibrant tech community with various tech conferences and seminars. The most popular programming languages among Ukraine developers by DOU are JavaScript, Java, C#, Python, PHP. The most widespread specializations are eCommerce, Enterprise, Finance and Banking. 

Poland is the leading Central and Eastern European (CEE) IT outsourcing market with the turnover reaching $2,087.6 mln in 2018 and expected $2,311.7 mln by 2021. It has the largest pool of IT specialists in the CEE region and a diverse IT ecosystem of startups, SMEs, and large enterprises.
The main tech hubs of Poland include Wroclaw, Krakow, Warsaw, Poznan, Lodz. Warsaw, the capital, was included in the top 10 tech cities with the best start-up environment and FDI performance. The country is ranked 40th among the easiest of doing business and has one of the highest numbers of BPO, SSC/GBS, IT, and R&D service centers in Eastern Europe. The major international investors in IT companies include Dell EMC, HP Inc, Lenovo, IBM, Apple, Cisco, Microsoft, Google, and others. 
The Polish IT sector is strongly orientated in the international market. The most popular programming languages are JavaScript, Java, and Python. The most popular industries among Polish software developers are FinTech, Energy, and Automotive.

Belarus IT outsourcing sector is one of the major contributors to the Belarussian GDP, comprising 5.7% with 54,200 IT specialists and 1,500 IT companies. Most of the outsourcing services are provided to Western Europe. 
Belarussian software developers are considered to be reliable and highly-qualified outsourcing partners. One of the recent Coursera researches revealed that Belarus is the leader among 35 countries in Europe in technological skills with top performance in computer programming, web, and mobile development. 
Meanwhile, the Global Innovation Index 2021 by WIPO ranked Belarus the 37th in Knowledge and technology outputs, 93rd in Creative outputs, 11th in ICT services export, 16th in ICT access, and as the world leader in mobile app development. 
The most popular programming languages among Belarusian developers are Java, C++, and Python. Meanwhile, the most sought industry specializations are FinTech, Healthcare, Education, Travel & Tourism.

Romania has the longest years of experience in IT outsourcing services, working for nearly 12 years in the international software development market. It's one of the biggest tech hubs in Europe with 100,000 professional developers. According to The State of European Tech 2020 report, every 3,311 in 1,000 citizens in Romania is a software developer. That's why many companies outsource their software development projects there. According to the Doing Business 2020 report, Romania is ranked 55th the easiest to do business with.
The most used programming languages in Romania are SQL, JavaScript, and Java whereas the most popular industries are FinTech, Healthcare.

The Czech software outsourcing industry is fast developing and is considered to be one of the best outsourcing destinations in Europe. According to HackerRank rating, Czech software developers were ranked among the top 10 with the best programming skills. 
The Czech Republic is one of the most comfortable countries in Europe to do business with. It offers corporate tax relief for up to 10 years which stands at only 19%. Therefore, according to the Doing business 2020 report, the country is placed 41st in the chart. The world-known IT companies that have their development offices in the Czech Republic are Red Hat, IBM, NetSuite, AVG, Infosys, Honeywell, Microsoft, Google, Kiwi, and many others. 
There are more than 150,000 software developers in the Czech Republic who prefer using Java, PHP, C, Python, Ruby on Rails, and Swift. The most popular industry specializations Czech developers work in are FinTech, Healthcare, and Education. 
Main Criteria for Choosing an
Outsourcing Software
Development
Destination 
Finally, how to select a single company among a large number of candidates? Here is a list of criteria that will help you to make the right decision.
Project Technical Requirements 
It's essential to choose the outsourcing company that can fulfill your project requirements by 100%. Therefore, before exploring the software development market consider the goals and objectives of your project and what tech stack you want to base your digital solution on. With a clear list of requirements, it'll be easy to realize if a provider fits the project or not. 
There are a variety of engagement models to choose from. If you have stable requirements and you don't want to change anything in your project then the Fixed Bid model is what you need. The Time and Materials model implies that the project requirements can be changed during the development process to better meet the app's user requirements. The Outstaffing model means that you can hire the needed specialists for a certain period of time and manage them yourself. The Dedicated team model gives you full control of a development team that can be scaled while the project grows. Read in more detail about software development engagement models here. 
Relevant Experience and Portfolio
Past candidate company working experience in a field similar to yours can significantly speed up the time for your project development and delivery to the market. Check the vendor's portfolio, explore the software development customer stories and case studies especially those that are similar to your project. It can give you a clearer vision of the IT vendor even before you get in touch with them.  
When communicating with the vendor, find out how transparent their working process is, which tools they use to communicate with you, what project management methodology and tools they utilize to report on progress, what the time difference between your countries is and how they organize their work based on time zone gaps.  
Summary
Outsourcing software development is a common strategy for many businesses that want to develop their digital solutions. It allows them to cut down the development costs, hire top-notch IT talents, and develop solutions that entirely satisfy their customers' needs. However, there is a diverse choice of countries to outsource software development and it can be quite challenging to realize where to search for reliable and experienced software development partners. Recently, more and more companies have started outsourcing their IT projects to nearshore countries. They provide best outsourcing conditions such as affordable development rates, comfortable geographical position, high development expertise, and excellent communication skills. To assist you with choosing the right destination we've prepared a Quick Review of Eastern European IT Hubs: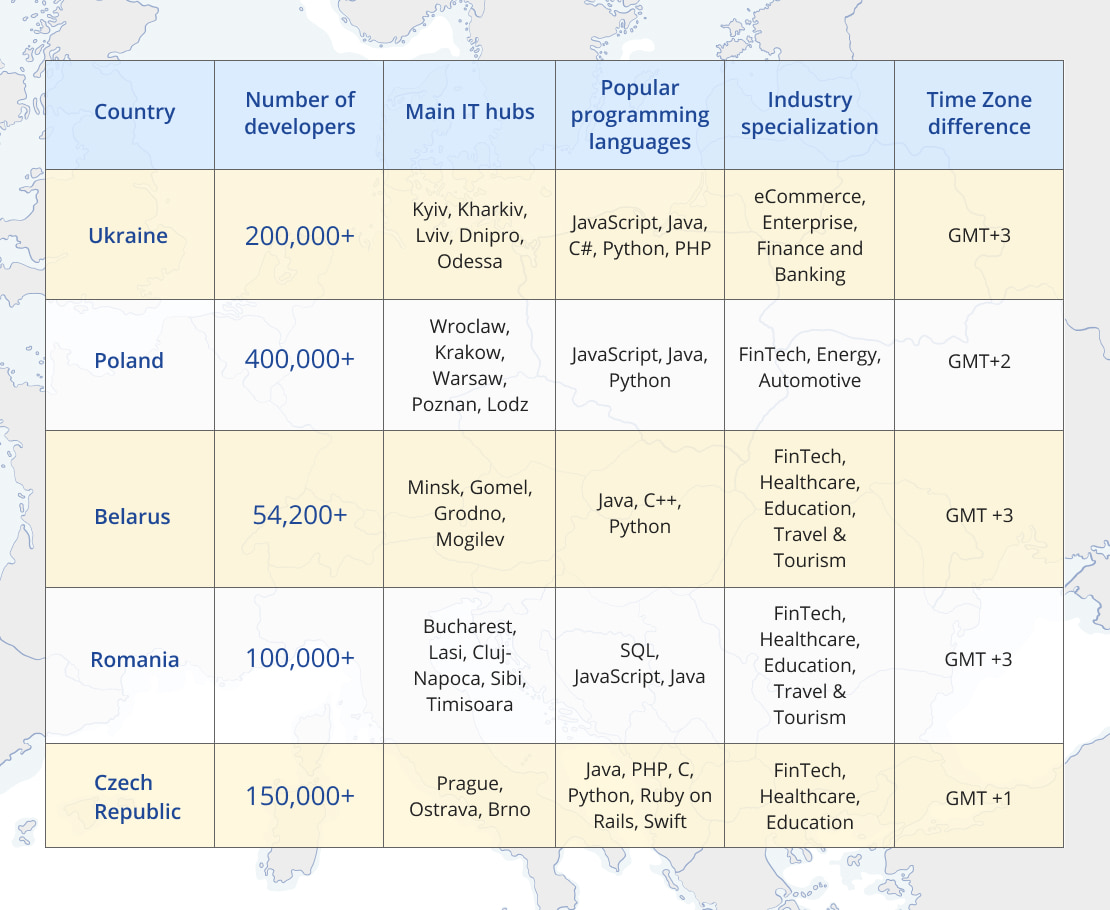 SCAND, an outsourcing software development company, has 2 development centers in Poland and Belarus, which allows us to provide the maximum benefit of the two IT destinations to our customers. 
Other Posts in This Category