When hiring a software development team to work on your project, it is important to choose the appropriate engagement model. This model is required for managing the development process and covers such significant points as payments, flexibility, level of involvement, and others. There are different kinds of engagement models, but even if you failed to find the one meeting your needs, you can always suggest your own. In this article, we will take a look at the most popular types of engagement models: fixed bid, time and materials, and a dedicated team, compare them and give some tips on which one to choose.
Top 3 Popular Engagement Models
Fixed bid, time and material, and a dedicated team are the engagement models, widely known across the market, and most commonly offered by the contractors. Let's now have a look at each model and disclose their main differences.
Fixed Bid
The main idea of this engagement model comes from its name: everything is fixed. The development team creates the project according to the precise list of requirements you provide at the beginning. The greatest advantage is that you know the final cost even before the development process starts. The sum of money you pay is not going to increase unless you decide to change or add some requirements. And here comes the most significant disadvantage of this engagement model: it is not changes-friendly, and has to be carefully analyzed and planned before the work begins. At the same time, it allows minimum involvement in case you have no opportunity or desire to get your head into the development process. 
Time and Materials
This one is the opposite of the previous engagement model in terms of budget predictability and flexibility to changes. Before starting the development, you and your vendor set certain hourly/daily/other rates for the resources involved in the working process. The more time and other resources are to be spent, the higher is the total cost. But this allows making changes along the way, as well as implementing new required features. The time and materials model also implies more involvement from your side, so that you understand all the processes and can easily introduce changes when needed.  
Dedicated Team
This engagement model generally means staff augmentation: when you need to scale up your in-house software development team really fast, and do not want to waste time and money on recruiting, on-boarding, and infrastructure. There is a certain fee you pay each month for having an outsource team that works like your own employees, adopting your company's tools and methodologies. With the dedicated team model, the level of your control and involvement is the highest when compared to the other options. 
Comparison
To make a short and simple comparison, let's put all the significant features of the discussed engagement models together.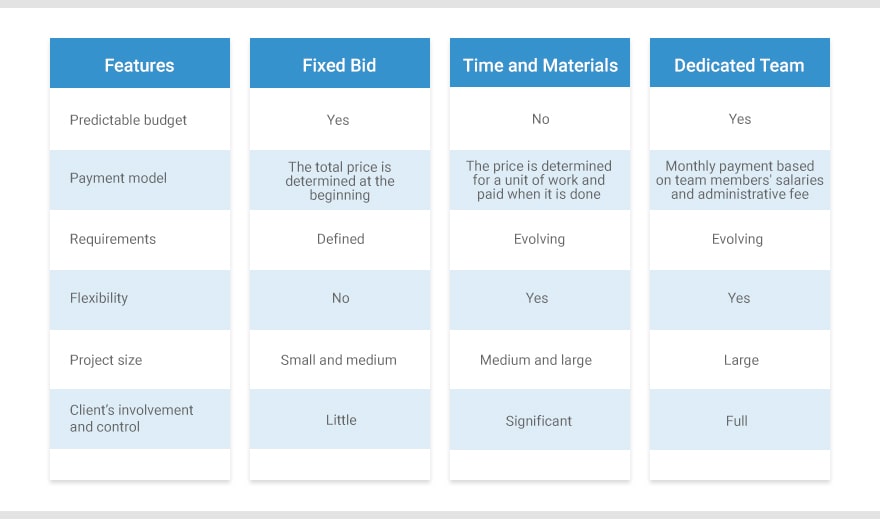 Which One to Choose
It is quite obvious that different business targets and conditions require different approaches to the software development process. Hence, each engagement model has projects that make its perfect match. 
The fixed bid perfectly suits the projects with a limited budget or a tight deadline, because at the beginning you know the exact time and money that will be spent on the development. 
This model is also an excellent option for short-term projects with well-defined requirements. For example, when you need to develop an MVP (minimum viable product) for your start-up to attract investors. 
If the project has no timeframe or has unclear requirements, it is better to go with flexible models: time and material or a dedicated team. The market is changing all the time, so you have to keep up with it in order to stay on top.
The time and materials model is the best bet for projects with an inconsistent workflow. Since this model means paying only for the time that was spent on tasks related to the project development, you do not waste money on fixed monthly fees when the workload fluctuates.
The dedicated team model is a perfect choice for large strategic projects and businesses planning to expand in the foreseeable future. This approach implies your full control and involvement, which simplifies the implementation of all emerging business needs. 
The Bottom Line
Working with SCAND means you are able to choose any of the engagement models mentioned above. We are always ready to provide the most convenient and effective terms for working on your project. 
If you have questions we have not answered, or you want to hire members of our software development team, feel free to contact us!
Other Posts in This Category