Remote Digest: How to Hire and Manage Remote Teams Effectively
Published: June 22, 2021
Updated: October 2, 2022
In 2020, nearly every business around the world was hastily considering the possibilities of switching to a remote working mode. In 2021, most of the countries are still under the Covid-19 restrictions and the vaccination goes very slowly. It means that coming back to "normal" work from busy offices won't start any time soon.
Businesses have to get used to the new norm and plan their further development in the remote state. Therefore, they need to effectively organize and maintain remote working conditions as well as keep their customer flow high.
To maintain intense customer traffic and increase customer satisfaction rates many companies develop their own software applications. In times of pandemics, they do it with the help of remote software development teams.
In this article, we share the best practices of hiring software development teams remotely and explain how to manage them effectively.
COVID-19 and Remote Work
Although remote work isn't a new trend, many businesses switched to it only in 2020 with the Covid-19 pandemic outbreak, reaching 56% of employees worldwide working from home.
This, new for many, working style turned out to be quite positive both for employers and employees.

According to Statista, the US, UK, Canadian, and Australian employees found a variety of benefits in remote work. The most important are flexible scheduling, absence of the necessity to commute, increased savings, ability to care for their families, pets, or sick relatives, reduced anxiety, improved health, and others.
As for employees, the main perks of working from home are increased productivity and efficiency, improved employee morale, higher employee retention, the possibility to hire the best and brightest specialists, and others.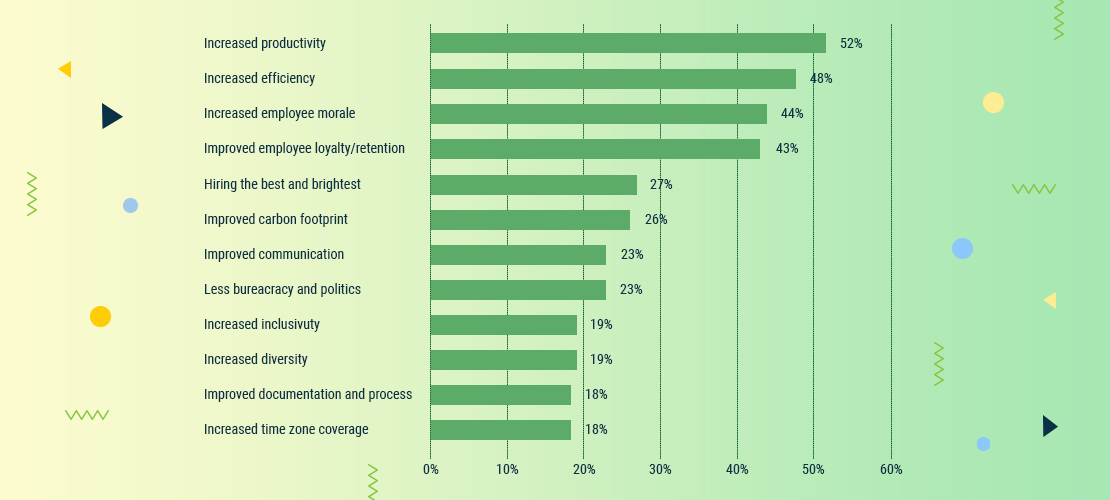 Many of these advantages come naturally while others require intense work from project managers and team leads who work with remote employees. In this article, we have gathered for you the best tips on how to hire the best software development teams and proven practices on how to manage them remotely.
How to Hire a Remote Team?
The rapid switch from office work to working from home has triggered a wave of massive business digitization. Now, it's much harder for businesses to stay competitive without a proper business app and tuned-in infrastructure for business inner workflow.
While there are many ready-made digital solutions for establishing remote communication and online collaboration, building a customized business application requires a whole IT team of professionals.
How to hire a team of software experts for building your business app? There are 4 steps that you need to take.
1. Define Your Requirements
Any app development starts with clear objectives and requirements. To define what your future app's main idea is and what functionality to include in it, you have to conduct thorough research of your business and its target audience.
The key questions you need to answer before searching for a remote software development team are:
What level of requirements can you provide to the development team?
What are your expectations and limitations in terms of time and budget?
Would you like to create a fully functional app or an MVP?
What features do you want to include in your app?
2. Make a Long List of Potential Partners
As you've defined your app's requirements, it's time to go out to the Internet and compile a long list of your potential development partners. Include in the list all the companies that provide software development teams with relevant expertise to build your digital solution.

There are several methods you can use to find professional app development teams:
ask someone you know who have developed their apps with remote teams;
type your request in a search engine like Google;
search for your remote app development partners on professional sites such as Clutch, or LinkedIn.
3. Make a Short-List of Development Partners
Now, you have about 10 to 20 software development companies on the list. To cut down the long list and make it short, you should go deeper in your exploration. For this, you can:
investigate software development providers' portfolios on their sites and find out if they have similar development cases to the app you want to build;
check out companies' social media networks and corporate blog;
study third-party sites that provide feedback on the chosen companies;
have an online meeting with the selected software development companies' representatives.
4. Conduct Technical Interviews
Online technical interviews with the team are very similar to the offline format. However, they require greater attention to detail. The tech side determines what you can do during your interviews. Think if you need to share any documents with the remote team, show your screen, or establish a conference with several specialists for them to ask questions f