Outlook4Gmail Gives More Control over your Outlook and Google Accounts
Published: August 4, 2016
Updated: July 10, 2022
Many of us use both Google and Outlook accounts and which are usually abundant with working contacts organized in groups and categories as well as many calendars and events. Some people have more than one Google account.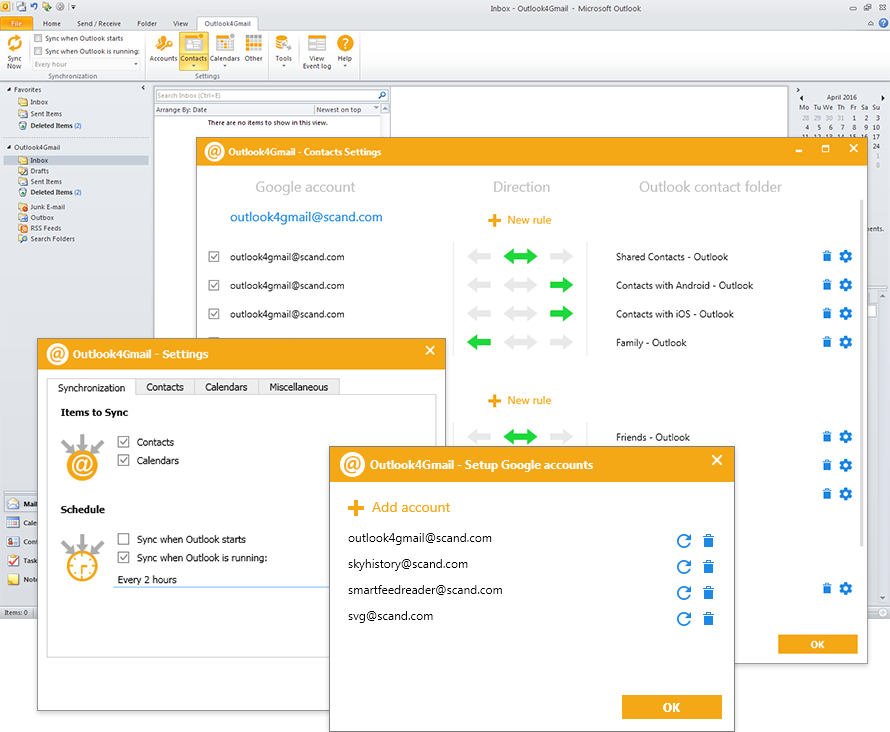 Outlook4Gmail syncs your Outlook contacts and calendars with contacts and calendars from numerous Google accounts easily and quickly. Our soft is highly manageable as it goes as an add-in to your Outlook. It's also practical as it represents a number of key features:
1. Binds your Outlook contacts with the Google ones by synchronizing them. Syncing is performed one- or two-way interaction.

2. Free version of Outlook4Gmail syncs only one Google and one Outlook account while 7-day trial and full versions of the tool performs simultaneous synchronization for numerous Google accounts with your Outlook account.

3. Syncs Outlook and Google Calendars, which helps to boost your work life as now all your appointments and events are within the hand's reach.

4. With the opportunity of automatic frequent synchronization, all events and appointment from your numerous accounts will be synced and updated as often as you want them to.
The new version of Outlook4Gmail (4.6.1)  has an improved interface, easier synchronization patterns, and much better functionality.
The new features added:
added contacts synchronization from multiple Outlook folders with a Google account;

implemented customization of synchronization rules for any Google account or Outlook folder;

proxy settings customization;

implemented 'Bypass Phone Type' option for contacts synchronization;

ability to skip scanning of the public folders;

non-standard font sizes and DPI settings support.
Scand Ltd. and its development team are happy to create helpful software and our goal is to make it even better. Outlook4Gmail 4.6.1 version is not the full stop for our progressive team as we are in the process of adding new essential features.
Outlook4Gmail has its limited version available for free, to get it, click here. A full commercial version with a year client support and free updates are also available. More information on our free and full versions you can find on Outlook4Gmail product page.
Stay tight, keep up with our new updates and follow Outlook4Gmail social network group.
Contact email to drop us a line: outlook4gmail@scand.com.