Visualizing things you want to explain is now possible and can be done remotely. We'll explain, why: we have submitted our SkyRemote app to the newly-opened Skype App Directory!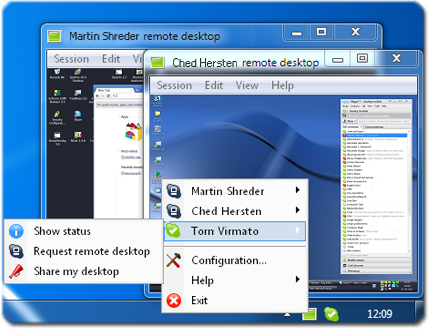 SkyRemote is just the first fruit and we have chosen it for one simple reason: it is a sure-fire solution for a wide range of users who need to share their desktops with other users on their contact list!
Desktop sharing with SkyRemote is secure, free and easy. Multiple desktop sharing, controlling a remote desktop, recording sessions to AVI files, remote clipboard access – these are just some of the killer features provided by this app.
The requirement are as follows:
PC running Windows 2000, XP, Vista or 7, both 32- and 64-bit operating systems;
Skype 3.8 or higher;
At least a 1GHz processor, 256 MB RAM;
10MB of free disk space at system drive.
The app is well-documented: you can find a detailed manual and make use of the integrated help file.
Check out Skype App Directory for our new Skype app soon!