Is the Mobile World Turning toward Android: iOS vs Android Development Statistics
IOS software development is believed to be a better choice in terms of money and opportunities. However, recently, these ideas are becoming more a stereotype than a reality. The consequence is that Android platform has become the top rating platform in the mobile development world. Let us find out what brought these changes into life and what the Scand professional opinion on the matter is.
Statistical Data on Android vs iOS development worldwide
The year 2016 showed that the Android platform was ahead of iOS for the first time according to the US State of the Developer Nation report.
iOS vs Android comparison (figures for 2016)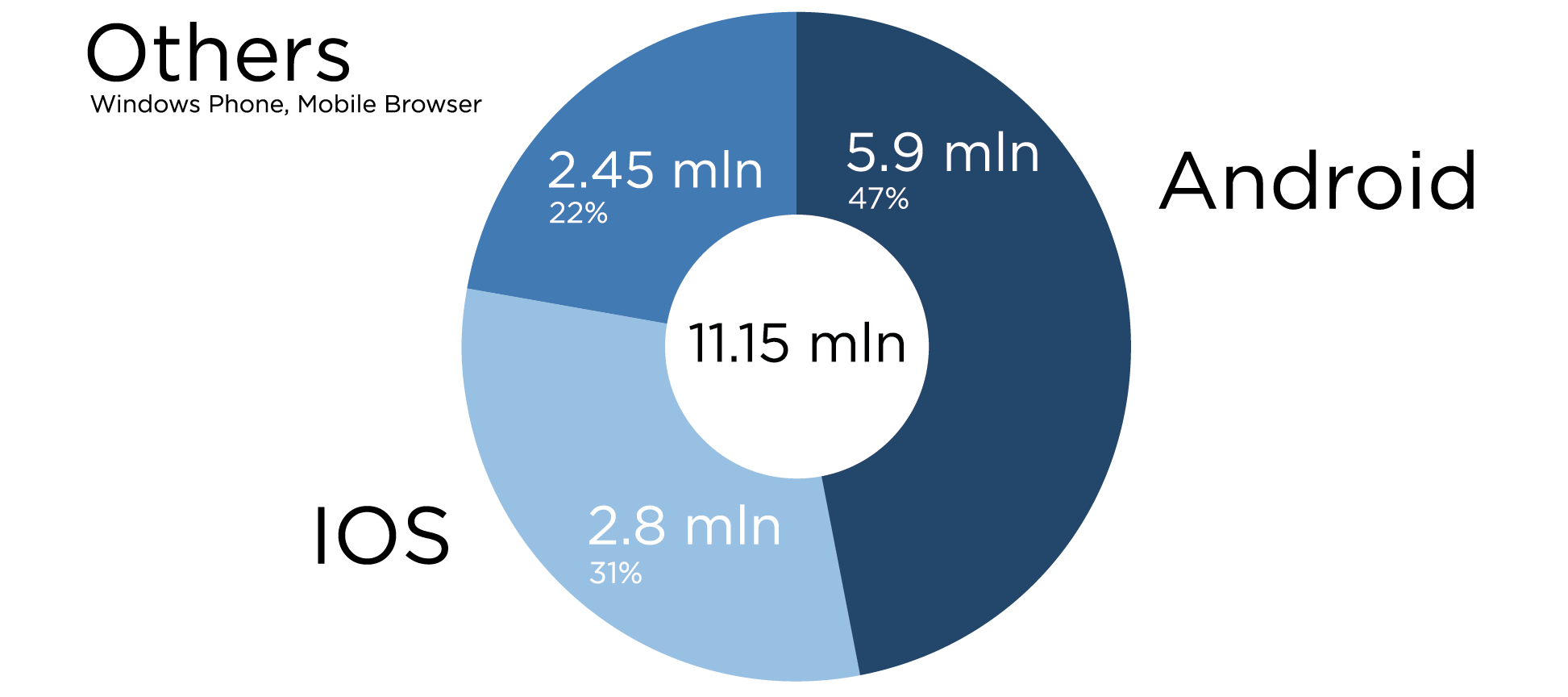 As the chart shows, nowadays, the majority of professional developers choose Android over iOS. Turning the percentage into figures, we have 5.9 mln of Android software engineers worldwide. Around 2.8 mln developers rank the iOS platform as the means of development. The total amount of mobile developers worldwide is around 11.15 mln and by the year 2020 this figure could grow up to 14 mln.
When we compare the data on the number of users worldwide, we find out that Google has 1.4 bln registered Android accounts and Apple has around 1 bln of iOS users. These figures chime in with the tendencies featured in the chart. But an interesting fact is that if we take into consideration the number of applications developed for each of the mentioned above mobile operating systems we have 2 mln apps in the App Store and 2.2 mln apps in Google Play (47% vs. 53%). It means that despite having fewer user accounts operating on iOS we see practically the same number of apps.
iOS vs Android comparison country wise
If we make a brief overview of how Android and iOS platforms are used continent wise, we will witness the following tendencies. The biggest amount of programming on Android (over 55% of the total amount of developers) is located in Eastern European countries, South Asia and South America. A little bit over 40% of programmers prefer this platform in Western Europe and North American countries while 30% of developers choose iOS. In 2016, the only country where iOS development was more popular than Android one was the USA with just 1% taking over.
Scand mobile software engineers share their opinion on these new tendencies.
Android apps vs iOS apps: shift of priorities
Recently, iOS has become more complicated because of the split-screen feature and bigger range of screen resolutions.
With the launch of iPhone 6, Apple has forced iOS engineers down a scalable UI though previously it was boasting of fixed resolutions and robust APIs.
Apple is still focusing on a bit 'relaxed' flat and minimalist design.
IOS has some development restrictions. The main programming languages are Objective-C or Swift and the developmental platform is Mac OS.
Advantages of Android over iOS:
Android platform has become mature and easier to develop on.
The world of developers prefers the extensive guidelines provided by Google called 'Material Design'.
It is simpler to begin the development on Android as Java is used for programming and you can use any platform: Mac OS, Linux or Windows.
There is a quantitative weight toward Android users/devices generally in the world. Demand breeds supply. Android growth has truly been phenomenal with over 80% of all world smartphones operating on this platform. The figure is taken from the report dated May 2016. Therefore, now the number could be even bigger.
The tendencies and figures mentioned in the post are showing the growing development power of the Android platform. At the same time, many specialists have doubts if we ever see the wide margin between the two platforms. The majority of Apple apps are business oriented. Sometimes we could witness the situation when the apps developed for iOS devices represent a standing out channel for the company's business. Android apps have also begun to introduce more in-app purchases and have millions of downloads with a large user base, so they could be quite competitive in the nearest future in terms of app monetization.
Scand mobile development team has years of experience in programming on iOS, Android, Windows Phone, and Tizen. We are open for any cooperation and ready to share our knowledge with our customers.
Another Posts in This Category