Are QR Codes the Future of Mobile Payments?
Published: August 26, 2021
Updated: October 2, 2022
Businesses are constantly seeking new ways to improve customer experience and make their services even more convenient. They strive to personalize their customer approaches, make payment processing faster, share more information on their products, discounts, and latest campaigns, and other activities. To perform these diverse marketing strategies, more and more companies start utilizing QR code technology.
Recently, the implementation of QR technology has started quickly gaining popularity. According to Juniper research, the use of QR codes for contactless payment will surge over 300% in the next five years and there are two main reasons for this. Mobile industry – iOS and Android platforms embed QR scanners into their camera apps and the Covid-19 pandemics – when contactless payments and data sharing have become a preferred method of interaction between sellers and their buyers. Therefore, using QR codes businesses can provide their customers secure and high-quality services without investing much in the technology.
In this article, we'll explore how the QR code payment system works and what benefits companies can reap from its implementation in their digital solutions.
How Does QR Code Payment System Work?
Before diving into QR code payment processes, let's figure out what QR codes are and what types and payment modes they have.
QR codes are "quick response" codes that consist of black squares on a white background that can be read and decoded by a scanner. The scanner can be a standalone device or an app on your mobile phone. QR codes are often used for processing payments and here they have much in common with a barcode payment system, though their use extends beyond just payment processing function.
Barcodes and QR codes are 2-dimensional images that include some information about a product.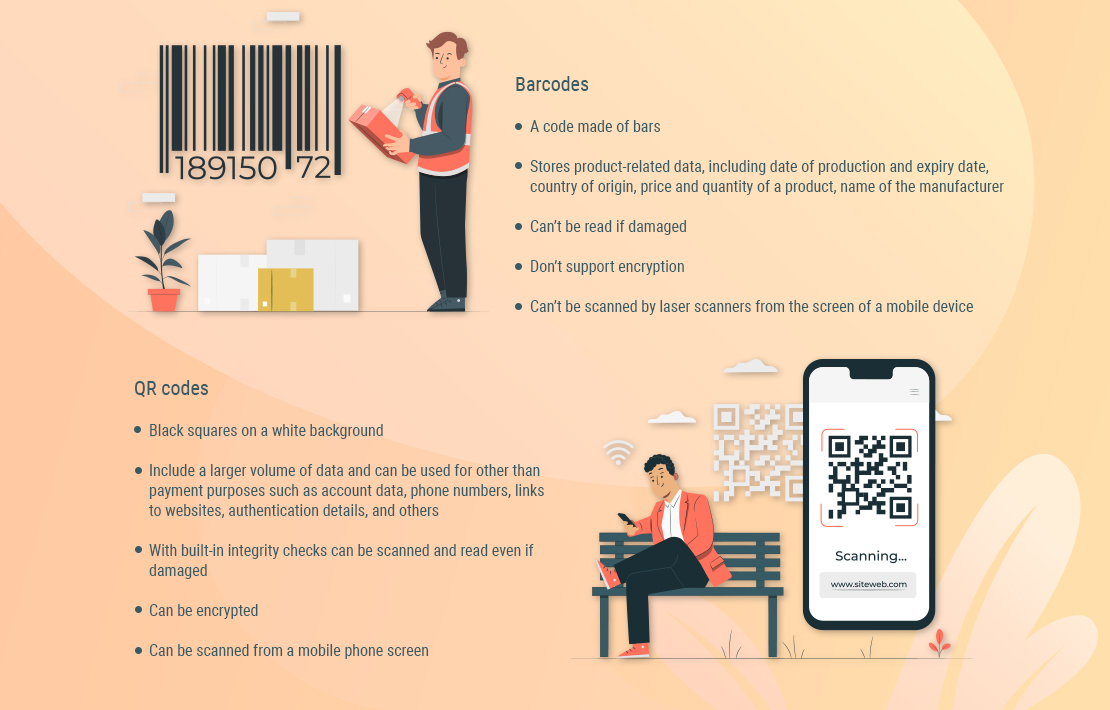 Types of QR Codes
There are various types of QR codes – static and dynamic.
Dynamic QR codes are generated by the system during the time of a transaction. A seller or a buyer is required to scan a generated code by their devices. This type of QR code has short time validity and includes unique data elements for the current transaction. For example, after scanning a dynamic QR code, the buyer receives a form with the automatically filled-in data on the product they buy.
Static QR codes are usually released in a form of stickers that can be placed at different locations such as check-outs or any other location and have unchangeable information. When buyers scan a static QR code they receive an all-payments form where they need to add a product sum manually.
QR Code Payment Modes
Payment modes are the payment relationships between a seller and a buyer. There are two main QR code payment modes – merchant-presented mode and customer-presented mode.
The merchant-presented mode requires the buyer to scan the seller's QR code to conduct a transaction.
The customer-presented mode requires the seller to scan the buyer's QR code to proceed with a transaction.
How the QR Code Payment Works

Benefits of QR Code Payment
Since their invention, QR codes were considered mainly as a means of redirection to marketing websites. Though, with the development of the technology, it's started offering businesses new opportunities to enhance their services. Let's have a look at how businesses can benefit from using QR code payments.
Greater variety of payment methods – more payment opportunities means that a business can increase its customer flow and serve more buyers. For example, such large services as PayPal and AliPay use QR codes as one of the methods of payment they offer their customers.
Enhanced customer engagement – QR codes can collect data on its customers such as when the purchase was made, what type of products a customer obtained, and so on. This way, a company can learn more about their customers and provide more personalized service like making special offers or better adjusting their rewarding programs.
Accessibility and simplicity – a QR scanning feature is embedded in most mobile devices, therefore, many mobile apps include QR code-based mobile payment systems. Companies don't need to build new functionality from scratch to use QR codes for making payments.
Improved data security – buyers don't need to expose their credit card data or any payment information to sellers, instead, they keep all the data on their mobile phones, minimizing the possibility of revealing the data to third parties.
Simple integration – by opting for reliable fintech development services businesses can build and smoothly integrate QR code payment features in their digital solutions, whether they are being developed or the already existing ones.
Cheaper and faster than traditional payment methods – with QR codes users can conduct quick payments in their mobile apps. Whereas the use of traditional point of sale (POS) equipment can be rather slow. Moreover, POS installation is much more expensive than using QR codes.
Where Are QR Payments Already Being Used?
QR payments are actively conquering the US and UK markets. According to Statista, 18.8% of consumers of these two countries strongly agreed and 27.95% agreed that there was an increase in the use of QR since the beginning of Covid-19 in 2020.
Meanwhile, in Latin America, Asia, and Africa QR codes aren't a new notion. For example, CNN Business reported that in 2016 China was already making one-third of its payments with the help of QR codes. And the GSMA QR Code Merchant report states that with AliPay and WeChat Pay Chinese made 902M QR code transactions, making more than $1,900 billion in 2020 and its CAGR is expected to increase by 16.4% between 2020-2024. According to the same report, Brazil's transaction value for digital payments reached $51.4billion in 2020, and Egypt and South Africa amounted to $8.1 billion of digital payments.

Companies like PayPal, Visa, MasterCard are trying to keep up with the QR code development pace and effectively implement this solution for their payment methods. For example, Masterpass from MasterCard is widely spread in Tanzania, Ghana, Nigeria, and Uganda. While other countries, like India, Denmark, Norway, Canada, Japan, are quickly increasing the use of QR codes for digital payments. For example, European businesses collaborate with AliPay and integrate its QR code payment system in their apps.
Conclusion on QR Code Payments
In the times of widespread mobile payment systems adoption and the rising necessity of contactless payments, QR code technology is becoming a viable alternative to traditional payment methods.
Many businesses add QR code payment systems in their digital solutions when considering which mobile app development features to use. The reasons for this are simple – QR code payments are secure, simple and inexpensive to implement and allow companies to improve their marketing strategies effectively by providing additional insights into their customers' behavior.