Although just a couple of years ago the public image of blockchain was inextricably linked with cryptocurrencies, today the technology finds its way to businesses representing various industries, addressing such hot spots data security and anonymity along with publicity and consistency of transactions. From banking to healthcare, blockchain applications already transformed the way data is stored and accessed.  
This blog post aims to show you the main benefits of using blockchain applications for business, highlighting real-life use cases of the technology in different industries.
Advantages of Blockchain for Business
Here are the key advantages blockchain technology applications offer to businesses.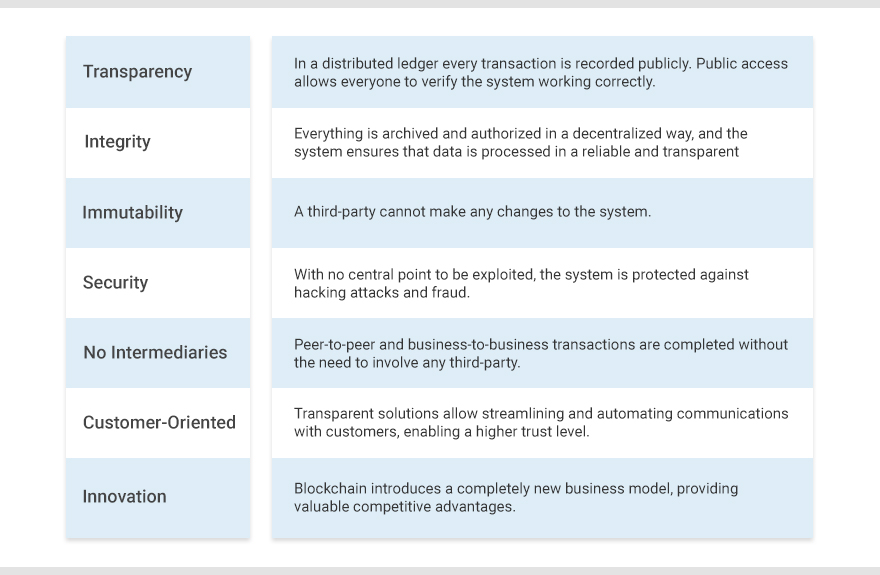 Top 10 Blockchain Use Cases by Industry
1. Blockchain in healthcare
If you wonder what can blockchain be used for in medicine, the answer is: "it is used to do miracles". The truth is that there is no single industry that can benefit from blockchain as much as healthcare can do. The potential of the blockchain technology in healthcare covers but not limited to solutions aimed at:
improving drug supply chain;

managing and accessing drug trial data for research purposes;

clinical trial bookkeeping;

finding the right people for the medical trial;

consent management;

filling up forms for hospital intake;

credential verifications for physicians;

secure data transfer;

payment processing and interoperability;

revenue cycle management;

improving medical adherence;

medical history management and sharing.
2. Blockchain in banking & finance
Introduced to a wide audience together with Bitcoin, blockchain remains linked to cryptocurrency by many even for now. But when it comes to using blockchain technology in banking, not everyone can name at least a couple of its real-life use cases. Meanwhile, apart from crypto-payments, there are numerous alternative uses for blockchain, including those aimed at improving clearing and settlement procedures, remaking trade finance for the modern world, addressing shortcomings related to cross-border payments, complimenting anti-money laundering (AML) and know your customer (KYL) regulations.
Already offering dozens of effective solutions and many other upcoming in the near future, blockchain opportunities for banks look extremely promising. So what are the main improvements blockchain brings to the banking sector? See them below. 

3. Blockchain in retail
Blockchain business applications address many challenges retailers are facing. Here are some examples of how to use blockchain in retail to enhance its processes and increase customer satisfaction.
Establish a more transparent supply chain for the customer;

Offer payments with cryptocurrency;

Share browsing and purchase data with retailers to improve customer identity;

Improve the process of attaining tax refunds from retail purchases;

Reduce cyber hacks.
4. Blockchain applications in insurance
When it comes to insurance, there is no place for questions like "blockchain: what is it good for?". Rapidly optimizing business processes by sharing data in a secure, transparent, and efficient manner, blockchain business applications revolutionize the industry, and here are some predictions on its future in insurance.


5. Blockchain for real estate
Blockchain applications can solve many problems real estate is facing, including severe lack of transparency and liquidity, high fees and pricing commitments, and low transaction speed. Having smart contracts and tokenization along with the technology's key benefits on offer, blockchain current uses in real estate allow the democratization of the industry's properties. Here are some uses of blockchain technology in the industry:
Decentralizing MLS

Tokenized Ownership

Smart Contracts

Preventing Title Fraud

Crowdfunded Investing

Preventing Wire Fraud

Property Inspection Transparency

Fighting Mortgage Fraud

Title Transfer Transparency
6. Blockchain government use cases
If you wonder what are the most practical blockchain applications, take a look at the public sector where the technology offers a huge promise to local elections. With blockchain, it is possible to bring elections to the next level, offering online voting, protecting countries from potential foreign intervention, allowing flag redundancies, and tying unique personal identifiers to individuals. There are even more practical use cases for blockchain in government. Some of them are illustrated below.

7. Blockchain in the automotive industry
More blockchain real-life applications can be found in the automotive industry, where the technology can do real miracles, improving safety, convenience, and automating processes. Here are just a few examples of how to use blockchain in this sector:
Smart vehicle  delivered data;

Automated maintenance;

In-vehicle wallets;

Theft prevention;

Transparent vehicle history;

Rewarding safe driving.
8. Blockchain in energy
With over a hundred of blockchain use cases identified for the energy sector, there is no doubt that someday the technology will change its face; hopefully, for the better. Illustration below shows how applications for blockchain technology in energy will influence the sector.


9. Blockchain in logistics and transportation
Whether it is the blockchain for small business or blockchain in the enterprise, the technology gives a promise for both. Already ensuring data protection by advanced encryption methods, allowing huge market players to stay anonymous and making secure payments, blockchain use in logistics and transportation industries will continue to grow. Here are some examples of blockchain solutions for the logistics industry:
Goods tracking software;

Modified freight and transportation solutions;

Crypto-payment systems;

Fair cooperation software.
10. Blockchain for the music industry
When answering the question on where can blockchain be used, it is worth mentioning the music industry where the technology has the potential to completely transform rocky relationships between artists, labels, managers, publishing companies, and streaming services. How will it manage to do it? See illustration below.

Conclusion
Every single industry offers at least several uses for blockchain, and the technology does not let such occasions go without benefits it brings. While this blog post highlights just ten industries taking advantage of this innovation, there are many more behinds, with dozens of blockchain real-life applications waiting to become a reality. 
With nearly two decades of providing banking & finance development services, including blockchain app development, we are always happy to combine our deep expertise in the sector with our passion for technology to deliver innovative solutions aimed at ensuring your business success. Feel free to contact us with any questions!
Other Posts in This Category