JiraGear controls an Activity Stream in Jira via iOS devices
Ever felt uncomfortable about the time that it takes from the moment when an update of the JIRA project takes place and you becoming aware of it? Ever wished to receive notifications about activities that happen in JIRA right away, wherever you are, just by taking a quick glance at the lock screen of your iOS device? Then JiraGear is what you need.
Software development and business teams use JIRA to manage projects, organize business processes, assign tasks and organize Helpdesk/Support systems. It is important to stay updated on changes that take place in order to be able to respond to them in a timely manner. JIRA has a built-in email notification system that can be easily adjusted for the company. However, this solution can hardly be called convenient, especially when you are interested in particular events and instead you receive tens or even hundreds of emails each day, being away from your desk, in a meeting or family event.
JiraGear uses Activity Stream that you can set up personally for yourself in JIRA using Activity Stream Gadget and visualizes it. JIRA allows you to create an unlimited number of Streams that will display Activities customized by filters you need: project, issue type, username, activity, etc. All these Streams also can be added to the JiraGear application. Moreover, Activity Streams from multiple JIRA instances can be collected within one application.

Main Functions & Features
Activities and Streams can be added, deleted and viewed the same way it is done in JIRA. New Activities can be easily distinguished by the label Unread. In addition to the automatic label, we introduced the possibility to manage their condition: mark some or all Activities as read/unread. Also, you can open, view and work with Jira issues right from the Activity Stream in the application.
Another key feature of JiraGear is the ability to customize notification alerts. Users can choose Activity Stream and turn on "check for updates" in the background mode. The notification alert will pop up on the lock screen or iOS Notification Center when new activities occur (according to application settings).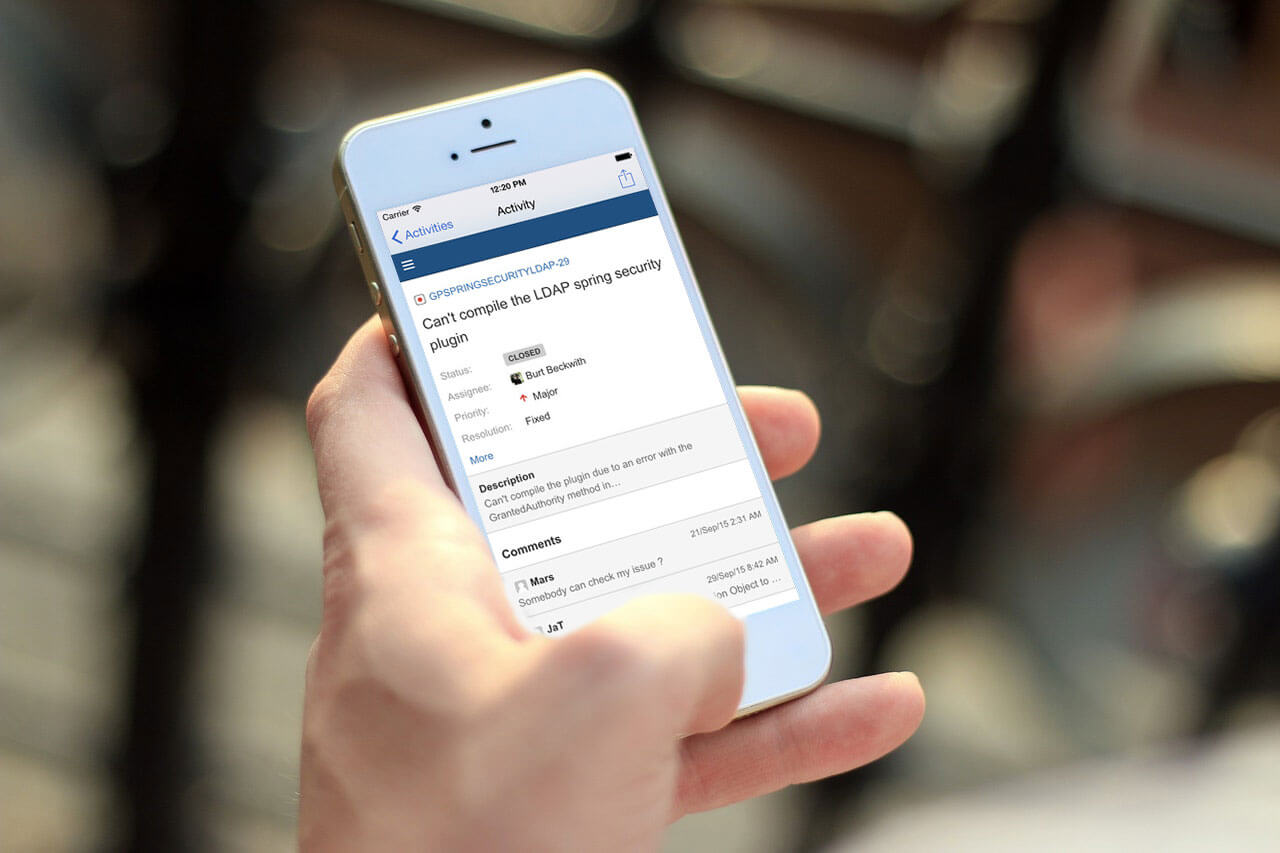 View selected Activity Stream.
Notification settings for new activities in selected Streams, while the app is in background mode.
View the JIRA issue from selected Activity and work with it right from the application.
Mark Activity as read/unread.
Add an unlimited number of Activity Streams from multiple JIRA instances.
Import saved Activity Streams.
Convenient, user-friendly interface and easy navigation.
Requirements:
Requires iOS 8.0 or later.
Compatible with iPhone, iPad, and iPod touch.
You can request any specific features you need — and order custom software development services, fast and cost-effective.