TouchZ — Mobile App Testing Library
TouchZ is a useful library that helps iOS developers get a deeper look at the bugs the testers bump into.
Our developers know what difficulties QA specialists can face while testing mobile applications. That's why they have focused on the following problems:
Make the library easy to integrate into the project.
Add extra information to screenshots.
Track and record tap and gesture activity.
Ease the process of data export.
The SCAND mobile department pursued the main goal to make a communication bridge between developers and testers. The TouchZ library for iOS embodies our view on how mobile application testing should be executed. Our developers combined convenient mobile application testing tools with communication abilities in one useful library.
Extra Information for Screenshots
Being integrated into the app, TouchZ automates the process of screenshots taking. This feature is activated by a particular activity of the app. Screenshots are being taken when a tester taps on the screen or carries out any other gesture. On top of that, the library adds extra information, such as date and time, on each screenshot.
Also, TouchZ adds a user's activity to screenshots. The library adds tap zones and gesture arrows right on the screenshots. That helps developers accurately determine the moment when a tester faced a bug or an app crashed. Generally, using TouchZ mobile developers get a better idea of how bugs occur.
TouchZ for iOS helps both developers and testers better communicate during software development and testing processes. QA specialists can easily share collected screenshots with engineers via email, cloud or exporting the archive to other apps.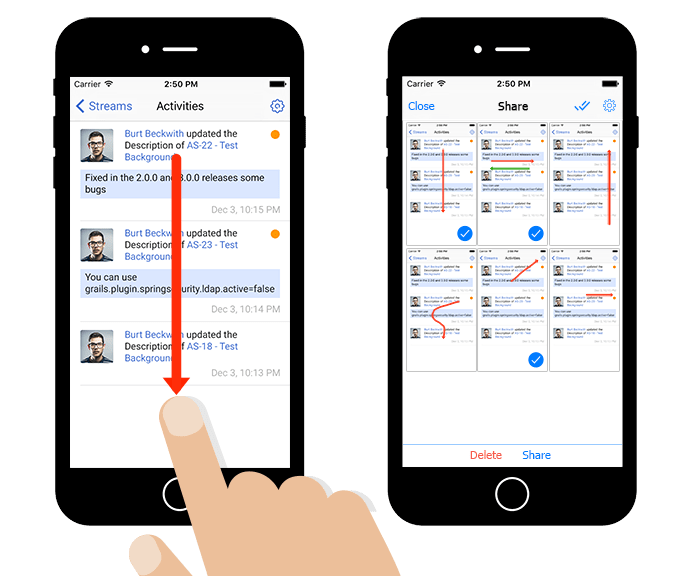 Our TouchZ library for iOS development project is an easy-to-use library that sufficiently simplifies the communication process between developers and testers. Also, it makes the communication much more effective. The SCAND mobile department actively utilizes TouchZ in various projects related to iOS development.
See more about TouchZ on the product page.