Parental Control App for Tracking Kids' Devices
Parental Control is a mobile application for parents to help them keep an eye on their children's mobile devices, namely phones and tablets.
A request from the customer to comply with was to create a mobile app that would assist parents in monitoring their kids' activity on mobile devices in real time. With the Android or iPhone parental control app downloaded on their phones, fathers and mothers could find it easier to point the time for studying or having a rest, taking food, going to sleep, and simply having a family get-together out to their children. The customer asked the SCAND mobile development team to provide a core of the app for further offering it as a separate SDK to its clients. The core contains all basic functionality, such as collecting the info about kid's movements or blocking a set of device facilities, and can be used out-of-the-box by developers.
The SCAND mobile developers used a cloud-enabled technology for the solution. The app collects data and sends them to the server. In its turn, it analyses the info and can block either certain functions or the whole app on a child's device. The Parental control app works remotely and parents can track the kids' phones, providing they all have an internet connection.
Parents are aware of what their children are doing on their mobile devices and which apps are running in real time.
It's as simple as that to divert kids' attention away from a phone or tablet. The app suggests two types of breaks a parent can choose:
Instant breaks that block the child's mobile device activity for up to a 24-hour period ('Dinner Time' or 'Take a Break' options).
Scheduled breaks that automatically prevent the kid from using his/her device according to the time-out planned in advance ('Bed Time' or 'Study Time' options). Parents can intend to put into action two scheduled breaks.
The app allows parents to decide for how long their children will use their device and/or a particular application. The time devoted to the mobile world may vary depending on a weekday. It is also up to the parents whether to fix different time limits for—let's say Monday and Saturday— or not.
Making a list of permitted and restricted apps
A parent is free to get the children access to the apps he/she considers reliable even during the breaks or temporarily disable those which can take away the attention from the examinations or other meaningful events.
Alert for unusual behavior
Children's attempts to deactivate the app won't go unnoticed. Any delay in the app's response or fixed GPS coordinates while a kid is supposed to move from A to B already serve as signals to parents that their child is striving to modify the application settings. Besides, as soon as kids install a new app on their devices, their parents will be informed at once.
Two parents have an opportunity to connect and monitor a kid's phone or tablet, all at the same time. Supposing they have more than one child, the app will watch the second device as well.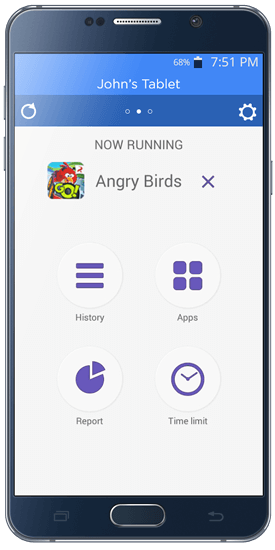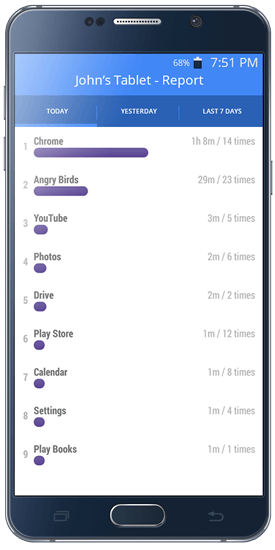 Our Parental Control app gives a boost to kids' pastime other than extensive use of phones and tablets. Parents block access to the devices or selected applications and limit the hours for watching entertainment channels or playing mobile games, thus giving their children more time-outs from gadgets.