Mobile Application Development Services
Scand Ltd. provides reliable and high-quality mobile application development on leading mobile platforms including iOS, Android, Windows Phone and Blackberry.
We have versatile team of developers with 10+ years of Industry experience delivering high-quality solutions on time and within budget. Our team creates mobile applications personalized for our clients needs and takes care of the highest functionality and usability level.
We develop for all common mobile platforms: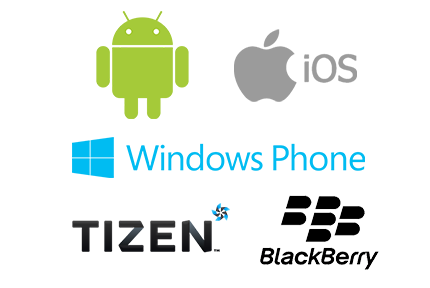 iOS,
Android,
Blackberry,
Windows Phone,
Tizen.
Scand has a great experience in all cutting-edge mobile application technologies, such as:
Business apps,
Financial and money management apps,
Educational apps,
Games and multimedia apps,
Ecommerce apps,
Directory and geo location apps,
Calendar and events apps,
Sport and fitness apps,
Applications for smart watches,
Applications for TV Box / multimedia consoles.
Portfolio
Here we would like to tell you about some of the applications that we've developed.
Smart Feed Reader
Free full-featured RSS, RDF and ATOM reader. This app is one of our own products. Read more about Smart Feed Reader.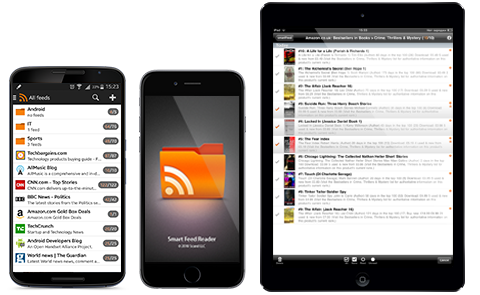 Platforms:
iOS (iPhone, iPod touch, and iPad),
Android.
Features and Technologies:
Support of RSS, RDF and ATOM feeds,
Import feeds from the Google Reader,
Offline reading of full article content,
Full-text search,
Widgets supports,
Easy to add feeds,
Filtering stories by Author, Title, Content, Category,
Automatic organizing of the feeds by categories,
Easy to mark fresh news (added, updated),
Article grouping by Date: Today, Yesterday, Older,
Sharing content via E-Mail,
Import/export feeds based on OPML files,
Portuguese and Russian localization,
Support of file attachments: download, copy link to file.
Mobile DMS client
Mobile client application software for customer's Document Management System (DMS).
Platforms:
Features and Technologies:
Flexible user interfac,
Ability to receive, edit and synchronize tasks,
Data protection,
Secure data storage,
Documents exchange,
Reports formats: PDF, XML, HTML,
Ability to edit documents,
Receiving of current GPS coordinate and tasks output for the current location,
Ability to sent reports, messages and error information via email or using server-side application programming interface (API),
Creating and editing images and schemes,
Creating and adding signatures to forms and documents.
Augmented Reality
The application Vision_AR works with the camera and sensors of smartphone or tablet. This application adds layers with 2D and 3D models directly over the object depending on the angle and the distance to the object (e. g. the application displays 3D models of motor vehicle, refrigerator, furniture, etc.), so that users could view all parts of the object or product in the real world environment (e.g. view the table in the specific room).
Vision_AR can be easily customized for use in different areas according to specific requirements, needs and activities.
eBook Reader
eBook Reader is a complete multifunctional application-book and intended for companies and institutions, which have their own training and reference materials library.
Features and Technologies:
Application allows to attach up to 5 stickers to each page,
The margin notes function allows to draw by hand or stylus directly on the page,
Easy to bookmark and highlight content,
Text share function allows to highlight text and sent it via email or social networks,
Text search function inside books or documents,
Night-reading mode prevent eyes from hurting in low light conditions,
App interface can be changed according to the company requirements (logo, colors, etc.).
PDF Book Reader
Scand developed a set of applications for books and documents reading in PDF format, which are distributed by online library services.
Features and Technologies:
Applications are based on the own library for reading and displaying PDF documents
Users documents synchronization;
Ability to add and synchronize notes and bookmarks;
Ability to add annotations, highlight and underline text;
Searching by text;
Select /copy text.
iBank for iPhone
Mobile banking client that offers remote credit card services and transactions.
Features and Technologies:
Network processor (downloads and uploads files, processes POST and GET requests);
Email support (sending feedback, application's log or generated report);
Data sorting and filtering.
Time tracking application
Application allows to fill out and submit the reports and make data synchronization
Features and Technologies:
Data input (collection), starting and completion of the tasks using NFC module;
A message exchange between users;
Filling out forms and data synchronization;
Generating and sending reports;
Information security;
Sending SMS messages;
A list of contacts;
Obtaining GPS coordinates;
Collecting and sending information about the device;
QR codes reading.
Mobile game for kids
Educational mobile software for kids for learning and fun.
Platforms:
Features and Technologies:
A child can perform the following actions in the game:
Select items and click them,
Colorize images,
Move objects to the desired position.
All actions are accompanied by text with audio commentaries and main hero facial expressions.
More information about mobile applications development you can find on the Portfolio page.
Scand Ltd is open for proposals of cooperation and interested in any suggestions and comments about our products. We want to make sure that our products have met customers expectations and deliver the best user experience.
You can request any additional information, learn more about our skills or order Mobile application development services using the contact form below.