Web application development using Groovy/Grails frameworks
Experience
Scand possesses extensive knowledge and experience in web application development.
We have significant interest in cutting edge and emerging technologies, one of them being Grails framework.
We implemented our first application using Grails 0.4.4 in 2007 for one of our customers. Since then Grails has had considerable improvement and reached version 2.1.0. During the same period we have implemented dozens of applications using this framework. Some of them are intended for our customers, other are used for our own needs. Some of the web applications we developed are enterprise level applications having complex structure and logic.
Grails is an Open Source framework and Scand Ltd. takes an active part in its elaboration and support. Our developers not only inform of the bugs found but also create and send patches to fix them. Apart from this, substantial contribution made by Scand's programmers to development and support of such Grails plug-ins as Grailsflow and Weceem is worth mentioning. Our representatives participate in GR8Conf and Spring I/O conferences to obtain critical skills and get the newest and the most important information from the Groovy and Grails community.
The experience we have accumulated enables us to develop web applications of almost any level of complexity (including embedding of complex customizable workflows, CMS, schedulers, etc.) and to do this much quicker as compared to the time spent while using other pure Java-based frameworks.
We would like to show you some of our projects. For more details please refer to our Case Studies.
Prospero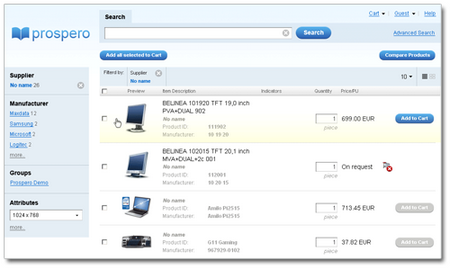 Summary:
Customizable solution for easy creation and supporting of eCommerce marketplaces.
Tools:
Java 1.6, Groovy, Grails, Spring, jUnit, Hibernate, Lucene, jQuery, JOSSO.
At this moment Prospero has more than 10 customization versions for big European customers (publishing more than 1 Mln products within one marketplace) and more than 50 standard installations.
Caritoon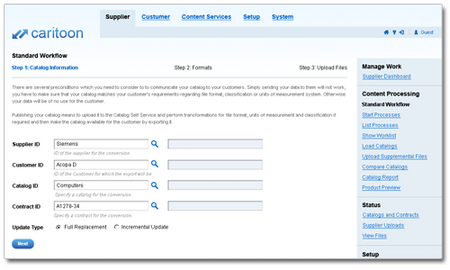 Summary:
Customizable solution to create and support eCommerce marketplaces.
Tools:
Java 1.5, Spring (IoC, security, transaction), jUnit, Hibernate, JSF, XSLT, OSWorkflow, Groovy.
Information can be easily imported and exported to/from your database or even converted to any other format without accessing the database. This solution can be configured to work either in a single- or multitenant mode.
Why use Groovy/Grails?
Groovy is a dynamic language for the Java Virtual Machine;
builds upon the strengths of Java but has additional power features inspired by scripting languages like Python, Ruby and Smalltalk;
makes modern programming features available to Java developers with almost-zero learning curve;
supports Domain-Specific Languages and other compact syntax so your code becomes easy to read and maintain;
makes writing shell and build scripts easy with its powerful processing primitives, OO abilities and an Ant DSL;
increases developer productivity by reducing scaffolding code when developing web, GUI, database or console applications;
simplifies testing by supporting unit testing and mocking out-of-the-box;
seamlessly integrates with all existing Java classes and libraries;
compiles straight to Java bytecode so you can use it anywhere you can use Java.
Why do our developers like Groovy/Grails?
Support flexibility - code understandability (the ability for other programmers unfamiliar with your code to support the project) and ease of access;
Shorter develop-run-check cycle - no need for complete redeploy of application after every change;
Syntactic sugar - syntax within a programming language that is designed to make things easier to read and to express;
Metaprogramming - writing of computer programs that write or manipulate other programs as their data, or that do part of the work at compile time that would otherwise be done at runtime.
Testimonials
"Now using Groovy and Grails, we release every week to production, compared with every six weeks previously."
Jon Mullen, sky.com ScrumMaster
"In a traditional Java project, we can spend weeks writing the initial code to set up the infrastructure, which is just the plumbing code. In Groovy and Grails, we can do that in a couple of hours with plug-ins."
Rob James, CTO of Aegeon
"Our developers are much happier developing in Grails because they can accomplish tasks so much faster."
Paul Fisher, Tech Mgr Wired.com