Urfin
What is the Urfin? Urfin is the Wizard of Filez... It is a tool that turns an old dream of many people into reality: to find any file located in local area network just per a single mouse click – without installing any software – just using your favorite browser.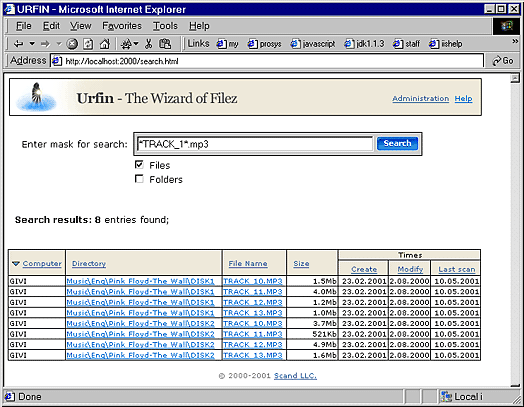 How does it work? Urfin is a server program, that is periodically scanning all available in Windows LAN computers and domains and stores all collected information about found files in its database. Using any browser users can access Urfin as a usual Web site, enter search criteria for files they need (e.g. *.mp3, *.gif, or even using regular expressions like *notep*.exe) and get results in browser as URL's pointing on these files.
Please look at screenshots and documentation from Urfin Help-file for further information.
Urfin doesn't need any additional software installed on the server. On the client side any browser can be used to access all Urfin services.
We are glad to have possibility to provide Urfin as free software.
Please be advised, that this free version has a limitation : it allows scanning only up to 5 stations.
Planned features
We are working on additional features at the moment and will release next version soon.
HotAgent feature: user is able to save his search criteria and get results as URL's to the files satisfying the saved criteria per email periodically (e.g. search criteria "*.mp3" and "show recent for three days" -will result sending to user by email URL's to the newest mp3 files downloaded by the other users of LAN within the recent 3 days).
User's administration and configuration: Users will be able to set directories they want Urfin to index by themselves, what makes administrator of Urfin free of setting preferences for each machine in big networks manually.
Please check our Web-site for news.

Download Urfin now