TouchZ
TouchZ soothes app-testers' black-letter days and at the same time helps developers to get better insight of what's the real nature of the bug the testers bump into. Some bugs are impossible to track: testers do catch them but lack understanding what caused the bug stepwise. Sometimes they are unable to take a screenshot of the malfunction found because the app quits unexpectedly. TouchZ is here to help testers and developers, being an integral thread between these two worlds.
The main value of our library is that it optimizes time and efforts spent to test mobile applications and helps app developers get a better idea of how bugs occur.
How to integrate our library into your project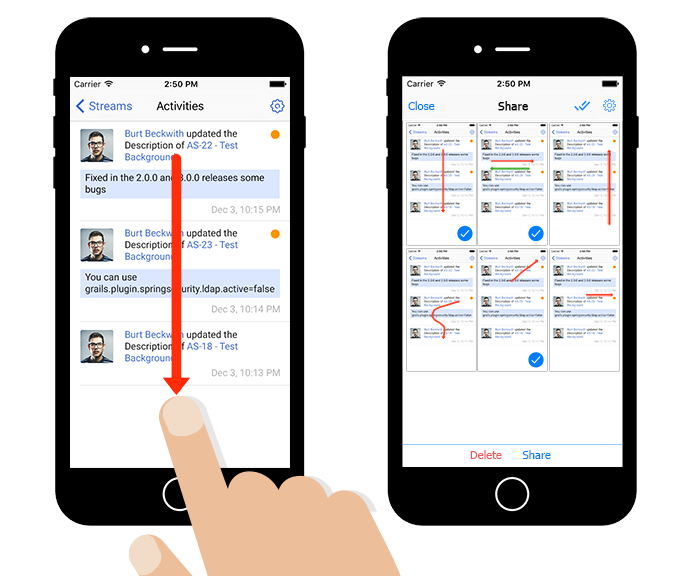 Features
Screenshots have additional information on the date when they were taken.
Screenshots show your tap activity. In the picture you see an arrow showing the gesture performed.
How it works
The library we developed is integrated into your iOS project and is ready to use. If your app is active and being tested, it evokes screenshots being taken automatically. This feature is activated by particular activity of your app: tap on the screen or any other gesture. Screenshots are not taken nonstop, because our developers don't want your phone memory overfilled with immense number of pictures.
Any time during the app testing period you could organize and send all or some of the screenshots to developers through:
email;
cloud
sharing or export the archive with the shots to other programs.
To get access to the archive or TouchZ settings draw Z on the screen. Then simply pick up the shots and press "Share".
How to integrate our library into your project
This library is provided "AS IS" under the terms of the GNU GPL v3.
Add line 'pod 'TouchZ' to Podfile in your project.
Run 'pod install' from Terminal.
Replace principalClassName argument (nil by default) with @'TZApplication' in main.m file of the project.
In case you need it under another (for example, commercial) license, please contact us using the contact form. Commercial support is available as well.
Requirements
Requires iOS 8.0 or higher.
Compatible with iPhone, iPad, and iPod touch.
Feedback
TouchZ in an open source solution and our developers are happy to share it with the community to make the world better and help you get easier access to what might be wrong with your freshly-minted application.
Feel free to share your comments or ideas with us by dropping a line to touchz@scand.com.
Scand is providing a full range of custom software development services. We develop software for dozens of clients world-wide, and we would be glad to do this for you. You are welcome to submit your project request using our contact form. We will contact you shortly to clarify all requirements.