SkyRemote Download and Install

Download the latest version (5.5 MB).
---
Installation of SkyRemote is very simple. The installer will only ask a few questions like destination location, program start menu options and folder. It's usually safe to accept the proposed defaults and just click "Next" on all pages.
There are two important components recommended to be installed: the Display Mirror VGA Compatible driver and Microsoft Visual C++ 2008 runtime package.
1.
It is highly recommended to install the Display Mirror VGA Compatible driver because it will boost both local and remote desktop performance significantly. This driver won't replace your current display driver but it is designed to work in conjunction with any other video driver.
After successful installation the SkyRemote Display Mirror VGA Compatible driver will appear within the System Device Manager under "Display Adapters".
Notice that the Display Mirror driver can be installed and uninstalled any time from the Start Menu group.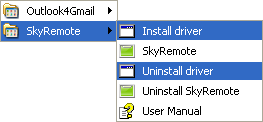 Note: to install the driver, administrative privileges are required. Also, sometimes a reboot may be needed to complete driver installation.
2.
Microsoft Visual C++ 2008 runtime package is required for the program to operate. However, it may be skipped if it is already installed on the target system, though installing it twice won't do any harm at all.
IMPORTANT: when SkyRemote starts for the first time and tries to attach itself to Skype, you may see Skype prompting you to grant access to SkyRemote.

Click "Allow access" to allow SkyRemote to use Skype.
Clicking "Deny access" will have a permanent effect - so don't do this. It can be allowed again from the Skype Options inside the "Advanced Settings" section with "Manage Other Programs" Access to Skype.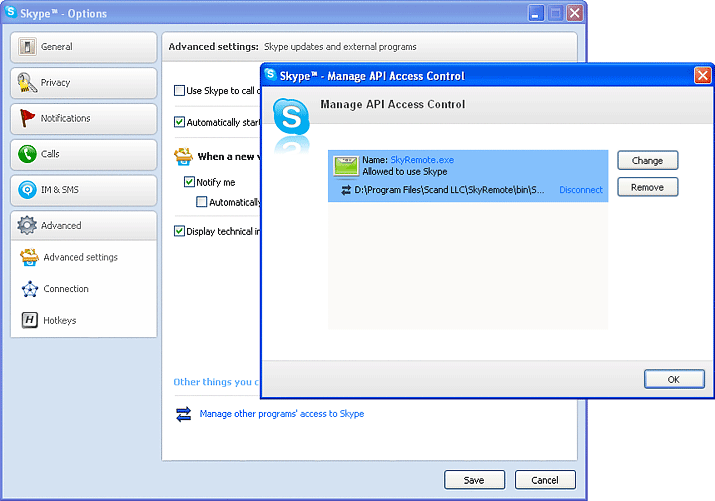 3.
SkyRemote installation process Screens:
Support Email: skyremote@scand.com