SkyRemote
With SkyRemote you can easily share your desktop or control a remote desktop of any Skype user who has also installed SkyRemote.
SkyRemote uses such Skype features as certification protocol, communication layer, strong encryption, users and connections management. This means that it is possible to share your own desktop and control a remote one with minimal effort, great flexibility and secure connection provided by Skype.
SkyRemote comes with a custom Display Mirror VGA Compatible driver. This mirror display driver will boost both local and remote desktop performance significantly and won't replace your old display driver - it is designed to work in conjunction with any other video driver.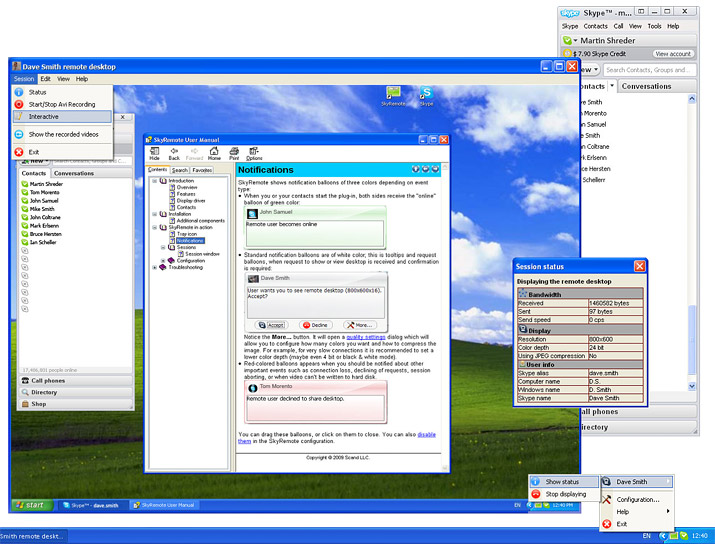 SkyRemote is not a classical "sparc" Skype Extra, it has its own installation and management components. It does not even appear in the Skype Extras Manager. SkyRemote uses Public API methods to establish connection with the Skype client and communicate with it. It uses access Skype contact information and application-to-application commands. This is why Skype will ask you to allow access to Skype Resources for SkyRemote.
SkyRemote utilizes several lossless graphics compression formats: PNG, used with low color quality such as 1bit or 4bit; BMP, with color quality more than 4bit; files compressed according to ZIP algorithm. It grants the best picture quality alongside with fast connection. The user can also select a lossy JPEG compression format to adapt screens quality to connection speed. With JPEG compression the user can choose an auto compression adjustment option. In this case JPEG compression level and image quality will depend on connection speed and automatic settings.
This product uses the Skype API but is not endorsed, certified or otherwise approved in any way by Skype.
Main features
Automatic Skype detection;
Multiple Skype instances support;
Skype 3.x and Skype 4.x support;
Automatic detection of friends who have installed SkyRemote;
Flexible requests to share local desktop or view remote desktop;
Sharing remote desktop with several friends simultaneously (conference);
Viewing several remote desktops at once;
Tray notifications;
Skype avatars support;
Fine-grained session quality configuration, such as color depth and JPEG compression;
Configurable session recording to AVI files;
Remote clipboard access;
Controlling remote desktop using a keyboard or a mouse.
Requirements
Skype 3.8 or higher;
Windows 2000, XP, Vista or 7;
At least a 1GHz processor, 256 MB RAM;
10MB of free disk space at system drive.
Support:
Support Email: skyremote@scand.com