Outlook4Gmail Download and Install
Download the latest version (version 3.2 Release Candidate 1, April 24, 2013)
---
Release notes (fixes for v.3.2 RC1):
Installation on 64-bit Windows with 32-bit MS Office;
Installation on systems with MS Office 2007 installed, but without Microsoft .NET Framework 2.0 installed;
Support of custom user accounts in case of installation by user account with administrator privileges;
Access to shared resources;
Data deserialization on reading supplemental files;
Birth date & anniversary date synchronization;
Address (street, zip code, city and etc.) synchronization.
Release notes (v.3.1 RC2, Aug 8, 2012):
Support of large amount of data to be synchronized;
Outlook's user interface keeps responsive during data synchronization, the synchronization process can be canceled;
Improved application ribbon that displays all application features (requires MS Outlook 2007 or higher);
Assignment folders to accounts;
Improved synchronization log;
Syncronization filter to skip synchronization of unreliable contacts without required information, such as email address or phone number.
After Outlook4Gmail is downloaded, launch "Outlook4GmailSetup.exe". The installation wizard will guide you through the setup process: starting with a welcome screen, via selecting destination location, program start menu options and folder, to installation overview/ready mode, setup progress and the final screen with the installation results.
IMPORTANT: if MS Outlook is running, restart it on add-in installation complete.
Quick configuring guide for MS Outlook 2010 and 2007/2003:
MS Outlook 2010:
After Outlook4Gmail installation you need to go through several configuration steps:
Configuring Outlook options: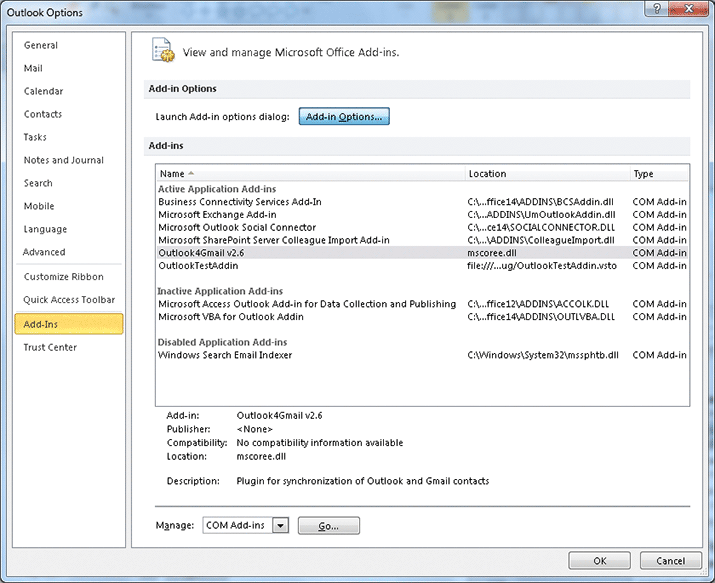 Open Outlook Options;
Select "Add-ins" from the column on the left-hand side;
Click "Add-in Options" and select Outlook4Gmail v.3.0 from the list.
Configuring Add-in options: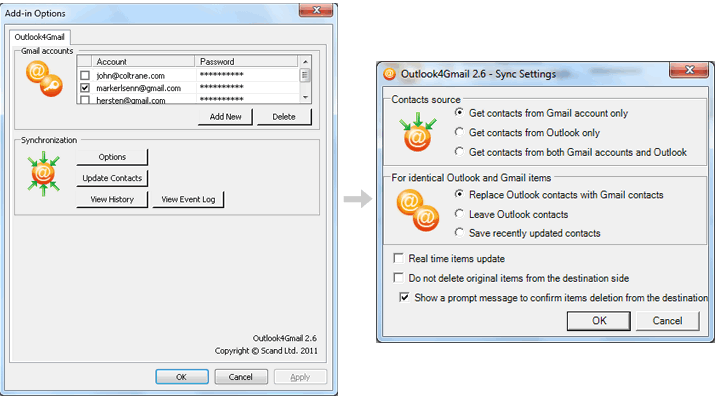 Open Outlook4Gmail setting options, find "Gmail accounts" section on the top and right-click on it, select "Add new";
Go to Contacts source section and define the sync direction between your Outlook and Gmail accounts with a radio button – choose either one-way or two-way synchronization;
Move to the contacts priority section and define the rule for identical contact names;
Check the Real time items update option;
Click OK to save and apply your settings.
Congratulations! You have configured your synchronization settings.
Outlook4Gmail – Synchronizing contacts:

Now you can start synchronizing your contacts by moving to the Outlook ribbon and clicking "Update contacts" in the Outlook4Gmail tab.
MS Outlook 2007/2003:
Configuring Outlook and Add-in options: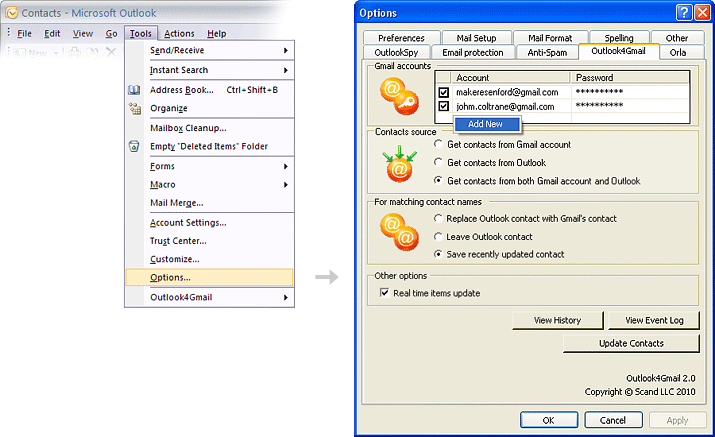 Open Outlook Tools and select Options;
Configure Gmail accounts, Contacts source and identical contact names priority.
Outlook4Gmail – Synchronizing contacts: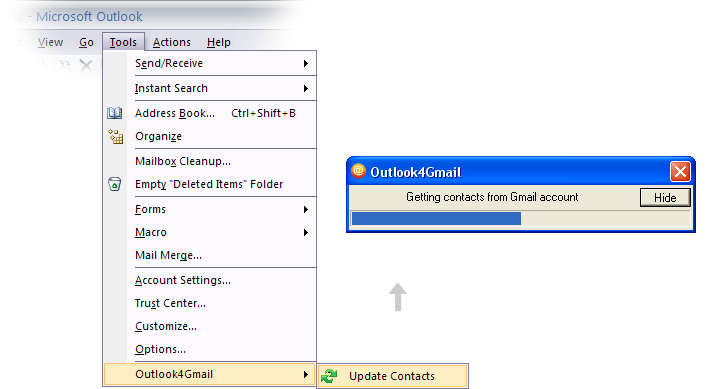 To synchronize your contacts move to Tools – Outlook4Gmail and select Update contacts.
For more setting details please refer to the Manual page.
Support Email: outlook4gmail@scand.com