Outlook4Gmail Download and Install
Download the latest version (version 4.1.1, December 12, 2013)
---
Release notes:
Improved application ribbon that makes easier access to synchronization options (Outlook 2010 or higher is required).
Full support of all contact's phone number types.
Support of multiple Outlook Data Files (*.pst).
Support of Internet Calendars.
Option to clean up empty Contact Groups on synchronization.
One and two way syncing of calendars from multiple Google accounts in Outlook, syncing existing calendars, creating new calendars.
Two-way Outlook Contact Categories Sync with Google Groups.
Automatic sync of contacts and calendars by regular time interval, between certain hours of the day or when Outlook starts.
Contact Picture Sync: simple way to sync contacts with profile photos.
Support of multiple Gmail accounts, synchronization supports 'one-to-many', 'many-to-one' and 'many-to-many' relationships.
Outlook4Gmail menu to Outlook 2003-2007. The menu provides access to the main application functionality and settings.
Free Trial version is available for download:
Limited functionality for free version;
We dont provide Technical support for free version.
In order to have full functionality of this product, you need to buy the full unlimited version.
Free and Full version features comparison
After Outlook4Gmail is downloaded, launch Outlook4GmailSetup.exe. The installation wizard will guide you through the setup process: starting with a welcome screen, via selecting destination location, program start menu options and folder, to installation overview/ready mode, setup progress and the final screen with the installation results.
Configuring "Google Authorized Access"
We strongly recommend to define "Google Authorized Access" for Outlook4Gmail, it will help to resolve settings properly. To enable the feature, please do the following steps:
1. Visit Google Account settings page and click on "Review permissions" button next to the "Connected applications and sites":
2. On the opened "Authorized Access to your Google Account" page please define a password for Outlook4Gmail application (or generate a new password).
3. Then open Outlook, goto Account Settings of Outlook4Gmail and apply the generated password to your account.
Quick configuring guide for MS Outlook 2010/2013 and 2003/2007:
How to configure Programmatic Access settings
How to configure Firewall settings
MS Outlook 2010/2013:
After Outlook4Gmail installation you need to go through several configuration steps:
Configuring Outlook options: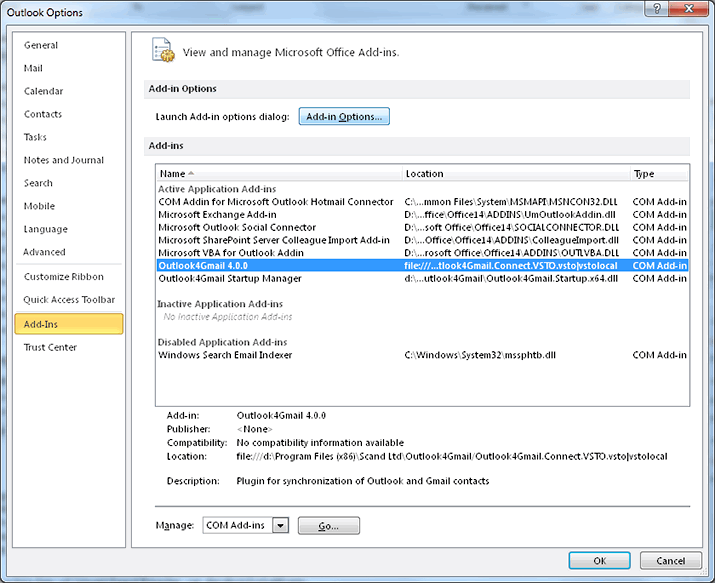 Open Outlook Options;
Select Add-ins from the column on the left-hand side;
Click Add-in Options and select Outlook4Gmail v.3.0 from the list.
Configuring Add-in options: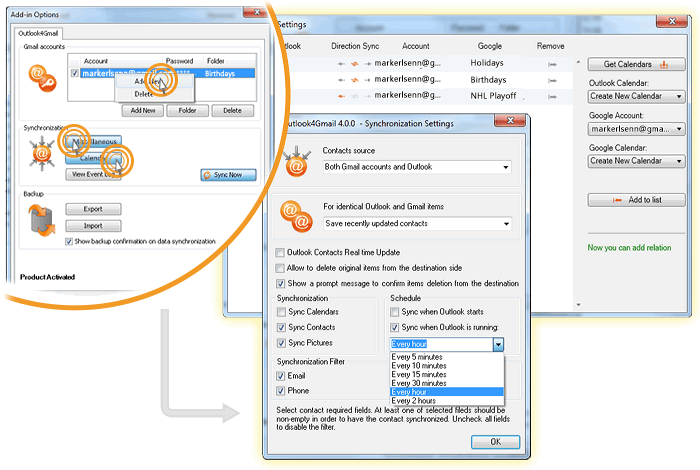 Open Outlook4Gmail setting options, find Gmail accounts section on the top and right-click on it, select Add new;
Go to Contacts source section and define the sync direction between your Outlook and Gmail accounts with a radio button choose either one-way or two-way synchronization;
Move to the contacts priority section and define the rule for identical contact names;
Select Outlook and Gmail calendars and define the sync direction;
Click OK to save and apply your settings.
Congratulations! You have configured your synchronization settings.
Outlook4Gmail Synchronizing contacts: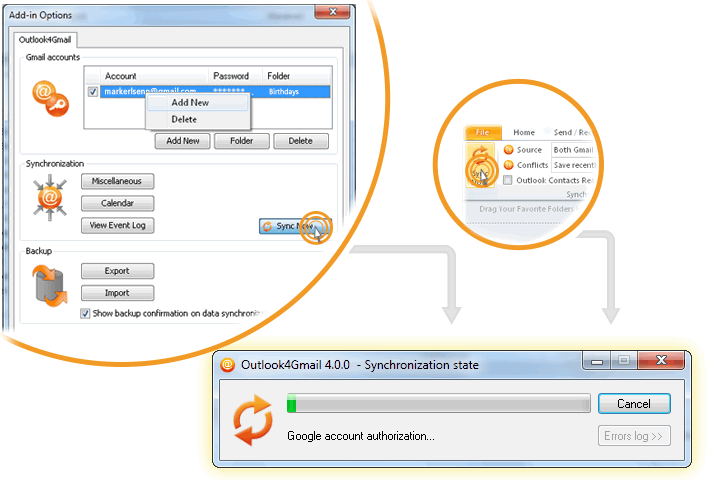 Now you can start synchronizing your contacts by moving to the Outlook ribbon and clicking Sync Now in the Outlook4Gmail tab.
MS Outlook 2003/2007:
Configuring Outlook and Add-in options: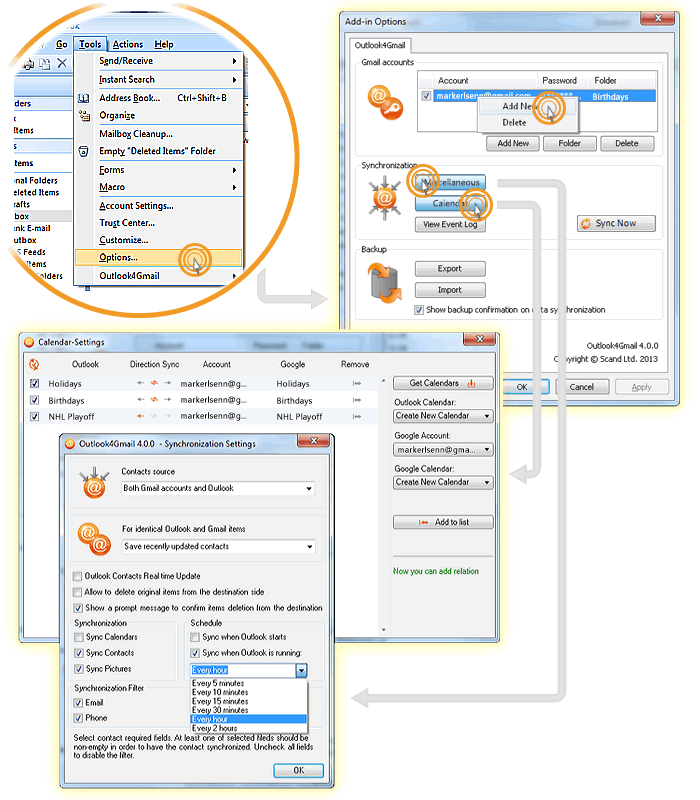 Open Outlook Tools and select Options;
Configure Gmail accounts, Contacts source,identical contact names priority and Calendar settings.
Outlook4Gmail Synchronizing contacts:
To synchronize your contacts move to Tools Outlook4Gmail and select Sync Now.
For more setting details please refer to the Manual page.
Support Email: outlook4gmail@scand.com