SkyRemote User Manual
SkyRemote in Action
When run, SkyRemote creates an icon

in the system tray. All SkyRemote features can be controlled through this icon.
Right-click on the tray icon to see menu with the available actions, as well as the detected friends.
Hover your mouse cursor over the tray icon to see a balloon notification showing Skype status and the list of currently connected friends.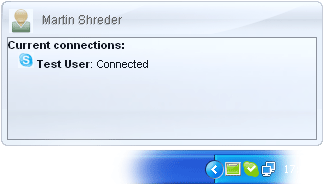 Once attached to Skype, SkyRemote will try to connect to all friends on the list to see if they have SkyRemote installed. All such friends will appear in the tray menu, with available actions for each.

Main options here are "Request remote desktop" and "Share my desktop". Both of them eventually send a request to the remote user,which results in this notification near the system tray.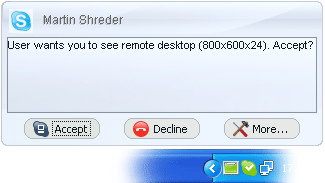 At the same time, the tray menu for this user will list the same available actions:
"Accept" will start the session; "Decline" will cancel the request (with notification to the remote user); "More..." will allow to configure the request before accepting it (for example, to select the image quality).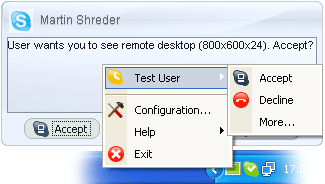 ---
Notifications
When you or your contacts start the plug-in, both ides get a green "online" balloon;

Standard notification balloons are white.

These are the tooltips and request balloons, when a request to show or view the desktop is received and a confirmation is required.

Notice: the More... button will open a quality settings dialog which will allow you to specify the number of colors you want and the method of image compression. For example, for very slow connections it is recommended to set a lower color depth (maybe even 4 bit or black & white mode).

Red-colored balloons appear when you should be notified about other important events such as connection loss, declined requests, session abort, or when video can't be recorded to the hard disk.
You can drag these balloons or click on them to close.
You can also disable them in the SkyRemote "Plugin" configuration section.
Remote Sessions
There're two main actions required to start remote desktop session.

You can ask a friend to view your desktop (share your desktop);
You can ask a friend to view his/her desktop (request remote desktop).
---
In both cases this friend will see a popup notification balloon (if they're not enabled, he/she can still accept or decline the request from the tray menu). It's up to your friend to accept or decline your request. You will receive the corresponding notification if your request is declined. If the request is accepted, then a session window will open on the viewing side.
Session Window
Session window is the core component of the remote desktop functionality. Here you can:
View remote desktop;

Control remote desktop with keyboard and mouse. To do this, enable Interactive from the Session menu;

Change quality settings by selecting different options from the View menu;

For example, you can use high quality with low color depth while working with text, and turn on JPEG with low quality to view movies. Notice that for JPEG compression color depth is ignored (it is always 24 bit).

Start/stop AVI recording;

See the recording configuration for AVI recording settings and output path. The recording indicator will blink in the bottom right corner of the session window during the recording. Notice that if a video codec is too slow, the video file recording will continue in the background (SkyRemote will notify you about it in this case).

View the recorded video files;

This will open the folder in which all the recorded AVI files are located.

View session status;

This can also be done from the tray menu.

Session status includes remote user information, number of bytes transferred and connection speed.

Control remote clipboard;

SkyRemote does not automatically make changes to remote clipboard available locally, and vice versa, as this will affect security. Instead you can make remote clipboard available locally, and make local clipboard available remotely, at any time by selecting appropriate options from the Edit menu. The Session window will show progress information while transferring clipboard data over network.

View help.
Configuration
Quality settings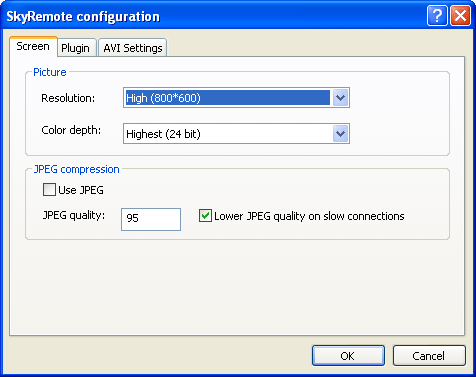 SkyRemote provides these desktop quality settings:
Resolution and color depth of the remote desktop window;
Usage of JPEG compression, and its quality.
You can select from wide range of color depth, for example this can be black & white picture (1 bit), 16 colors (4 bit), 256 colors (8 bit), or full color image like 16 bit and 24 bit.
JPEG compression is used by default, and it is recommended to be turned on.
JPEG quality can be changed from 1 (very bad) to 100 (excellent). 50-70 is usually enough.
Automatic JPEG quality control will try to decrease JPEG quality on slow connections.
Notice that for JPEG compression 24 bit color depth is always used (unless you selected 1 bit or 4 bit color depth mode when JPEG compression is not applicable).
This page is also shown when the request is to be configured. Notice that you can change these settings any time from the session window menu.
Plugin settings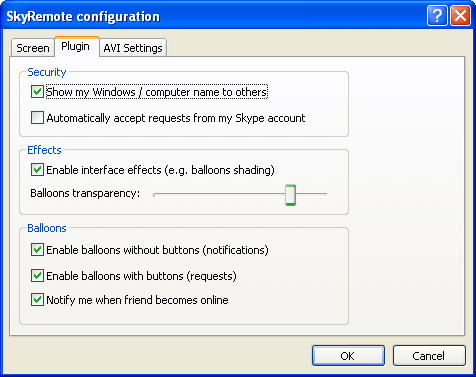 On this page you can:
Enable private data - that's just computer and Windows user name;
Enable ability to request session without confirmation from your Skype account on remote machine;
Tune balloons transparency or disable effects at all (shadow, transparency);
Disable balloon notifications (remember you can still control SkyRemote using tray menu) - you can disable interactive balloons (those with buttons), plain notifications (those without buttons) and notification messages about online users separately.
AVI settings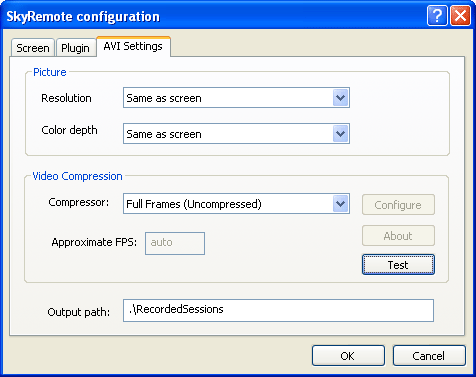 SkyRemote uses Microsoft DirectShow to record AVI files. This means that a lot of AVI video codecs are available for your choice. SkyRemote allows to select any of the codecs installed on your system, and also to configure AVI file resolution and color depth. Frame rate will be calculated automatically for you.
Note that if Resolution is the same as screen resolution, your video file will have the resolution taken from the session window, except in case if the "View full size" option from the View menu has been chosen in this case file resolution will be similar to your local screen resolution. Just like the screen for Color depth uses the value of depth from the View menu, unless the user has selected "Black_White" or "4 Bit" in this case video will be recorded with 24 bit.
Note that not all codecs will work with the selected settings. You can test the selected codec by pressing on the Test button. If it works fine a video player will open with the example of how the resulting video will look like.
The Test button will also test the speed of your system and will show the approximate FPS (frames per second) number available. Notice that this number is just for information. SkyRemote will test FPS before each recording is started, and will use not less than 5 and no more than 15 frames per second.
The Output path will be set to My Videos or My Pictures folder by default. You can use absolute or relative (to the program's \bin folder) path here.
Troubleshooting
Connection speed is slow
Skype does its best to provide users with the maximum connection speed available. However, sometimes connection speed is too slow. This is especially true for relayed connections (see Help for Skype: What is a relayed transfer?) where one can't get more than 3 kb per second.
On such slow connections, the best thing would be to decrease the color depth to black & white or 4 bit mode (see Quality settings or View menu in Session window). Changing remote computer desktop resolution may also help (notice that this is not the same as changing session window size).
You can verify the connection speed in the session status properties. Values around 3000 cps usually mean that a relayed connection is used.
I can't see my friend online
It usually takes time to establish a connection between two Skype instances and for SkyRemote to perform a handshake - up to a minute or more.
If you can see your friend online in Skype but not in SkyRemote for several minutes, try to restart SkyRemote and/or Skype.